News
Bisnow Exclusive: Apartments Break Ground Near Sheikh Zayed Tower
An emerging market where apartment demand is already strong? What is this magical place? Jefferson Apartment Group has broken ground on a long-empty parcel just a block from Johns Hopkins' brand-new, $1B Sheikh Zayed Tower. And it has an adjacent parcel under contract.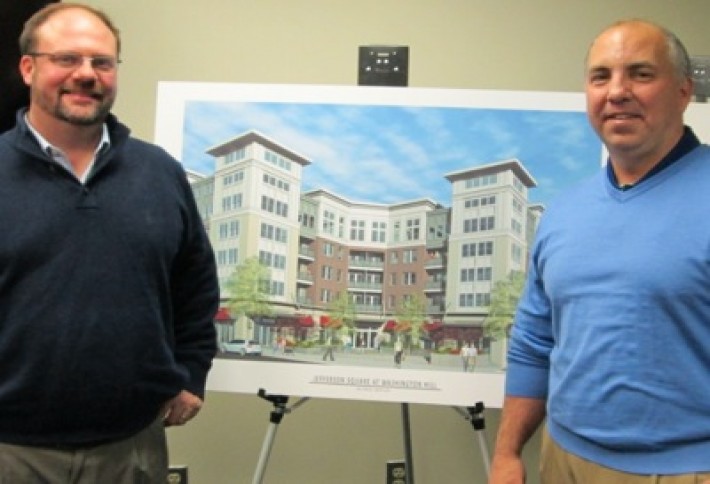 The DC multifamily developer's Drew Chapman (snapped with colleague Greg Lamb and a rendering of their newest baby) tells us Jefferson Square at Washington Hill--a JV with equity partner USAA--will include 304 luxury apartments and 21k SF of retail when it delivers in Q3 '14. Half the retail is already leased to CVS, and the rest likely will include sit-down and fast-casual restaurants. The idea: nearby, luxury apartments for time-strapped Johns Hopkins doctors, researchers, profs, and students and to fill the retail void for them and the hospital's 1.2 million annual visitors. (The hard part will be convincing people to stop eating all that delicious hospital food.) The closest luxury living is over a mile away in Fell's Point, Drew says.
Here's the site today, at Wolfe and Fayette streets, facing the Zayed Tower, which Drew calls the university and hospital system's new front door. That Johns Hopkins building--which, along with the Charlotte R. Bloomberg Children's Center, delivered in spring 2012--will attract more investment in the area. Drew tells us his firm looks for sites near "microbursts of employment," and Johns Hopkins certainly qualifies (it's ranked the No. 1 hospital system in the country and receives the most dollars in research grants). Jefferson Apartment Group acquired this parcel from Capital Development in November '11 and has an agreement to buy an adjacent parcel where it can build another 200 units. Capital Development just built a public surface parking lot on the third lot there.