News
Live From ICSC RECon in Vegas
The International Council of Shopping Centers is hosting its largest crowd since the recession and Bisnow is in Las Vegas, bringing it to you live with some 33,000 CRE types joining in the 2013 Global Retail Real Estate Convention, known as RECon. (We're wearing red-striped shirts so you can play Where's Waldo.)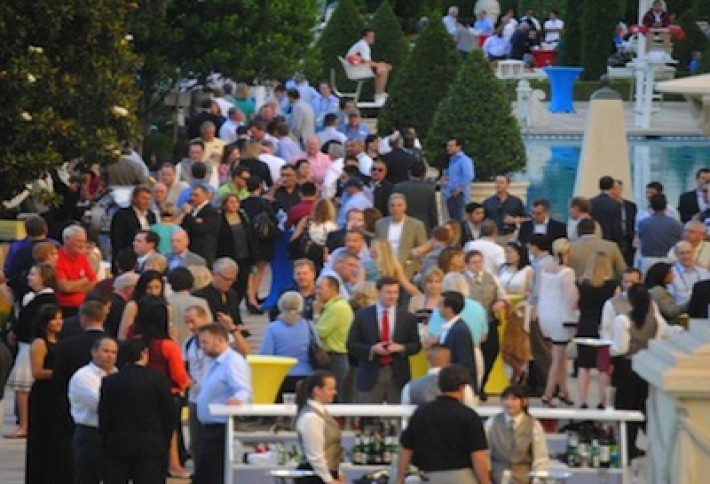 Thousands gathered around the poolside at Bellagio Sunday afternoon (we tried to get all 30,000 in the picture, but a few brokers from El Paso kept looking the other way) to celebrate the kick-off of the event.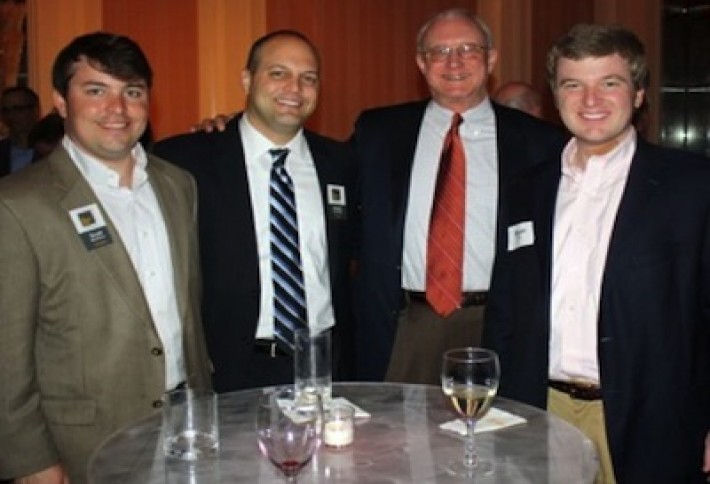 Last night, we ran into The Shopping Center Groups Scott McAdams (Charlotte), Andy Greenberg (Raleigh), Neal Pringle (Atlanta) and GH Anderson & Cos Bryon Pruitt during The Shopping Center Groups party at the Four Seasons (proving that whether you wear a tie or not, we can all get along). Bryon says theres still a wide gulf between top market retail cap rates and second or tertiary markets. But that may be narrowing as more capital flows into those markets.Neal tells us he just listed Plaza Mall of Georgia, a 110k SF shopping center near the Mall of Georgia in Buford anchored by Edwin Watts Golf and Toys R Us. The developer, American Star, is seeking to sell and expects a cap between 8% and 9%, Neal says.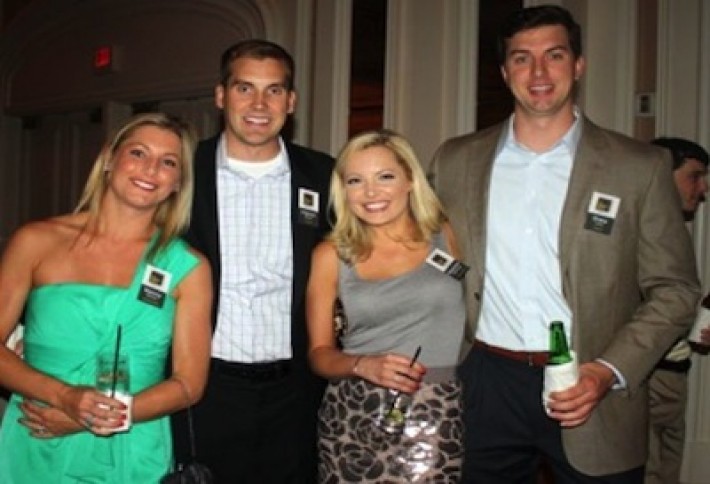 The Shopping Center Groups Nancy Summer (Jacksonville), Patrick Bentley (Atlanta), Stephanie McCullough (Jacksonville) and Drew Lewis (Atlanta) chatted market dynamics. Patrick's partner at The Shopping Center Group,Stephanie McCall (not pictured), just picked up the leasing assignment for a swath of property from Robin Loudermilk in Buckhead, including property around the Roxy, where Hilton Garden Inn is planning a hotel.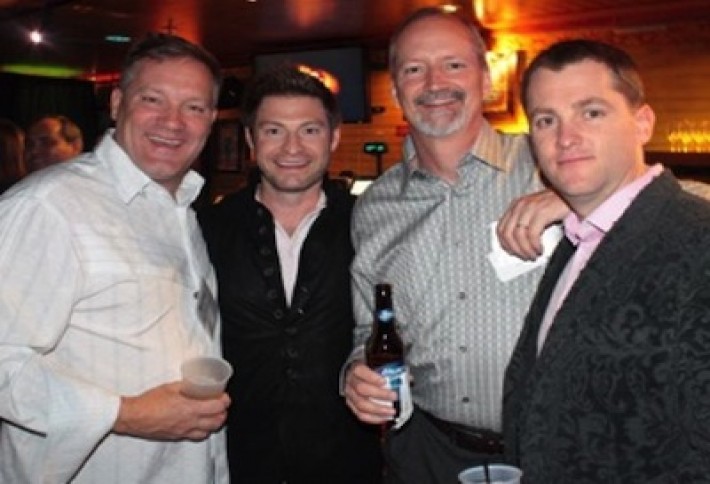 The night ended at the House of Blues, where Hartman Simons Wood lured CRE stars for live music and cocktails. CohnReznick's WesHudson, Strategic Groups Ricky Novak, HSWs Summey Orr, and Strategic Groups James Freeman spent the evening comparing gambling winnings (much like fish stories, except nobody throws anything back) and talking shop. Ricky saysdemand among investors for retail properties is up again this year nationwide.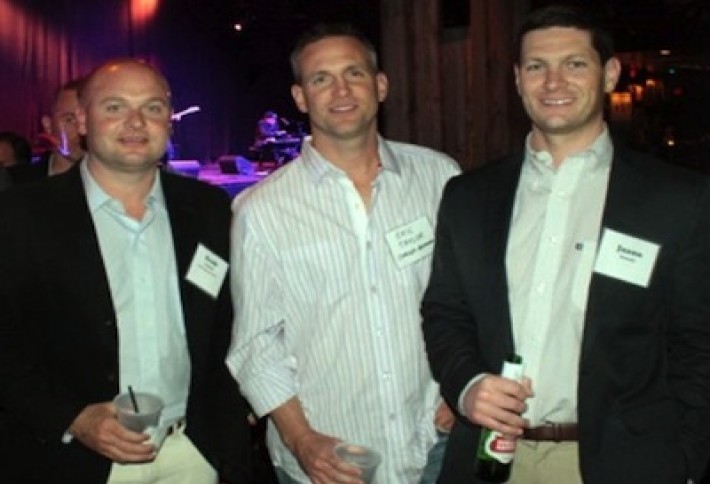 Ackerman & Cos Sean Patrick andJason Powell flankConcept Developments Eric Taylor atHouse of Blues. Sean and Jason (aside from that recent deal we mentioned last week) just brokered the sale of a Conyers CVS for nearly $2M to LJL Holdings.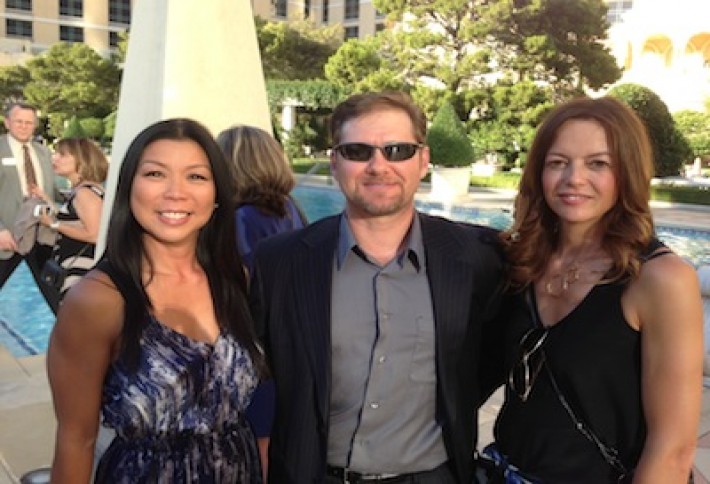 Last nightat the ICSC opening party around the Bellagio Hotel pool, we snapped Atlanta-basedMark Foreof CEI Engineering with a couple of new real estate acquaintances in for ICSC fromNY. He imparted two great pieces of info: CEI has designed a 1M SFdata centerin theCharlotte, NC, metro, and dirt has started to move. And he strongly agrees with Atlanta Magazine's recent ranking ofHeirloom Marketin Central Perimeter as the best BBQ in the Big Peach. (Shameless Product Placement:Speaking of Central Perimeter, thisWednesdayis Bisnow's "Future of Central Perimeter" event;sign up now!)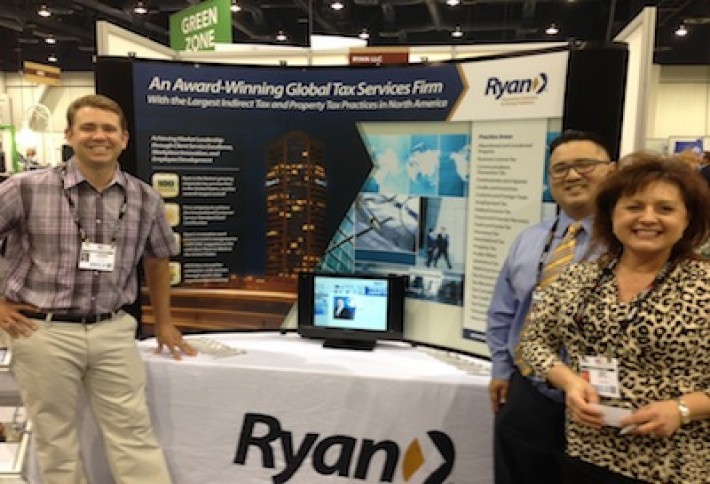 Dallas-basedRyan LLChelps reduce tax liability for real estate owners and likes to say it's one of the few companies that clientswant to get billsfrom, since they usually charge just based on success. We also like their motto: "Innovative Solutions toTaxing Problems."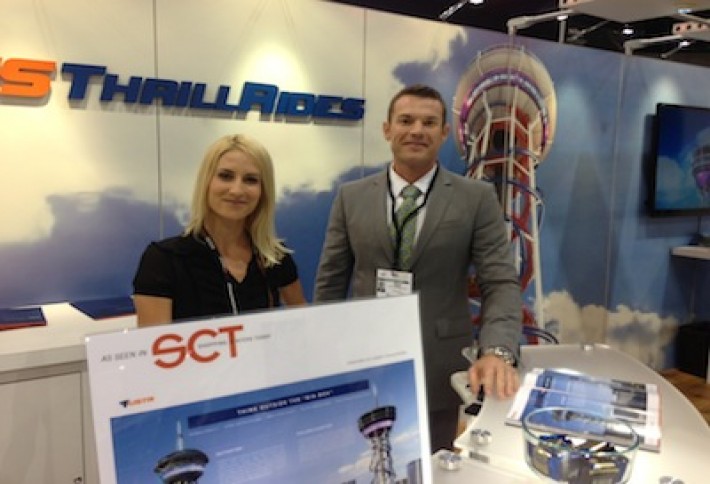 This Orlando-based company builds pay-to-participate attractions likeroller coasters, wind tunnels, andFerris wheels. It's done 300, which cost anywhere from$1M to way more, like that "poler coaster" behind them, that's being constructed 325 feet above Myrtle Beach. Tell them we sent you and they said we get a big referral fee. Thank you in advance.
The best advice we can give you is don't ever take advice from us. Email Jarred@bisnow.com