News
Inauguration Day Roundup
During President Obama's inauguration Monday, legal folks came into the office on their day off to take in the sights. We braved the military vehicles scattered around DC for some law firm inauguration party-hopping.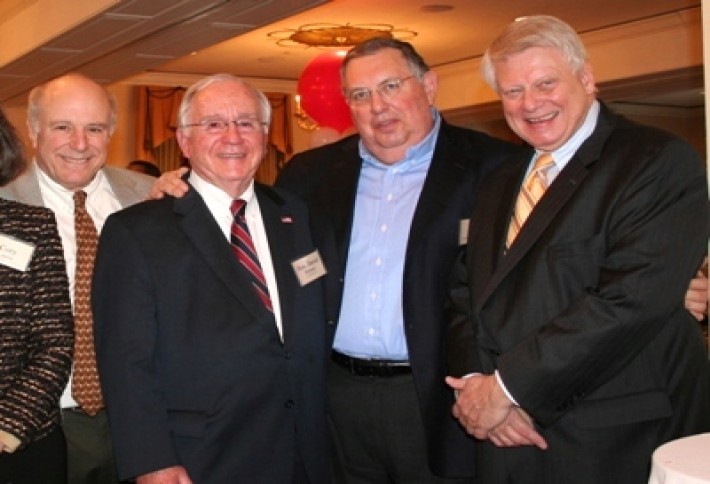 Vorys
has been celebrating inaugurations at the University Club since '85. That's only 13 years after firm managing partner
Russ Gertmenian
, left, and DC managing partner
Joe Lonardo
, second from right (then just associates who'd also summered at Vorys) joined the firm on the same day. Joe and Russ and their families have celebrated each
Thanksgiving
and
Easter
together for the past 25 years, and Monday Russ flew in from firm HQ in Ohio. We snapped them with Vorys Advisors president and former nine-term congressman
Dave Hobson
and partner
Randy Teague
. Randy is busy working on the Utica and Marcellus shales. There's more to it than
fracking
: the midstream business of processing, storage, and transportation; downstream potential in polymers and petrochemicals; and issues of workforce development and water allocation.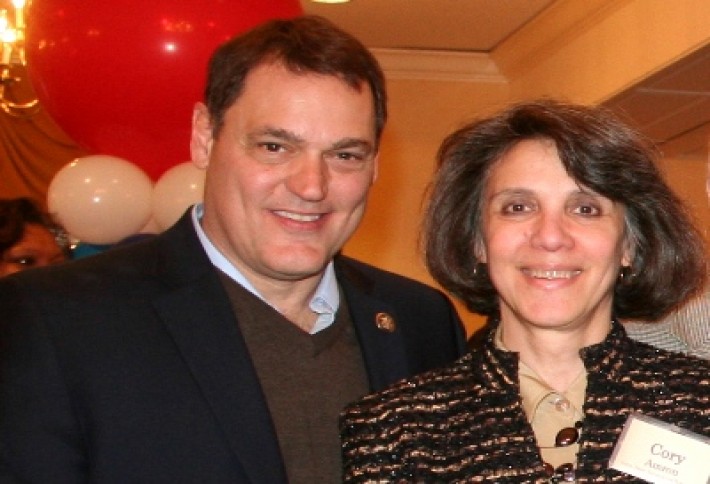 Former congressman and principal in Vorys' government relations arm
Zack Space
with DC IP chair
Cory Amron
(who doesn't number 40 years with the firm as do Russ and Joe, but has a solid 17 under her belt). Cory tells us she's in the midst of an
IP portfolio acquisition
, which continues growing in importance as a business strategy for companies. And this year, look out for nonprofits and universities also becoming more protective over their IP.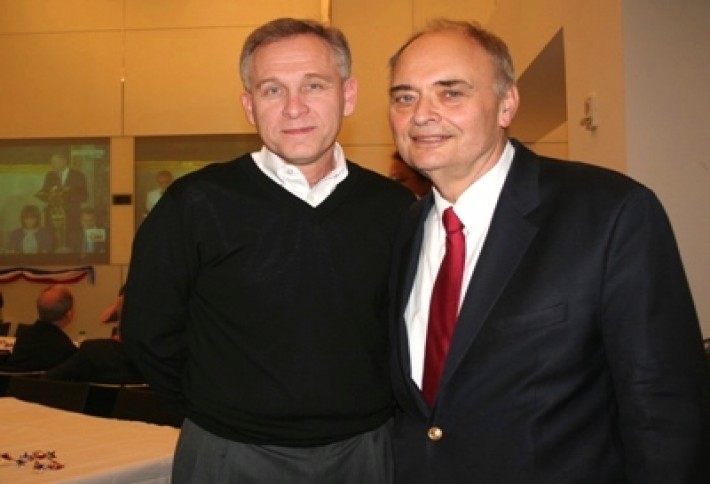 It was blustery and cold outside, but at K&L Gates, public policy co-chair Mark Ruge and partner Manny Rouvelas watched the inauguration on projectors indoors. Manny, a longtime legal and lobbying guru, founded the DC office of Preston Gates in '73 as a one-man shop and grew it to more than 140 folks before it merged into K&L Gates in '07. They tell us that after fiscal and appropriations issues, gun control and immigration are on the table for the federal government. A long awaited tax reform may also be on the agenda this year, as Congress has had more than 50 hearings on the topic (the most since prior to the last reform in '86).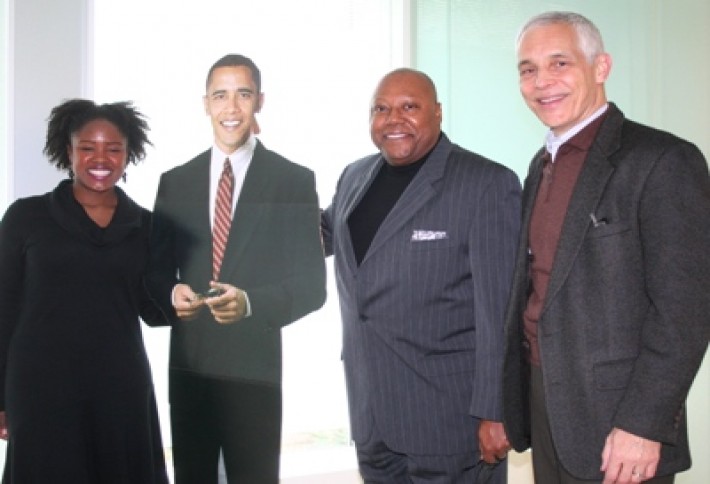 One similarity between every firm party was how often President Obama showed up. Here, he's with public policy associate Akilah Green and partners William Kirk and Bill Myhre.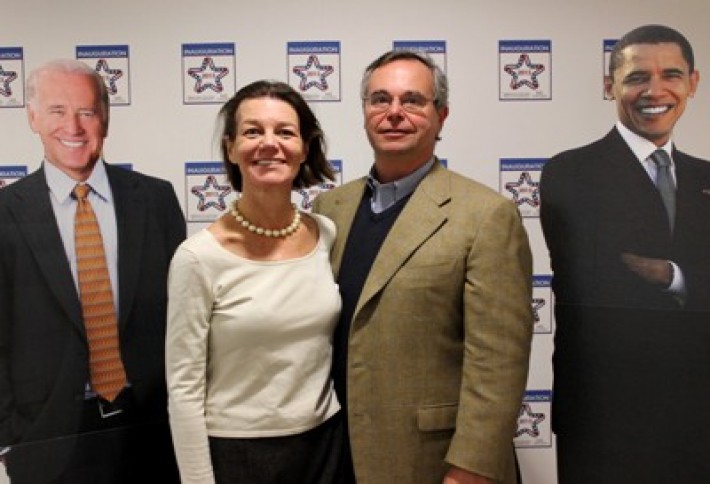 VP Biden
made his first appearance (only after being sworn in by Justice Sonia Sotomayor, of course) at
Mintz Levin
. He's smiling with ML Strategies president
David Leiter
(who's no stranger to the White House, having served as a presidential appointee in the
Clinton administration
) and David's wife, former Hillary Clinton and John D. Rockefeller chief of staff
Tamera Luzzatto
, now Pew Charitable Trust's managing director of government relations. In the firm's
701 Penn Ave
office, folks gathered around windows that overlook the parade route to see the president passing by.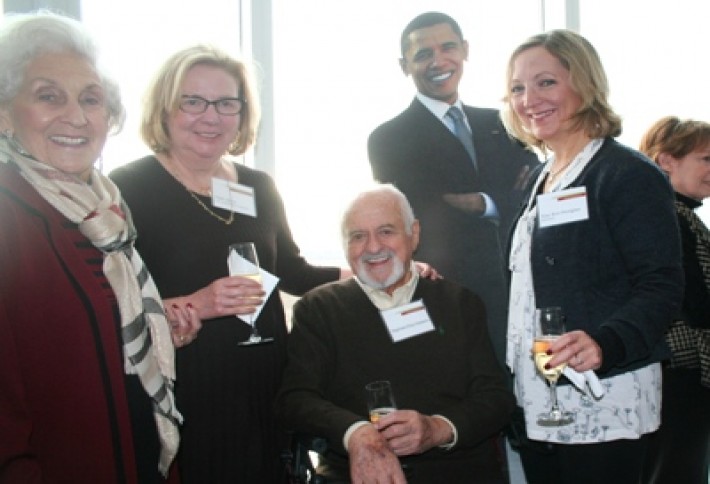 The president also attended
Baker & McKenzie's
event in its
newly renovated 815 Connecticut
office; 600 others RSVP'd as well. (Presidents Obama and Clinton did actually visit the office while it was under construction as part of the DOE's initiative to support energy-efficient buildings.)
Evelyn Hoogland
, left, came from Utah at the invite of her family (hint: all lawyers). Her daughter
Kay Hoogland
, right, is a VP with Motorola, and daughter-in-law
Ruth Story
of the
DOJ
is second from left next to
Ray Nadeem
. Out of the picture is Evelyn's son-in-law, Baker & McKenzie's
Jim O'Brien
, and son
Jay Hoogland
, the chief of compliance for the National Park Service.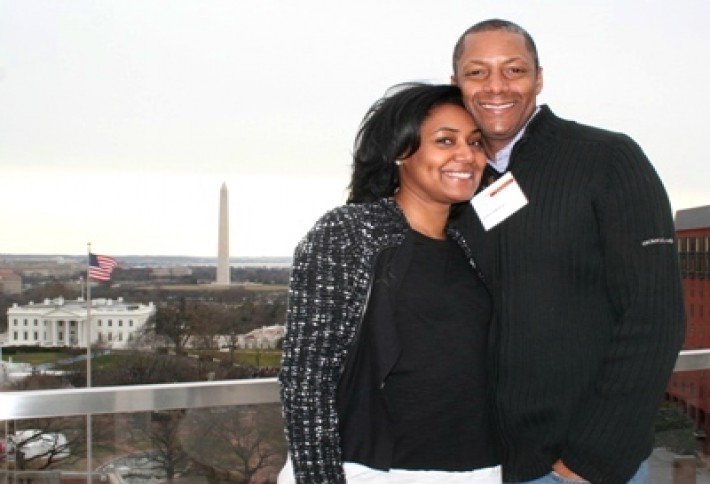 Former Baker & McKenzie associate Simone Williams is now GC at Gulf Coast Funds Management and picked up a National Bar Association 40 Lawyers Under 40 award for her role last year. She came back for the inauguration event (who can resist that view) with John Henry.
New year, new stories. Send tips and scoops to Roksana@bisnow.com.