News
Ghibellina: A Throwback to Florence
Tuscan trattoria Ghibellina opened last week in the former HR 57 space at 1610 14th St NW-- between Q and Corcoran. The restaurant comes from partners Ralph Lee and Ari Gedjenson, co-owners of Eastern Market's Acqua al 2 and Harold Black.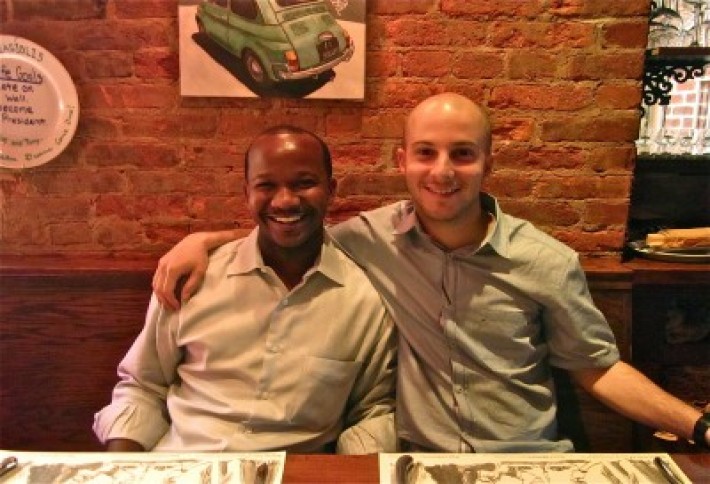 The two aren't just business partners; they've also been best friends since their kindergarden days here in DC. After high school, Ari left town to play soccer professionally, and ended up living in Florence, Italy. When Ralph graduated from college, Ari convinced him to join him in Florence to open up a classic American diner--a concept he knew would be a hit with Florence's American expat and student communities.Ari's Diner was indeed a hit, and attracted the attention of nearby restaurant, Acqua al 2. Ari and Ralph established a great relationship with Acqua's owners, and three years ago struck a deal to bring the Acqua concept to DC,while Acqua's owners took over management of the diner in Florence.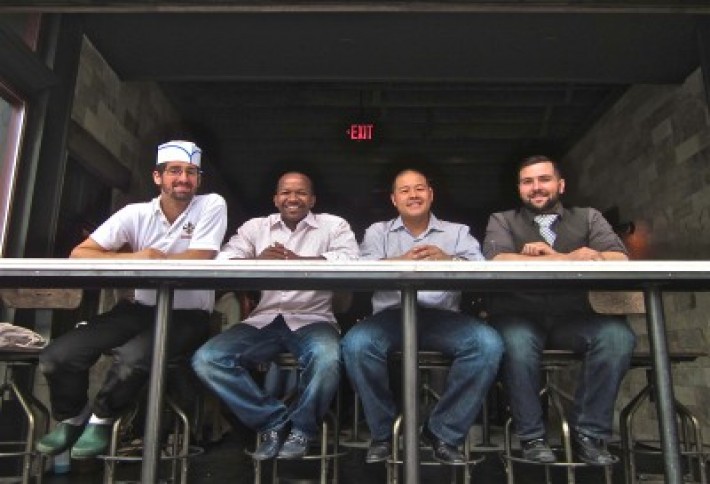 Ghibellina is heavily influenced by Ralph and Ari's time in Florence. Their diner was on one end of via Ghibellina, and their apartment the other--hence the new restaurant's name. Ari took Ghibellina's executive chef Jonathan Copeland and pizzaiolo Joshua Rood-Ojalvo to Florence to train in the kitchen of Trattoria Mario, Ralph and Ari's "Cheers" during their time in Florence. Above, Jonathan and Ralph join managers Sam Pan and Aaron Seelbinder at the restaurant's front bar, which opens to the street.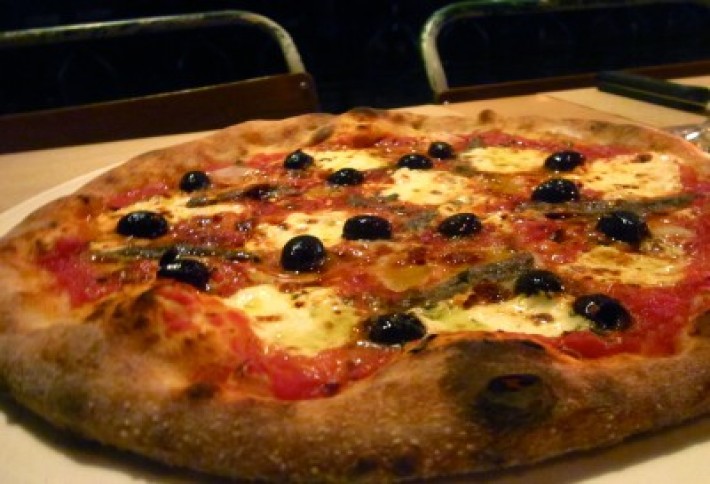 Ghibellina's menu offers "authentic Tuscan trattoria food." Chef Jonathan tells us the cuisine from that region is very meat and veggie heavy, and beans (like white cannellinis) play a large role. "Bean-eater" is actually a derogatory term for someone from Tuscany. The cuisine is also heavily olive-oil based (rather than butter), thanks to the abundant olive groves in the region. Ghibellina's small-plates-style menu offers flavorful soups and salads, crisp pizzas, house-made pastas, and a variety of meat, seafood, and veggie-focused dishes.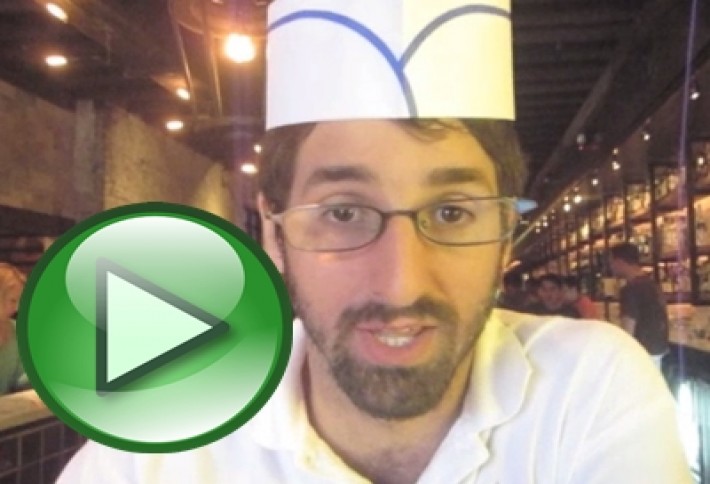 Here's Jonathan explaining why they serve their pizzasuncut(no, it's not just to annoy you).Beverage director Giancarlo Cruz has created a prohibition-style program as a nod to the Italian influence on the drinks of that era. He explains that in the early 1900s there was a big influx of Italian immigrants who brought their "beautiful cocktails" with them. They also introduced Americans to "amaros," which is Italian for bitters. As for design, manager Sam Pan tells us their goal was to create a space unlike anything else in DC. The rustic wooden beams contrast the steel fixtures throughout the long, open space, while the faux-finish on the exposed brick calls old Europe to mind. Reservations are accepted only for parties of eight to 12 at the large, semi-private table tucked along the side of the restaurant; otherwise, it's walk-in only.