News
15 Things You Need to Know This Morning
If you don't
see the cool
pictures, please click here!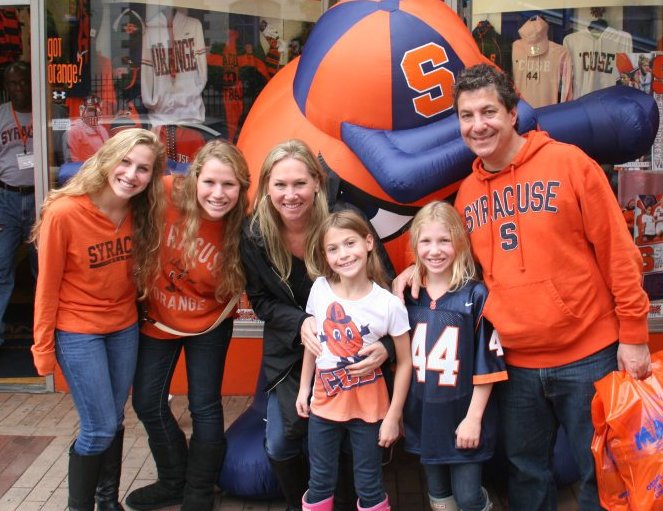 What You Don't Know About
Cliff Mendelson
Title: CEO, Metropolis Capital Finance.
Photo: Recent family visit to alma mater. 
Company: Seven employees; complete $200M-$750M in 15-30 deals annually, throughout the country. 
Job: Raise money in capital markets for clients and for firm's deals through The Goldstar Group (co-managed with Michael Brodsky).
Memorable project: Financed $500M for Solaris Condominium in Vail, in 2008. 79 ultra-luxury condos, 70k SF of retail, including a Nobu Matsuhisa restaurant, 400 parking spaces, movie theater, bowling alley, and ice skating rink. Lead lender was Bear Stearns, which collapsed a few weeks before deal closing. Scrambled to find last of sizable construction dollars through combo of German bank, NY hedge fund, and developer capital.
Current projects: Acquired property at 14th and U – hope to bring high-end retailer and condos. Also working with Finmarc Management to sell Goldstar's 85-unit ARC 3409 condo project in Arlington.
Why CRE career: Father was prominent RE lawyer in NYC, so exposed to the business at young age. 
Grew up: Sands Point, part of Port Washington on Long Island.
Current home: Somerset section of Chevy Chase.
Why DC: While living in NYC, sold Shirlington Gateway in Arlington to  Japanese firm six months out of college. Client wanted more in DC and future father-in-law, Stanley Bobb, wanted daughter back home.
School: Syracuse. Also teach graduate structured finance class at Georgetown. 
First job: Condo sales in NYC for Gould Investors.
Job in another life: Since Bruce Springsteen isn't in the cards, an Ari Gold-like Hollywood agent or a Jerry McGuire-like sports agent.
Daily habit: Howard Stern.
Favorite app: 2048.
Favorite movie: Wall Street.
Favorite TV show: Entourage – favorite character is Ari Gold, of course.
Favorite restaurant: Prime 112 (Miami).
Favorite musician and song: Bruce Springsteen - Thunder Road.
Favorite vacation spot: Aspen – family has home there, but only get to go four days a year. Used to ski moguls competitively, but at age 48, happy to "just cruise."
Guilty pleasure: Catching ride to Aspen on friend's jet.
Bucket list: Run NYC marathon - almost did it this year but got injured.
10 years from now: Will be playing bongos in E Street Band. (Seen them live 80 times.)
Family: Married to Tammy; four daughters (ages 20, 17, and twins are 11), and 10-week old Maltese.
Hobbies: Skiing and charity work for Charles E. Smith Life Communities and Jewish Foundation for Group Homes, and several others.
Startling fact: Turning 50 in 1.5 years! Had 500 friends at 40th and flew in Springsteen tribute band from Vegas. Hoping to have real thing for 50th. 
15 OTHER THINGS YOU NEED TO KNOW THIS MORNING
© 2014, Bisnow LLC, 1817 M St., NW, Washington, DC 20036. All rights reserved.
To UNSUBSCRIBE from future emails or to modify your email subscription preferences click here.