News
15 Things You Need to Know This Morning
If you don't
see the cool
pictures, please click here!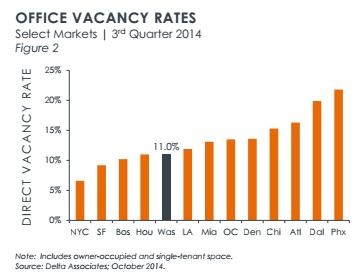 Lackluster demand has the region's office vacancy around 11% as of September, about the same as year-end 2013. Yet that's low by national standards: Absorption has been positive due to the delivery of pre-leased space. The multi-tenant vacancy rate is higher because the single-tenant market tends to be more stable and includes many fully occupied properties. Although demand is expected to increase over the next two years, it probably won't be enough to lower the vacancy rate significantly, as tenants consolidate or vacate space as new product delivers.
15 OTHER THINGS YOU NEED TO KNOW THIS MORNING
© 2014, Bisnow LLC, 1817 M St., NW, Washington, DC 20036. All rights reserved.
To UNSUBSCRIBE from future emails or to modify your email subscription preferences click here.