News
15 Things You Need to Know This Morning
If you don't
see the cool
pictures, please click here!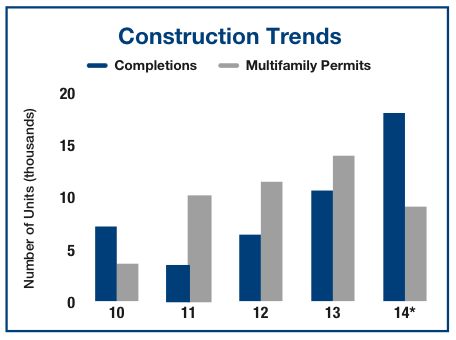 MULTIFAMILY CHART OF THE DAY
More than 11,500 apartments were completed in the DC region over the last four quarters, a big increase from the 8,120 of the preceding 12-month period. A large share were in the Central and NE D.C. submarkets. 17,200 apartments are under construction in the metro, with 15 developments measuring more than 400 units. The largest project, Avenir Place apartments, has 628 units located in the Tysons submarket. The planning pipeline consists of nearly 52,000 apartments, with the majority of projects located in the District, Arlington, and Prince George's. Only a handful of these projects have set groundbreaking dates. Outlook: Developers will complete the largest addition to apartment stock in more than 10 years. 18,000 apartments will be delivered in 2014, expanding inventory 3.3%.
15 OTHER THINGS YOU NEED TO KNOW THIS MORNING
© 2014, Bisnow LLC, 1817 M St., NW, Washington, DC 20036. All rights reserved.
To UNSUBSCRIBE from future emails or to modify your email subscription preferences click here.