News
The Little Revitalized Community That Could
Reviving an area like Merrifield isn't impossible, but it requiresdevelopers, citizens, and governments to work together. That formula hasn't worked so well with sequestration, so we were intrigued to hear the experts yesterday at our sold-out Urban Revitalization Summit & Schmooze.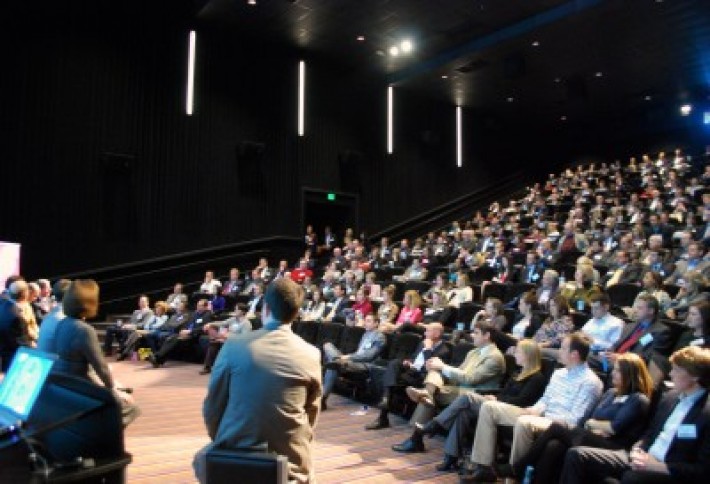 Over 400 joined us at theAngelika Film Center at the Mosaic District in Merrifield. Mill Creek Residential Trust's Chad DuBeau says his firm, which is developing apartments in the neighborhood (as well as next to nearby Dunn Loring Metro), sought to work together with competing developers like Edens to create a better overall community.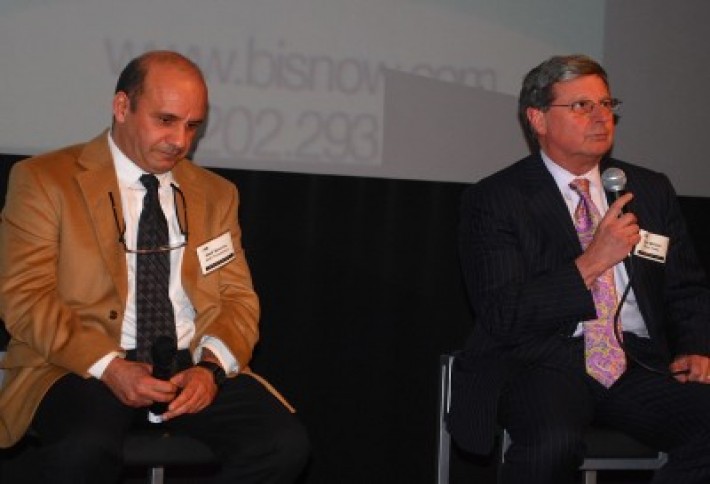 Fellow panelist Abed Benzina of SK & I Architecture(left)says that designers of a revived community must work within the confines of a master plan and act as "good soldiers" of the idea. And Avison Young's Dave Millard, who's leasing the office space at Mosaic, says elements like the development's lively streetscape reflect what tenants and shoppers are looking for. Dave adds that the highest rents for Mosaic's office space are on the 2nd floor of the building, since tenants are able to view the streetscape from there.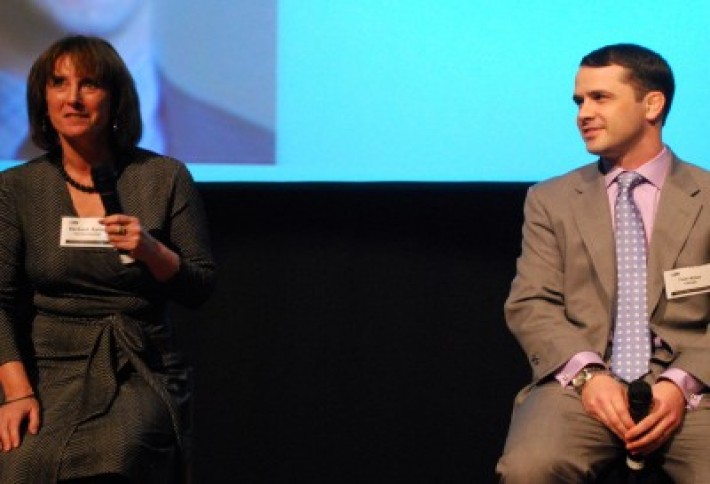 Barbara Byron, director of Fairfax County's office of community revitalization (here with Edens' Tom Kiler), says having a solid master plan is key to any ambitious revival project. She adds that revitalization was at one time "the stepchild" in the minds of the county, until her department was established in 2007 to redevelop and strengthen Fairfax's older commercial centers. Tom says his firm, which developed the 1.9M SF Mosaic district, considered the local and state governments, as well as other developers, as "partners" in breathing new life into the area, singling out Barbara and US Rep. Gerry Connolly as instrumental.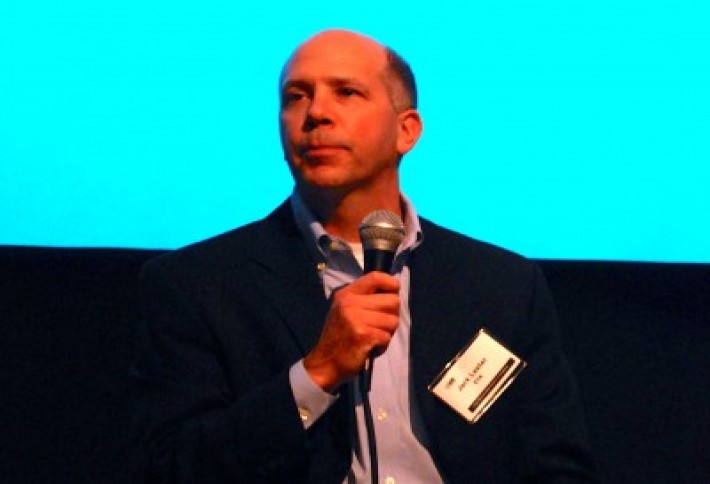 EYA's Jack Lester-- whose firm is developing town homes in the Mosaic district--says if a revitalization plan works, it can pay huge dividends. He says demand for EYA town homes there is "off the charts," since people can see the vitality of the area's retail and food components; 70 town homes have been sold at Mosaic since the beginning of last year, allowing prices to rise up to 20% in that period (they're currently selling in the $800k range).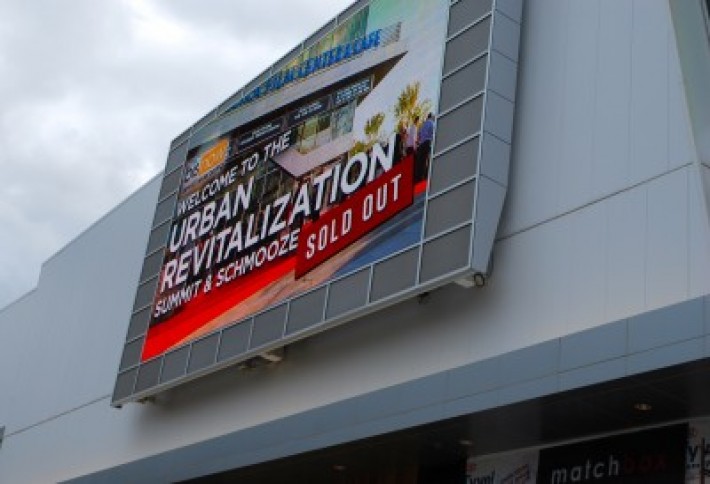 The Angelika Film Center proved a fantastic venue, and we were flattered to get a shoutout on the big screen. Nobody believed us when we said it was a "kiss cam." Next time, we'll bring a breath mint.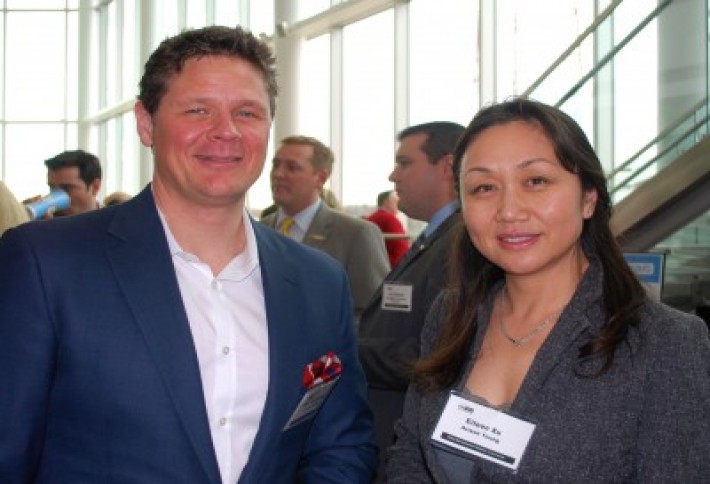 Before the event, we ran in to Avison Young's Dan Gonzalez and Eileen Xu, who tells us she just closed a 43k SF lease for Good Fortune grocery in Centreville.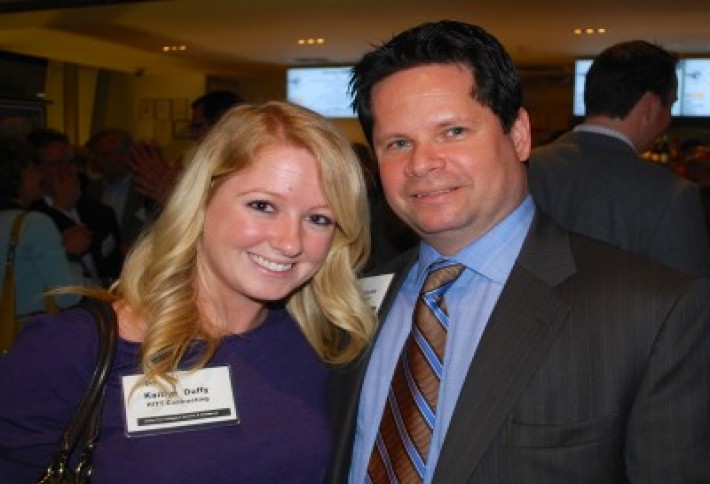 After, we caught up with HITT Contracting's Kaitlyn Duffy and Derek Gallardo;the firm's work on renovations of Penzance's 1500 Wilson Blvd in Rosslyn will finish this spring.