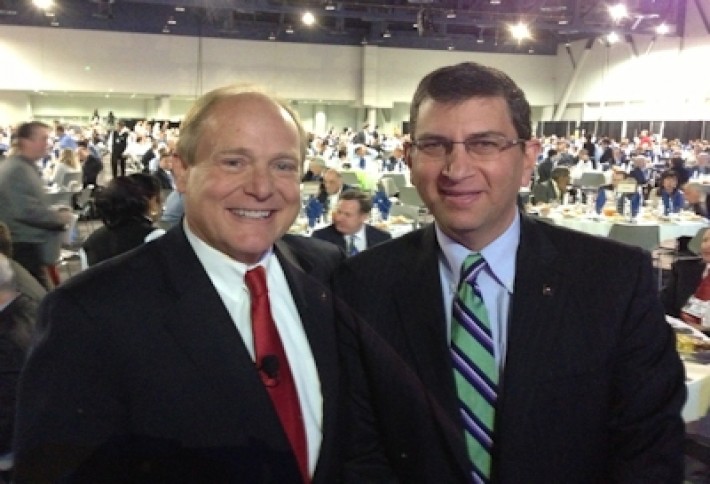 With 1,500 at yesterday's seated luncheon as the backdrop, we snapped ICSC presidentMichael Kercheval and outgoing chairman Brad Hutensky (CEO of Hutensky Capital Partners of Hartford, Conn., a fund that invests in underperforming retail through loans, purchases, and JVs). Check out this Friday's National issue for our chat with new ICSC chairman David LaRue,CEO of Forest City Enterprises.
Yesterday on the ICSC RECon exhibition floor, we found Saul Centers' Chris Netter, Robyn Reese, and Diana Shipley. The Bethesda-based REIT has 9.5M SF, 85% of which is in the DC metro, but also owns in Atlanta, New Jersey, and several cities in Florida. Its specialty is grocery-anchored centers, although it's also increasingly doing mixed-use.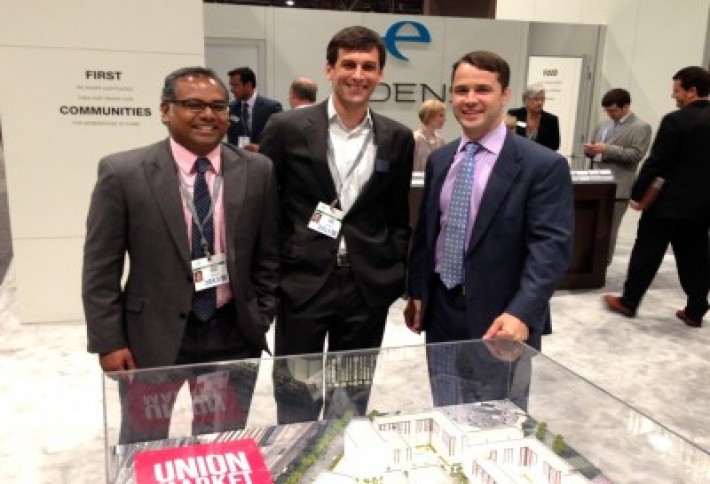 At the Edens booth, we snapped key development leadersSenthil Sankaran, Jeff Kaufman, and Tom Kiler. The 50-year-old company has $4B in assets, including 111 grocery-anchored centers, and likes to think of its mission as creating "community gathering spots." In DC it's recently unveiled the Mosaic District in Merrifield, but is also well known elsewhere in the east for landmarks like Middlesex Commons in Burlington, Mass. and Merchants Walk in Marietta, Ga. It was started 50 years ago by Joe Edens and--in case you oldsters or formalists were wondering--officially dropped the "Avant" in its name two years ago.
Here's the Wanda Group: China's largest developer and owner of commercial real estate, established in 1988 and based in Beijing. It owns 55 five-star hotels and last year acquired the AMC movie theater chain.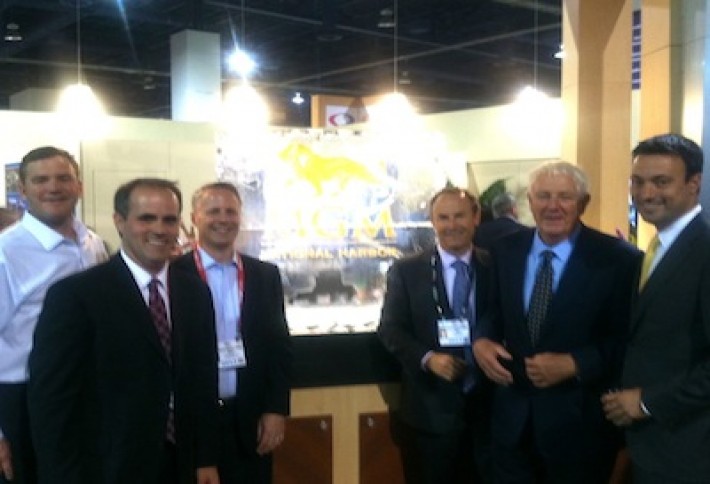 Over at the Peterson Cos party, the Tanger Outlets gang (partnering with Peterson on the National Harbor outlets) posed with the hosts: Peterson's Jon Peterson, Tanger's Charles Worsham and Barton Hunter, and Peterson's Taylor Chess, Milt Peterson, and Marc Menick.