News
Goodbye Corner Space: New Offices for the Tech Age
Not all companies are made the same. Robust growth inToronto tech companiesis having an impact on office space design.Yesterday, we held a Tech Summit withindustry developers, landlords, hi-tech entrepreneurs, and architects to learn what exactly a nerd nest should look like.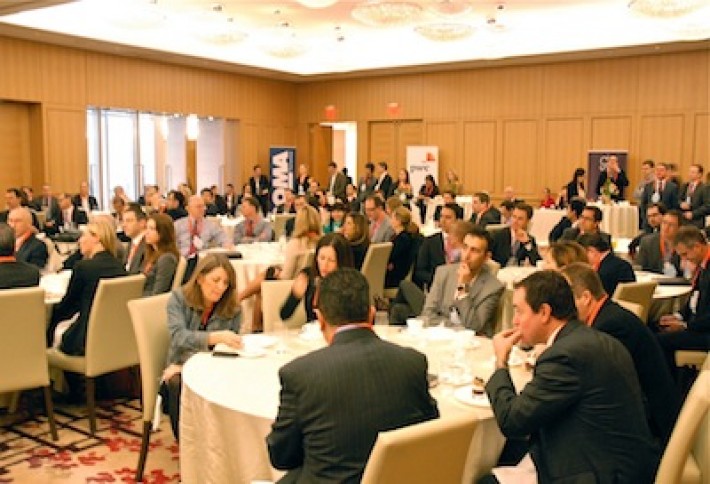 We counted 175 on hand to hear PwC Partner Sal Bianco moderate the first group, featuring First Gulf CEO David Gerofsky, Cushman & Wakefield managing director Nancy Cohen, Cisco Canada VP of business transformation Rick Huijbregts, Sweeny Sterling Finlayson & Co principal Dermot Sweeny,and Toronto Port Lands Co CEO Michael Kraljevic. For round two, Arcestra CEO Colin Graham moderated Extreme Startups managing director Andy Yang, Uken Games co-founder Chris Ye, Oxford Properties VP John Peets, and Perkins + Will senior associate Jillian Warren.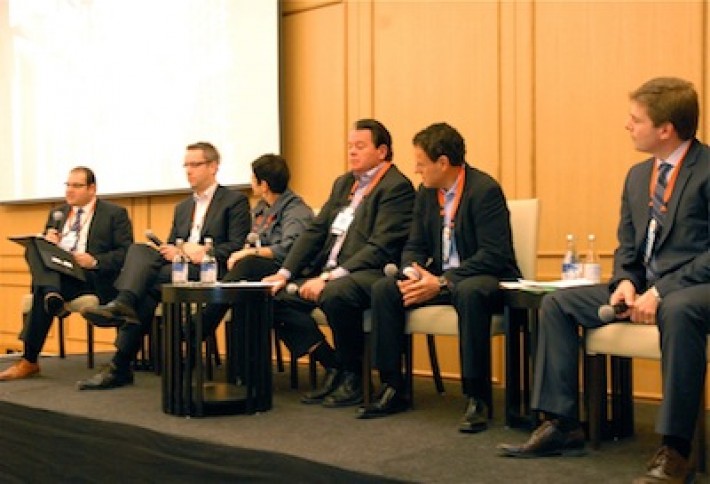 Colin's message: everyone has to start somewhere. Big established companies like Oxford need to continue to develop in the direction of startups like Uken Games. That meansaffordability and amenities for young entrepreneurs. In turn, startups, as they grow, might drift toward the so-called conservative landlords like Oxford. The reality is the office market in Toronto is dominated by A Players, Oxford being one of them, he says. A startup isnt necessarily a risk to a landlord if you can make available space you have already invested in, in terms of build-out, because that startup would be paying rent. Empty space is a very expensive business.
Sal (left, with Colin) took awaytwo key messages: the heightened need for mixed-use environments--offices that offer not only healthy environments but attractive amenities--and the need to make better use of land. Using the right amenities in the right fashion, he says, so everyone can be better integrated, because socially we need to be that way.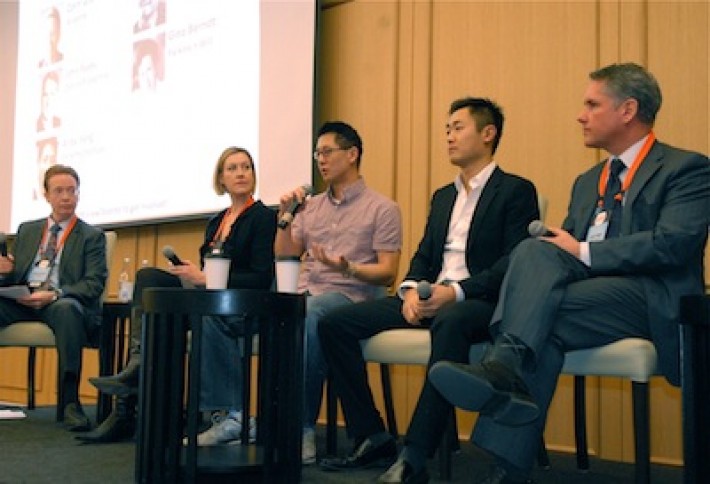 The big question of the day was, Is the corner office dead? Both panels agreed:yes(to varying degrees). Rick says tech startupsneed the flexibility where one is working from home one day, then coming in the next for a more collaborative environment. I am stunned by new buildings offering big corner offices, he says. In a global environment, teams are often all over the world, so office technology needs to respond to that, he adds. Go to more open spaces all you want, Nancy Cohen says, but there are still people that need to put their heads down and do focus work, and that can be counter-intuitive to the transparent work environment.