News
Three Billion New Travelers?
The global middle class is projected to swell by more than three billion folks by 2030. (Customs agents are already shaking in their boots.) At the 35th annual NYU hospitality conferencein Manhattan this week, that news had top hoteliers buzzing about new growth opportunities.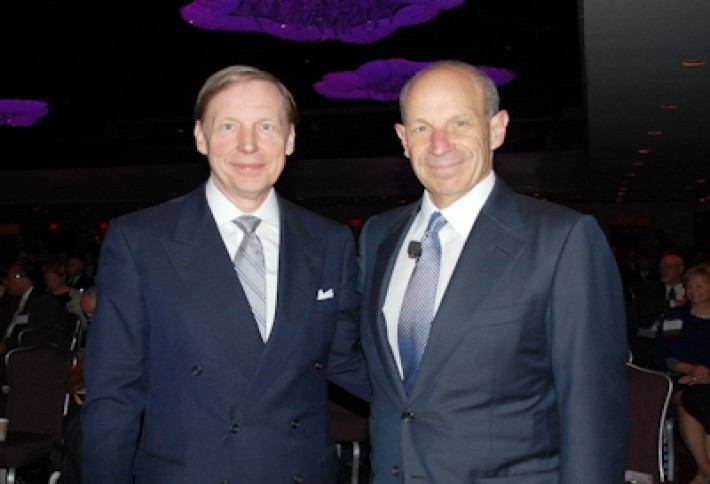 We snapped NYU Preston Robert Tisch Center divisional dean Bjorn Hanson and Loews Hotels chairman Jonathan Tisch (whose father is the namesake for the school's hospitality, tourism, and sports management department). In front of a crowd of 1,800,Jonathan named critical itemsfor theindustry's focus: competing for international travelers; delivering a great, seamless travel experience, from visas to going through customs;and creating public policies that support travel.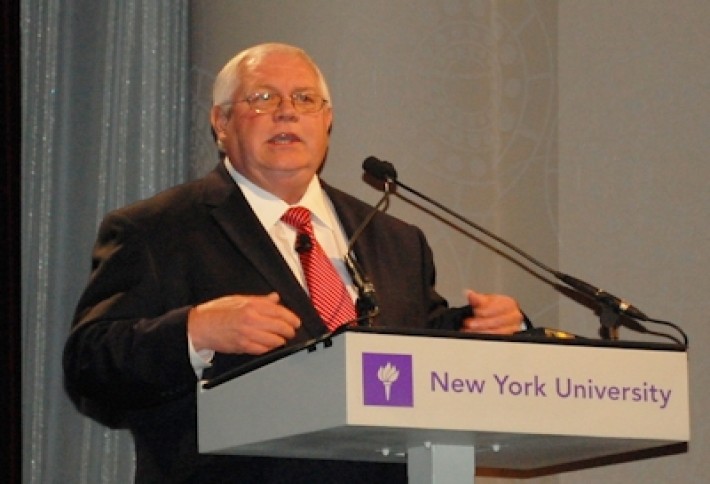 Supply and demand are both athistoric levels, says STR Global chairmanRandy Smith, who joined HVS chairmanSteve Rushmorefor a statistical look at the market. Monthly room supply clocked in at nearly148 million roomsin April, a 600,000-room jump in only 10 years. "Room demand is also on a tear at92 millionroom nights a month, anew record," he says.Hotel values now exceed their 06 peaks, Steve adds--that means owners holding out for more moola can finally selland asignificant jumpin hotels trading hands.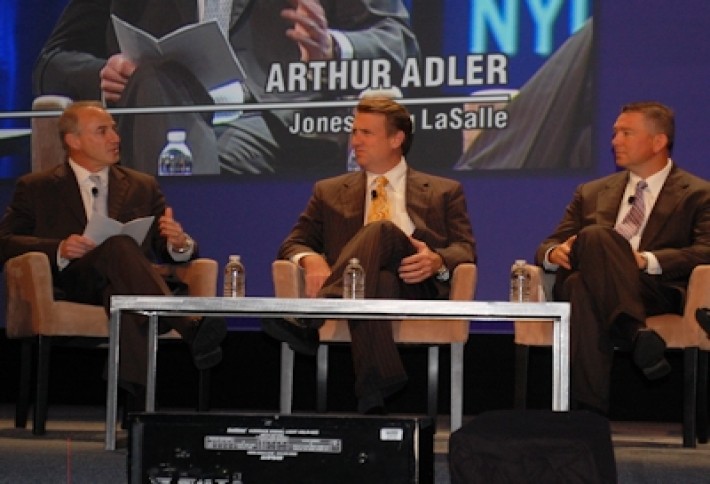 What keepshoteliers up at night? JLL Hotels head honcho Art Adler posed that question to a group of CEOs. DiamondRocks Mark Brugger says its governmental policies, like healthcare and visas, while Summit Hotels Dan Hansen points out technology--like TripAdvisor--that gives consumers greater visibility into how hotels are run. (One secret we've learned: No hotel will take a Priceline bid for $2.) Noble Investment GroupsMit Shah(not pictured) says with theinflux of Millennialstraveling, theres a threat as to who customers areloyal toonline travel agenciesorbrands.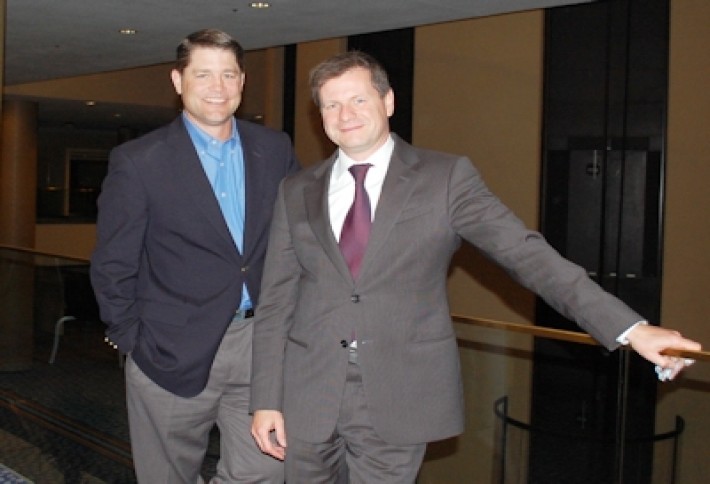 We sat down with one company that will have300 new hotels in the pipeline by 2015. Embassy Suites global head John Rogers (right) and VP Alan Roberts tell us it'salready received approvals for 12 of those in Q1more deals than all of 2012. It loves secondary and tertiary markets: Recent openings include Salt Lake City, Chattanooga, and Knoxville; whileSavannah and Springfield, Va. will open later this year. (This is when the hopes ofquaternary markets begin to rise up, before being ruthlessly crushed by reality.)John also reports a new push into downtown areas. Itll open a conversion in the heart of Baltimore this month; has plans for downtown Seattle; and would eventually like locations in NY, San Francisco, and LA.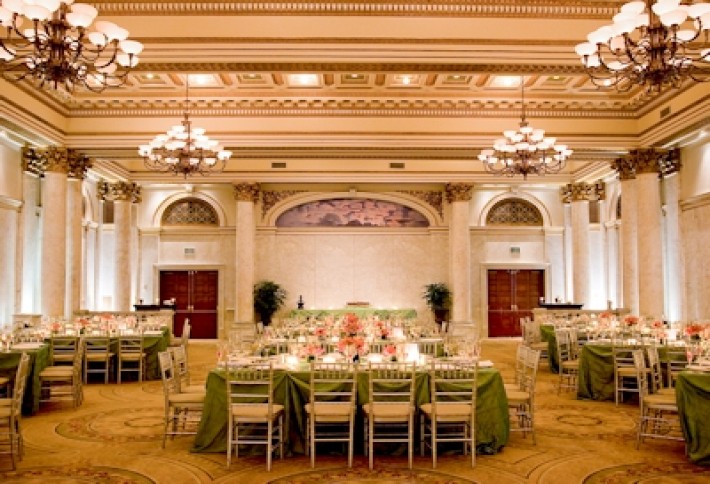 Above is the meeting space at the Baltimore property, called the Grand Historic Venue45k SF with 19 individually restored banquet rooms, originally built by the Freemasons as the Grand Lodge of Maryland Masonic Temple in 1866. Theres been interest from franchisees, particularly private equity folks, to reposition older assets. John estimates 30% of the pipeline will be adaptive reuse, especially in downtowns. John, meanwhile, enjoys hopping around the country to visit the new locations. The UK native moved here from London with his family last August, and he describes himself as a kid in a sweet shop, dabbling in American pastimes like baseball and ice hockey. One thing he cant get used to: the humidity.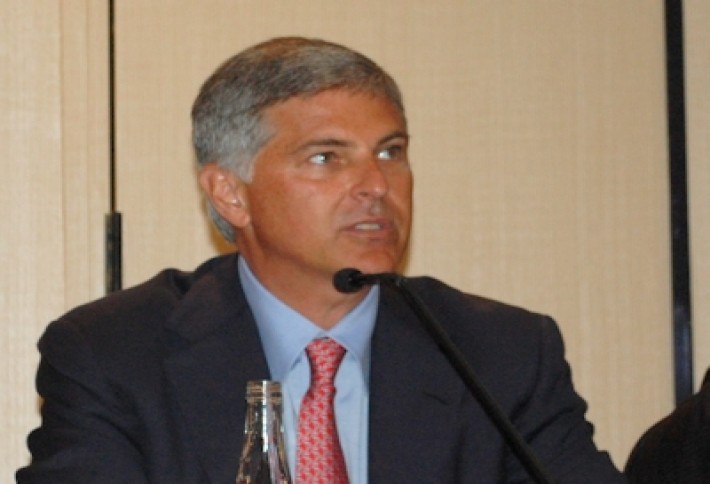 Hilton Worldwide (Embassy's parent co) is also tapping thosesecondary and tertiary markets, particularlyfor limited-service names like Hampton Inn, Homewood Suites, and Hilton Garden Inn, reports CEOChris Nassetta.Monday, Hilton opened its newest DoubleTree in downtown Cedar Rapids, Iowa after a two-year, $144M capital improvement and expansion plan. (The full-service hotel includes the adjacent 80k SF, 9,600-seat US Cellular Convention Center, so you won't have to walk too farto snap up some conference swag.) The company plans alifestyle push in 12 to 24 months.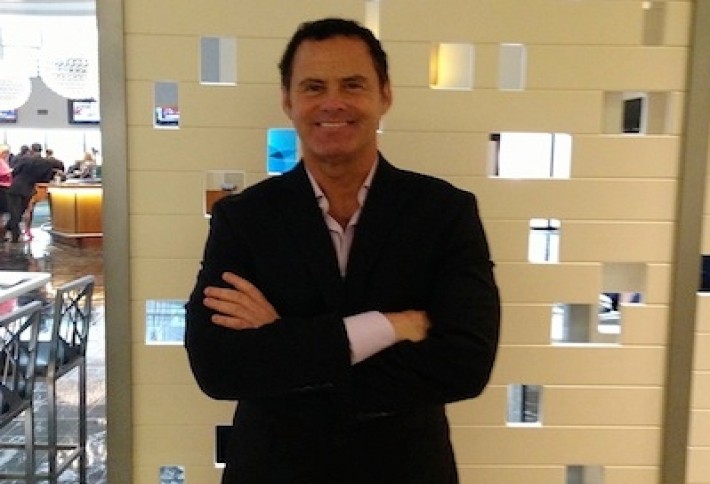 Virgin Hotels has long been rumored to be scouting just the right spot for its first NY hotel, andCEORaul Lealtold us it'll be29th and Broadway, smack in the heart of Nomad and virtually next door to the wildly popular Ace and NoMad hotels. He says the NYC-basedLam Groupwill be owner/developer of the$200M project, and it'll be new construction, four stars,300 keys, 8,000 SF of event space, with a high-profile chef to be named, big public areas that are "very local friendly," and a standout "wellness component." Virgin will engage a "world-class designer" to work with its in-house team, just like it used the Rockwell Group of Spain for an upcoming Chicago hotel. He also says it'll featurenew in-room technology, a large and vibrant rooftop, and an authentic, not trendy, neighborhood feel with theVirgin sense of humor, all to delivermid-2016. But he cautions that the Virgin brand cannot be translated as readily to hotels as it has been to airline cabins.
Want a hotel to die for? Check out the Westin Peace. Send story ideas to amanda@bisnow.com.