Skanska prides itself on being "glocal" (global but highly local). Seems fitting then that its first development project to break ground in Seattle--thefuture Brooks world HQ--will benefit from an intimate knowledge of local Fremont zoning.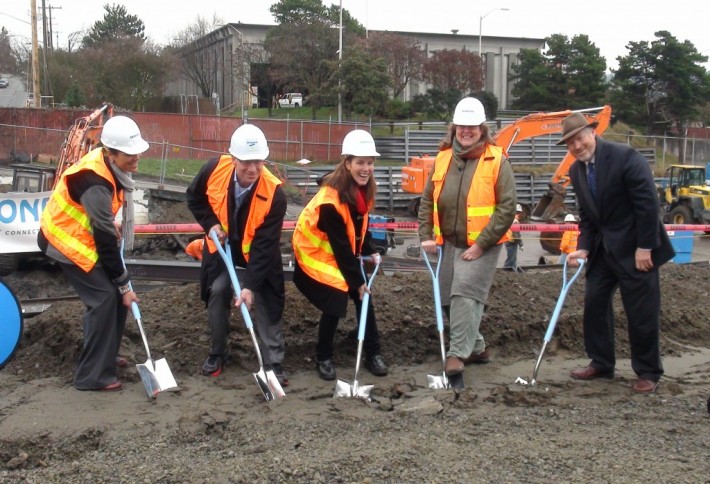 The 129k SF office at 34th and Stone Waybreaks some of the city's zoning rules in exchange for being 75% more efficient than comparable buildings. Skanska EVPs Lisa Picard and Chris Toher lifted shovels earlier this week at the Stone 34 project.The "ceremonial unearthing of the earth," as Lisa put it, went smoothly, even though the ceremonial cookies had to be moved out of the rain. Above, Lisa with Brooks CEO Jim Weber, Fremont Chamber of Commerce executive director Jessica Vets, Cathy Tuttle and Mayor Mike McGinn.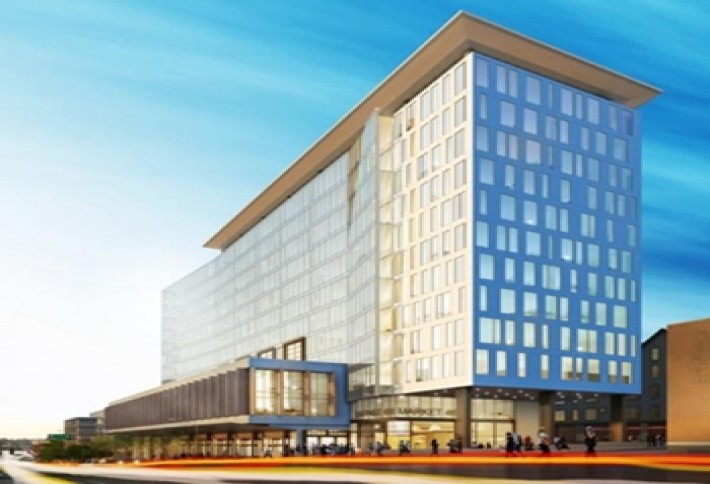 Stone34 is one of three Skanska projects in the works. Above, the company's South Lake Union venture,400 Fairview, will feature 500 SF spaces for small businesses at a street-level "Market Hall" and possibly a rooftop beer garden. There's also Alley III in downtown Bellevue, which will be 260 apartment units spread over four floors with an activated retail alley as itsground floor. Skanska is happy with its positioning, Chris tells us. While having a South Lake Union project is as obvious a good move in Seattle as owning a jacket with a hood, "It seems likethe apartment craze hasn't caught on in Bellevue yet," Chris tells us. "So it seems like we're in the right place."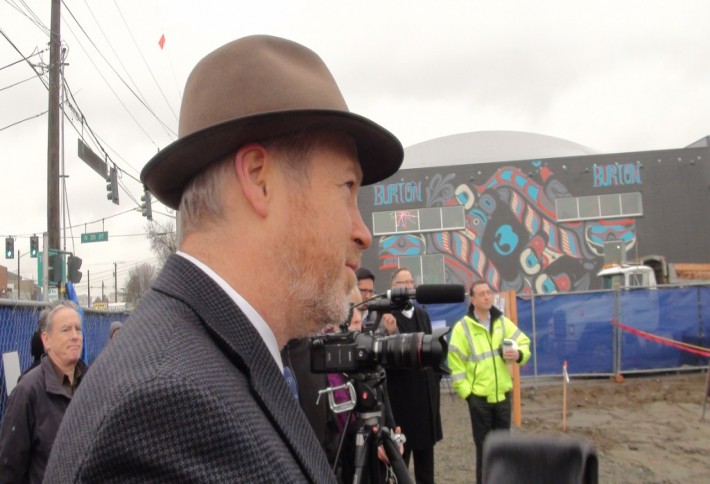 Here's McGinn in profile, looking rather Ernest Hemingway with hat and beard. The mayor showed up at the construction site wearing a business suit and wheeling a black bicycle. (Pre-groundbreaking, he was also seen outside Solsticio across the street.) We couldn't help but ask McGinn if he was concerned about the multifamily projects sprouting like daisies all over town. "We're growing jobs here, and there's a huge demand for urban living," he answered. (We took that as a no.) McGinn also figures that though rents are rising, they'll rise even more without the new product.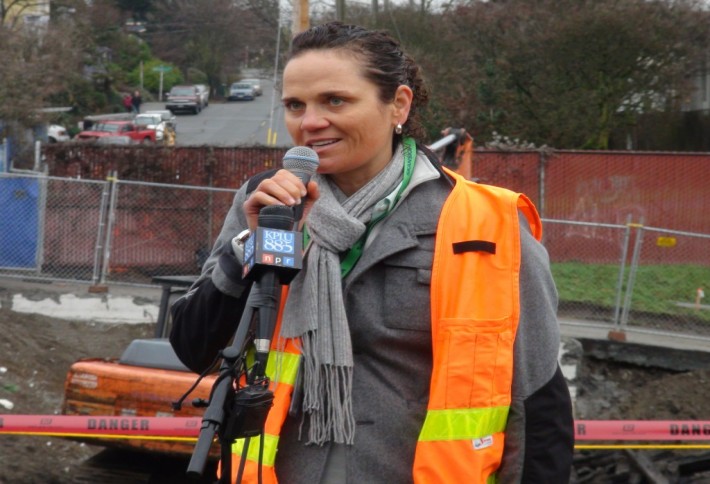 At 34th and Stone, one pertinent question about the new Brooks building remains: Is it in Fremont, or is it in Wallingford? Both neighborhoods are laying claim. Meanwhile, Brooks, which currently has its HQ in Bothell, has already impacted Lisa's life in a positive way. Before the project began, she had never tried on a pair of their running shoes. Last weekend, she says, she ran her fastest 10k ever sporting a pair.