News
Behind Wright Runstad's Big Bellevue Move
Your faithful publisher was in town this week and together with our Seattle business director Pat Kassin visited a number of key folks around town who are changing the real estate landscape.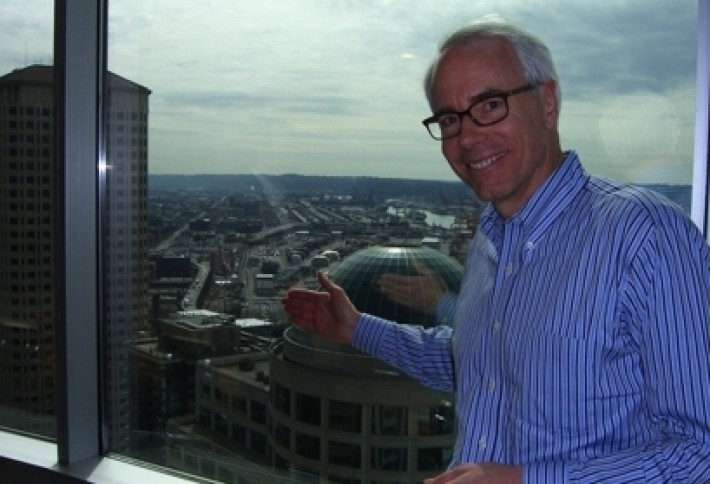 Although Wright Runstad president Greg Johnson was making a point here about the future of SoDo, the big news he shared with us this week was that his firm and partner Shorenstein have selected a first multifamily developer (Security Properties) to purchase a 2.5 acre site in their massive Spring District project in Bellevue. Greg said he was thrilled with the response they received (at least 10 great candidates). But he says the right residential anchor is so important to the long-term success of their $2B, 36-acre plans that instead of putting out a typical RFP and soliciting bids, they engaged a top CB investment sales team (Bosl/Hallgrimson) to take a more personal approach. He believes they found a firm with the most sympatico philosophy and chemistry to become a long-term partner as they give birth to a dramatic new area.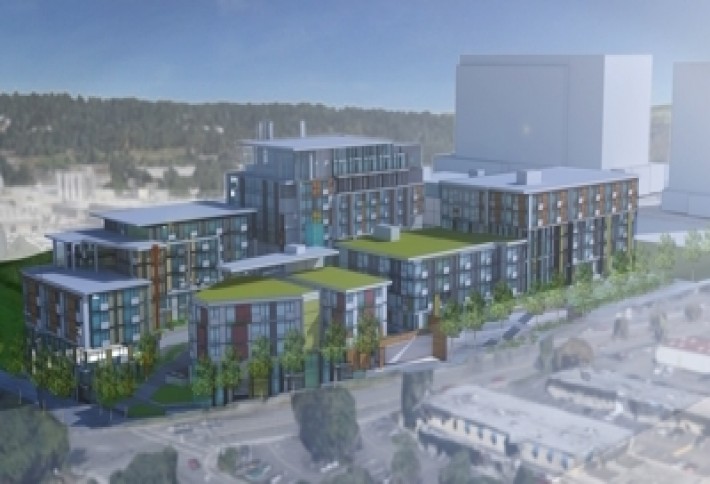 This is a rendering of Security's planned 316 unit project, designed by GGLO Architects. Gregsays hes personally toured Security's work both in this area and SF, and loves their style, which hed call urban authentic more than industrial. One element he cites, for example, is pushing parking underground so it really feels like a neighborhood.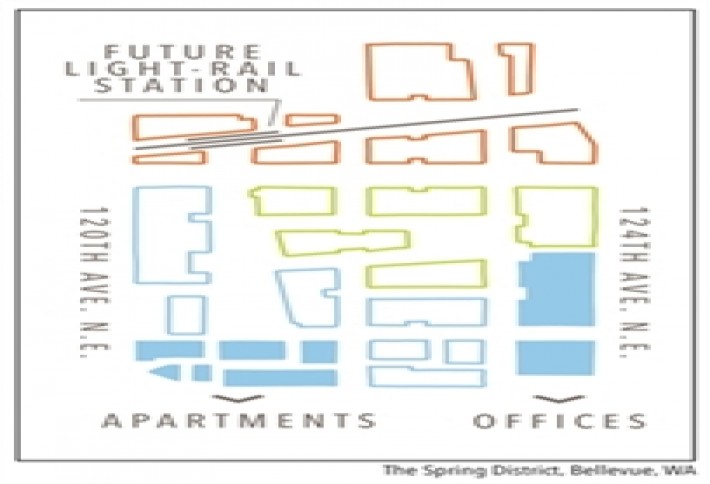 Security starts construction early next year, and around 20 months later Greg expects a combination of local tech employees and other hip urbanites will be able to move in. Simultaneously, Wright Runstad will be developing two of its planned six office buildings of phase one, and has Bellevues Broderick Group looking for 490k SF worth of tenants who want to be part of Bellevues tech explosion.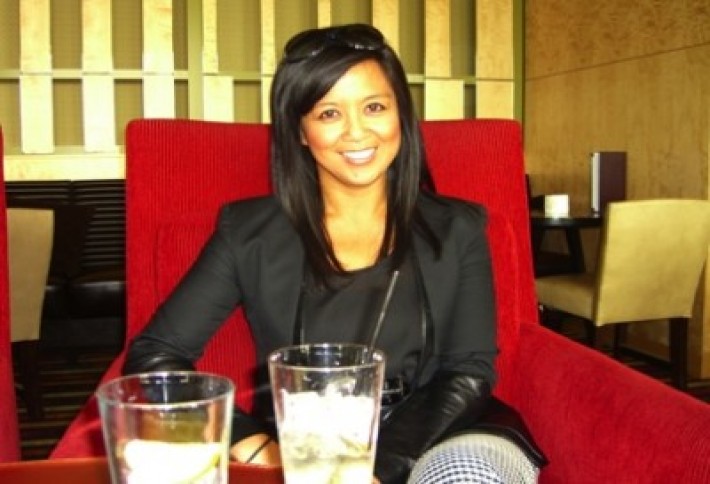 How does high-energy new CREW president Jennifer Reyes stay in fighting trim? Perhaps that club soda with lime she ordered with us at the Four Seasons. Some big news: Son Marcello, 18, is graduating from O'Dea high school and spending the summer at Nintendo doing animation and gaming. Jennifers delighted at the extra time this gives her to work on CREW; she wants to encourage more men to attend events to show support of womens success; luncheons are held the second Thursday of each month at WAC. Shes also been active in Big Brothers/Big Sisters. Oh, and the West Seattle-ite has a day job, too: Shes in her 11thyear as a biz dev exec at giant Stewart Title and last year ranked fourth nationally in sales.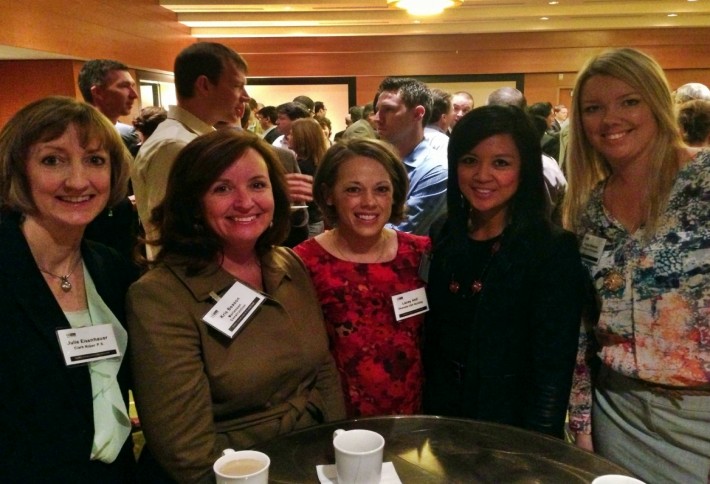 Of course building CREW takes a village, and with Jennifer here at our Development and Construction Summit at the Renaissance Wednesday morning (coverage next week) were membership director Julie Eisenhauer of Clark Nuber, 2010 president Kris Beason of Mortenson Construction, president-elect Lacey Ahlf of Skanska, and communications director Paige Nilson of Sound Earth Strategies.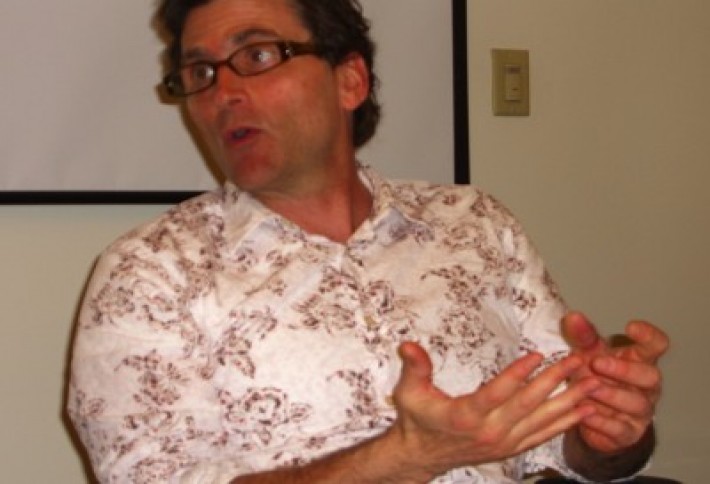 Tom Paladino, one of the original creators of theLEEDrating system in the late-'90s, was hard at work when we stopped by, on the high-profileTower atPNC Plazain Pittsburgh, called by some theworlds greenestsky-rise. A practicalengineerby background, hes become a national green building legend, helping companies figure out how to use environmental best practices to improve, not undermine, profitability.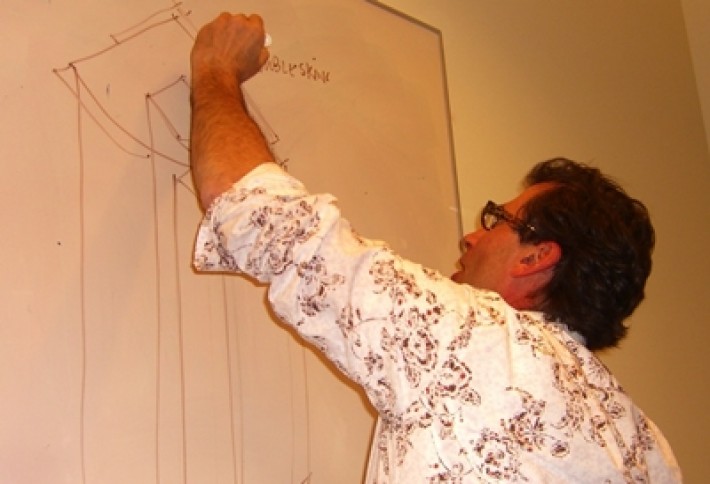 His eponymously named firm recentlyacquireda 10-person Washington, DC, consultancy to expand its expertise and geographical reach. In recent months, Paladino & Co has seen a significant uptick inFortune 500companies initiating green real estate programs, following sector leaders likeMarriott, Forest City, and Verizon Wireless. His team helps clients think big when addressing sustainability yet stay grounded through what he calls a "ruthless focus on business results." Originally a rocket scientist from Needham Mass, Tom came toU-Dubfor its architecture grad program, but says (with a smile) that he has stayed put for thesnowboarding.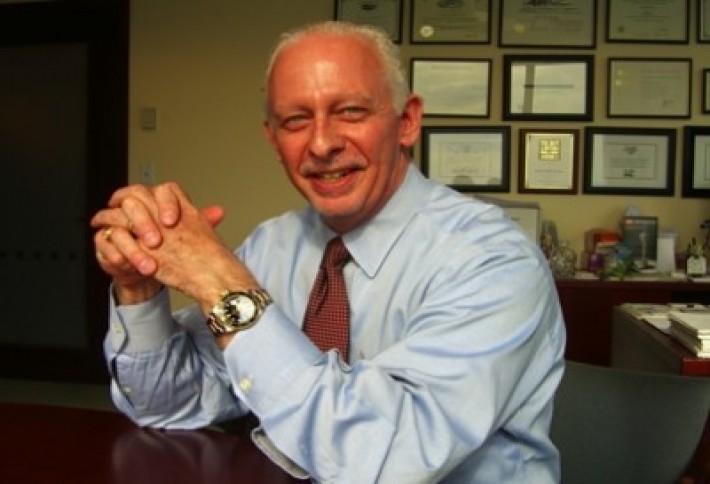 We snapped construction legal guru Stan Beck in his office contemplating the fact that next month marks 25 years for himat 200-attorney Lane Powell.But Stan won't find time to celebrate. Between his projects in Seattle (stadiums, viaduct, art museum, and pretty much anything else big in the Pacific Northwest) and dozens of other countries (work on the Chunnel, Panama Canal and Dubais Palm Islands), he's busy writing contracts to protect clients and, if trouble arises, litigating. Or indulging in motorsports," with which friends are only too familiar. A civil engineer by training, his interest was sparked when dad moved the family from SF to become a master architect at the Trident sub base. Although Stan's a dare-devil adventurer who litters his office with broken helicopter and race car parts, and whose relatives have nicknamed him Stanimal, what does his wife object to? He takes almost no vacation.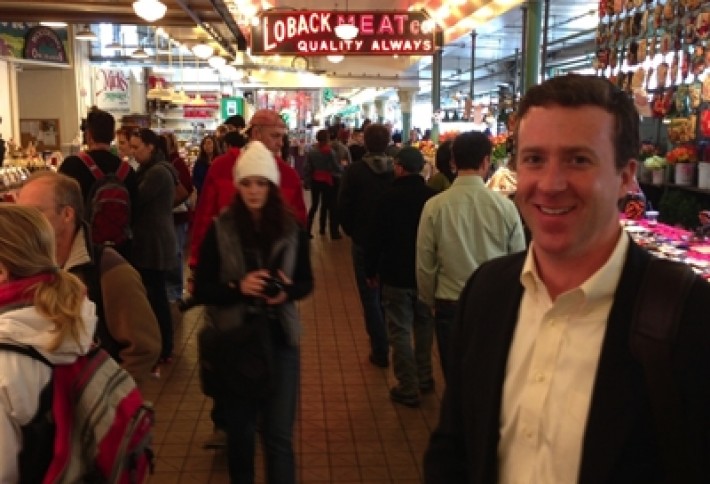 Memorize the face and name. Bisnow Seattle director Pat Kassin can help you quadruple your corporate income (well, just a guess) by advertising or sponsoring with Bisnow. He and wife Evyn moved here from Atlanta because they visited friends and fell in love with everything about the Pacific Northwest. They live in Queen Anne and you can find them walking everywhere, often ending up on Sundays (like everyone) at Pike Place Market. Contact him here.