News
What Is This, Europe?
New York City will pass rezoning this week to allow sidewalk dining in LIC, says NYC Councilman Jimmy Van Bramer. At Thursday's Bisnow Future of Long Island City event, we also heard The Local Hostels is opening its first US property in LIC in Q3. (Is the next step WWII-esque trench warfare with Greenpoint?)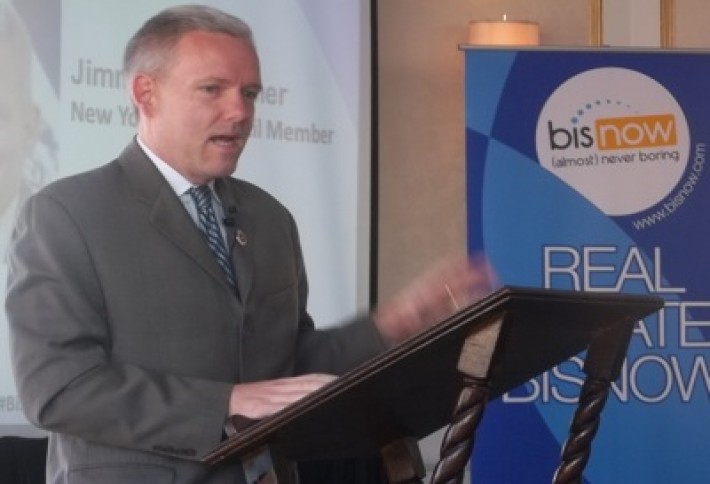 Other changes in LIC's future, according to Jimmy: He'd like to bring East River Ferry Service farther north up the LIC waterfront (it stops only at Hunters Point South now), the Department of Transportation soon will bring Wayfinding signage to LIC, and the City's bike share program, originally planned for only Manhattan and Brooklyn and launching this spring, now also will include Queens.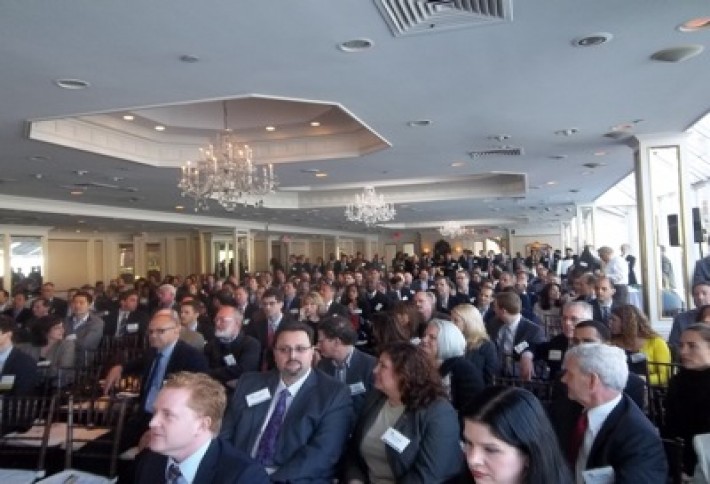 More than 300 joined us at LIC's Water's Edge, from whichCBRE's Al Holloman says the view (of Roosevelt Island--and soon the Cornell-Technion campus--and Manhattan) is better than Manhattan's view back across the river. Jimmy says Woodside (in his District) is the geographic center of New York City. Thus, logically, Manhattan is the real outer borough.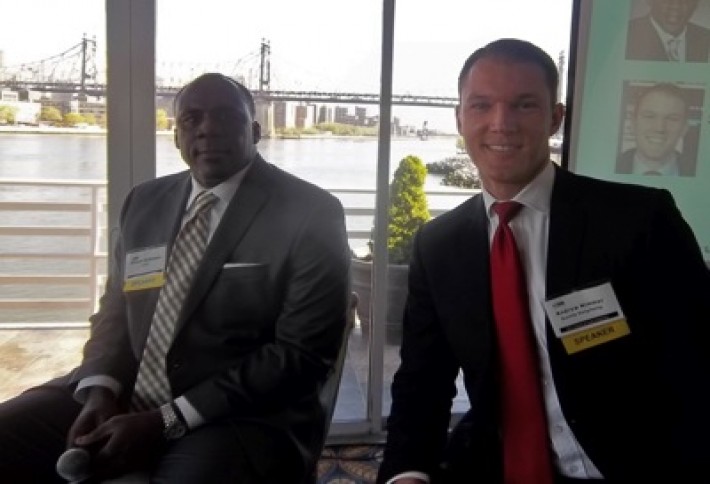 The Local Hostels' Andy Nimmer (right, with Al) says his firm operates two upscale hostels in Barcelona and will open a third this fall in a renovated brick warehouse in LIC, targeting a $45/person price point. Al says many owners are repositioning (not just tearing down) LIC's industrial stock. He cited the 55k SF eight-story 5-33 48th Ave, which is slated to become medical office, residential, and retail.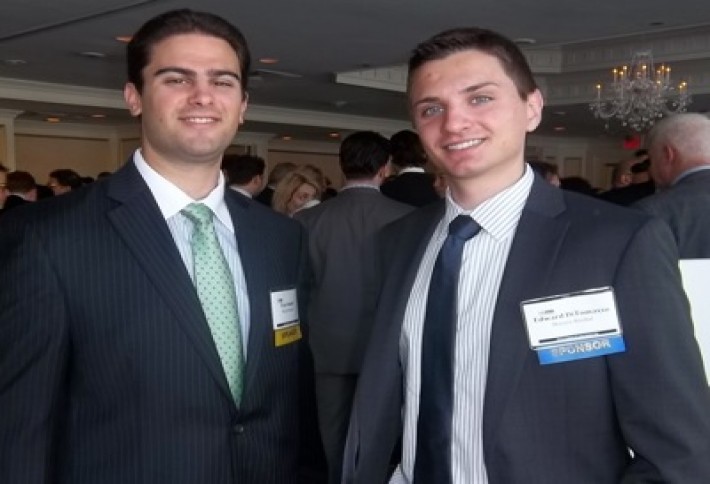 LIC is no longer a place for Midtown Manhattan workers to live. It's growing its own jobs, says Massey Knakal's Evan Daniel, whom we snapped with his colleague Edward DiTomasso. JetBlue, the NYC Dept. of Health, and CUNY are among the bigger office tenants that have joined Citi there. And the blossoming retail segment provides jobs, too, breathing 9-to-5 life into the area. Evan says retail growth also will help sustain rising land prices, which average $110/buildable SF. The rise in price owes partly to interest from those outside LIC, including foreign investors, Evan says. (If LIC truly were Europe, the French restaurants would have folded at the first hint of foreign investment.)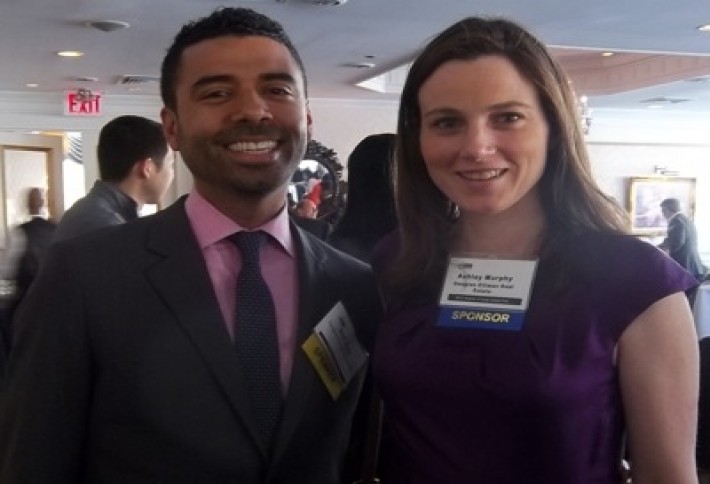 We snapped our moderator Rick Rosa of the Douglas Elliman LIC office, which opened a year ago, and his colleague Ashley Murphy. He says Long Island City still lacks services (like medical) but is catching up.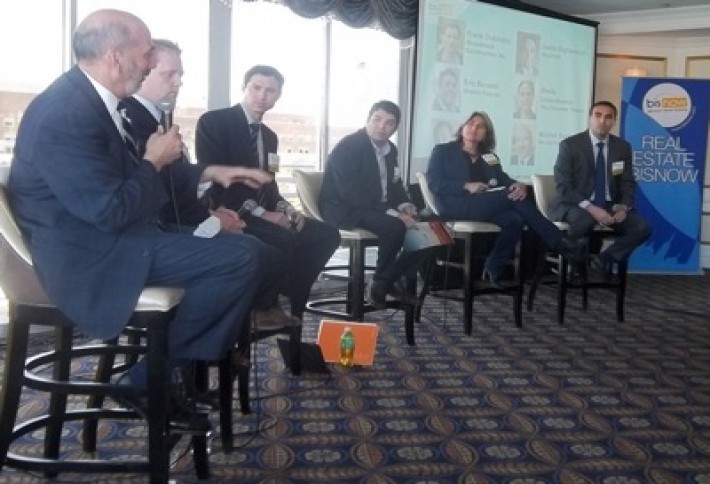 To call LIC family friendly would be a huge understatement, according to our residential panel. Urban planning and zoning pro Mitch Korbey of Herrick (with the mic, next to TF Cornerstone's Scott Walsh)says LIC is the best place in NYC to be under five years old. Monadnock Construction's Frank Dubinsky says 40% of the two Hunter's Point South apartment buildings his firm is developing with Related and Phipps Houses are two bedrooms or larger. And Modern Spaces founder Eric Benaim, the godfather of LIC residential brokerage, jokes that it seems people just moved to LIC five years ago and all decided to procreate.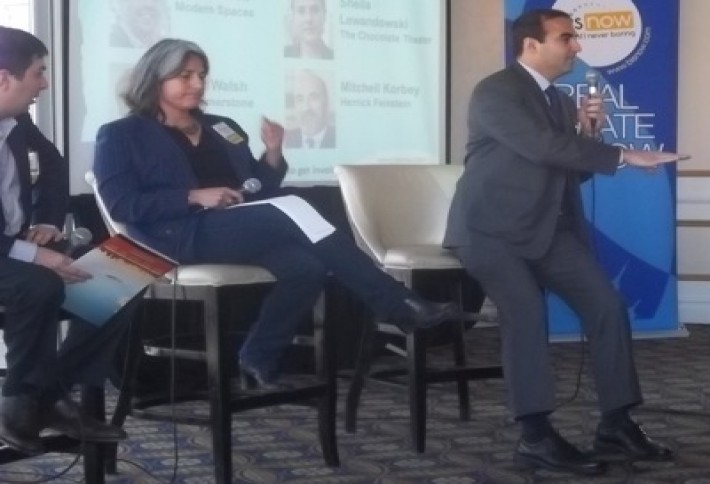 The Chocolate Factory Theater co-founder Sheila Lewandowski notes that the stroller brigade is indeed in full force (though Empty Nesters also are spending actively in the community). And Rockrose prez Justin Elghanayan says the average renter in the waterfront properties that the Rockrose and TF Cornerstone folks built together five-plus years ago (before separating into two companies) was 26 years old. Now the average renter is 32. (Little known fact: Look up "on the edge of his seat" in the dictionary and you'll see a picture of Justin talking about overflowing transportation options in LIC.)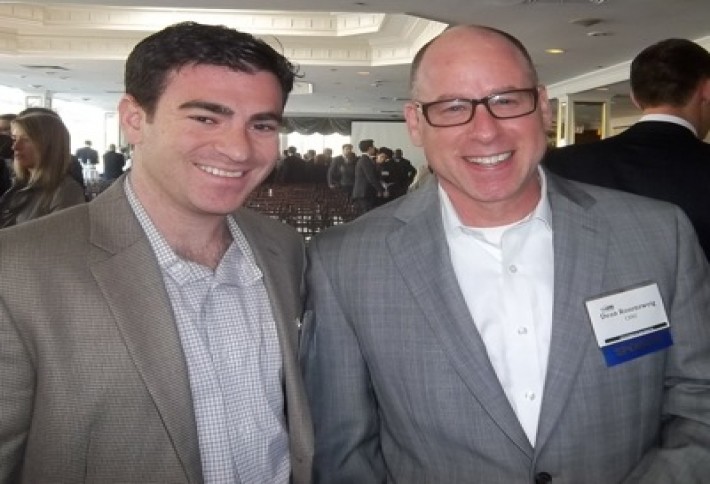 Meridian Development Partners' Daniel Schlesinger (with CBRE's Dean Rosenzweig) tells us his firm owns industrial and opportunistic properties in Pennsylvania, Connecticut, Texas, and Tennessee and has its eye on NYC. It's giving Brooklyn some hard looks, but LIC also could be its gateway to the metro. Dean joined CBRE in '07 to launch its outer borough retail practice. That also seems to be when the former McDonald's, Dunkin' Donuts, and Starbucks pro kicked his addiction to breakfast foods.
We spotted a trio of retail reps: Winick Realty's Robert Heicklen, Heller Org's Josh Singer, and Winick's Hal Shapiro. Hal tells us Winick is leasing up the 12k SF of retail in The Lightstone Group's 50-01 2nd St, which will deliver this fall. Winick is looking for community-serving retail--crossing their fingers for a gourmet market and a coffee shop.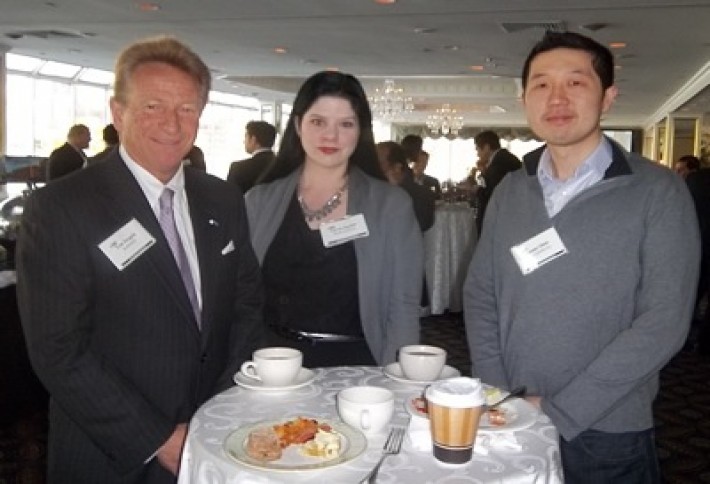 We don't know if it counts as cocktail party talk when it's 7:30am and the drink of choice is coffee, but BankUnited's Tom Pergola (whom we snapped with SBLM's Carrie Snyder and Time Equities' Denny Chen) tells us our venue, Water's Edge, once hosted another epic event: Billy Joel and Christie Brinkley's wedding reception on March 23, 1985.
Tons more pictures where these came from. Visit our event page!
The competition for outdoor-seating for brunch has begun. Email amanda.metcalf@bisnow.com.