News
Multifamily Monday: Yes, That's An LIC Skyline
Rockrose will launch leasing at its 709-unit luxury Linc LIC at any minute, so we took a walk through Long Island City's Court Square with Rockrose prez Justin Elghanayan to see what's next for the neighborhood, including Queens' tallest residential building.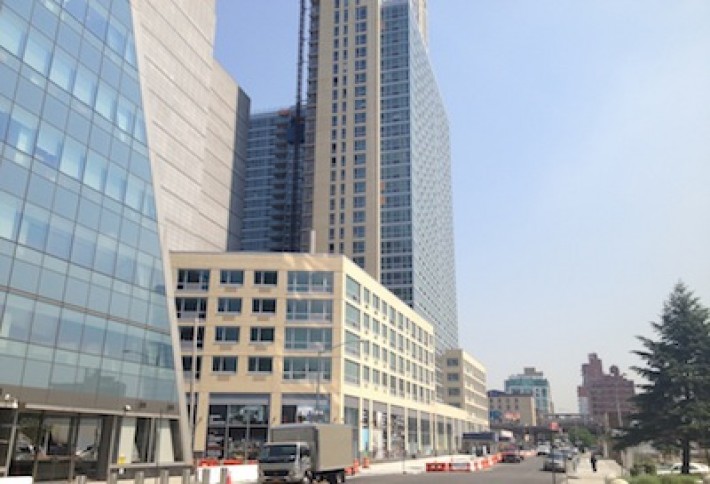 We snapped the 42-story Linc LIC at 43-10 Crescent St, which is about to deliver. A 15k SF grocery store will open in that five-story segment in the foreground. (If the grocery store has any courage, it'll give an entire one of those floors to just breakfast cereals.)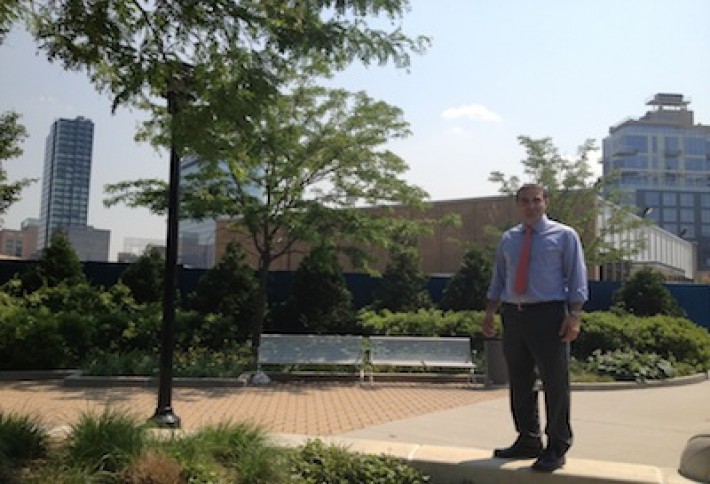 A block away, Justin takes in the urban oasis of Rafferty Triangle, one of LIC's many streetscape projects in which NYC and the federal government have invested $46M. Behind him is the site where Rockrose has just begun demo for an even bigger apartment building, the 975-unit 43-25 Hunter St, which will rise 51 stories. The 80% market rate/20% affordable building will deliver in 2016.
A view of Linc LIC through the 43-25 Hunter demolition. Between the two properties, Rockrose is renovating an old garage for M. Wells Steakhouse and someday will drop in another 100 residences.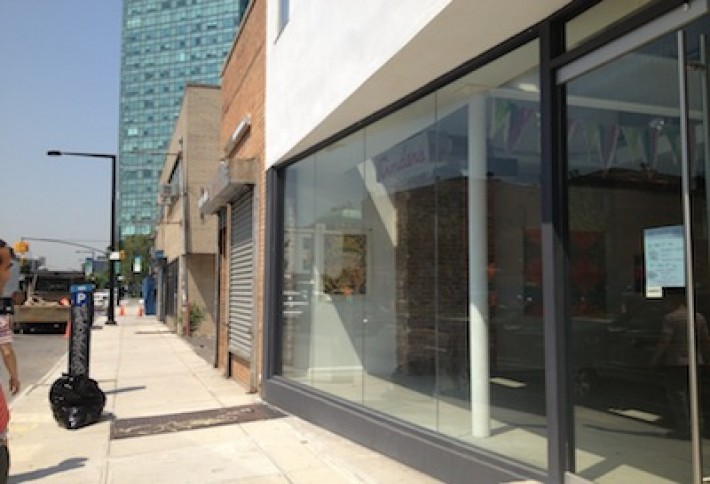 Rockrose also bought this block behind 43-25 Hunter along Jackson Avenue, LIC's big retail corridor. Justin says his company will keep it as retail, using the air rights for 43-25 Hunter. On the right in the above photo is the gallery for tech company See.me, which creates online portfolios for artists of all stripes. And in the background, you can see the base of LIC's most recognizable building, the Citi Building, also known as One Court Square and for a long time the sole silhouette dotting LIC's skyline. (You've got siblings now, Citi. Learn to share your toys Burger Garage.)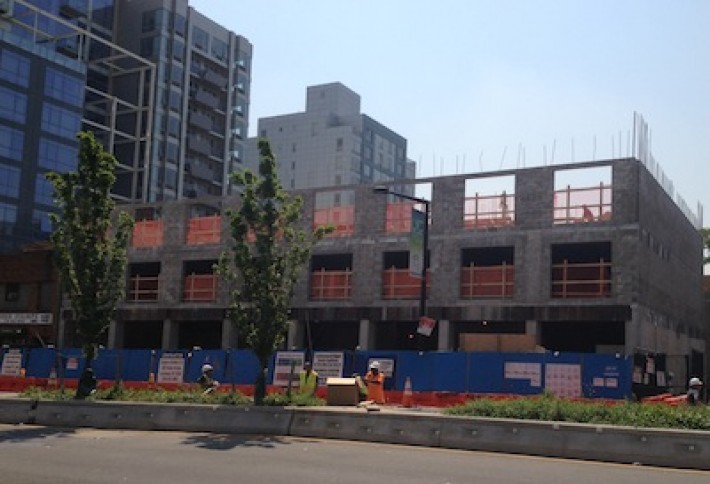 At26-14 Jackson Ave, across the street from Rockrose's retail, Ekstein Development is building an 80-unit apartment building, which Justin says most likely will include ground-floor retail. Behind it is the residential superblock, Purves Street: On the left is the Vere, which delivered in '09. This month, residents will begin to move into the Vista, designed with feng shui in mind (note the curve of the balconies). And on the right is one of LIC's first condo projects, 44-27 Purves.
The single, tucked-in block of Purves, which dead-ends into the railroad, includes four more development sites (one will be 250 residential units, two others Criterion is building into 125 units each, and one he's heard could be a hotel). And the rest of the street holds industrial buildings that Justin says probably aren't long for this world, plus the old trolley repair shop that has housed the Sculpture Center (above) since 2001. It expects to deliver a 2,000 SF expansion by fall 2014.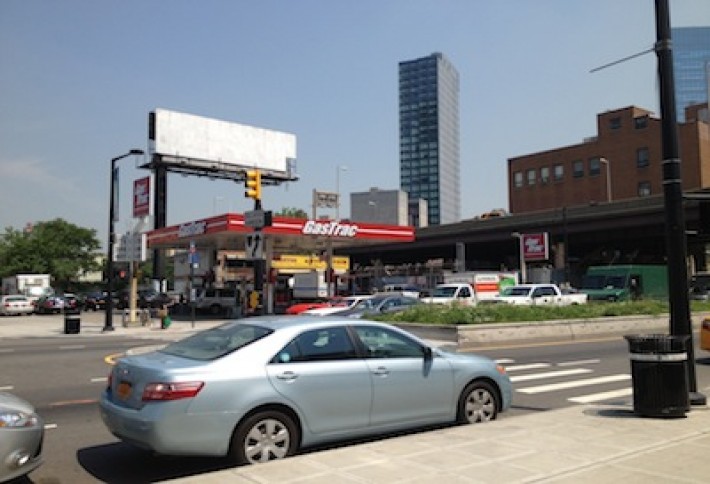 Back at Jackson Avenue and Purves, this gas station lot just sold for more than $150/SF. (Only $3 less than the gas/gallon.)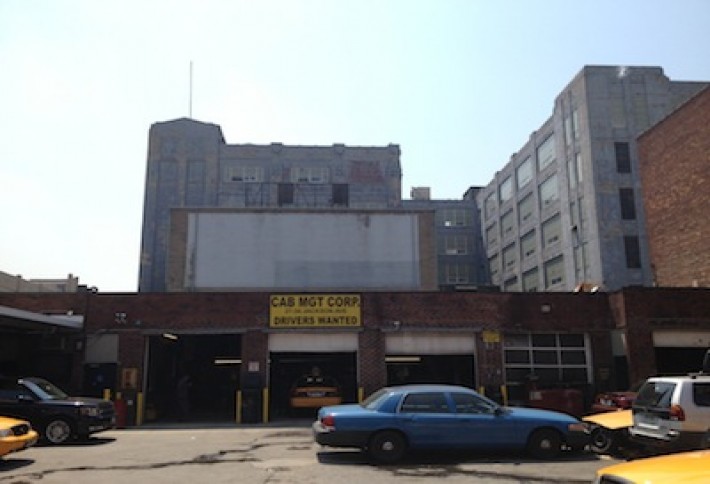 We also snapped the 320k SF Eagle Electronics warehouse (the big gray building) that Rockrose bought in December. Rockrose has 200k SF of additional air rights with which to expand it.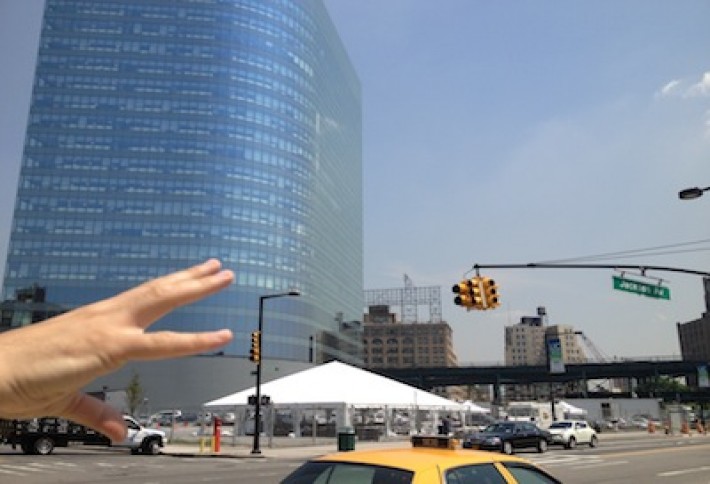 It's amazing how much is going up in LIC, considering this photo issue spanned just three blocks. Above is the 670k SF 2 Gotham Center, home to the NYC Health Department, which opened in 2011. Tishman Speyer sold it to Canada's H&R REIT right around that time. We snapped Justin's hand gesturing to all of the rest of the properties Tishman still owns in the area that someday will be redeveloped.