News
Four Ideas For Penn Station
Premier architects and parents of Millennials agree: It's time to move out of the basement. For Penn Station, that means leaving Madison Square Garden's shadow. A reinvention of the neighborhood is imminent now that MSG's operating permit has been extended for just 15 years--maybe even 10. Here are visions of the future fromfour prominent architecture firms: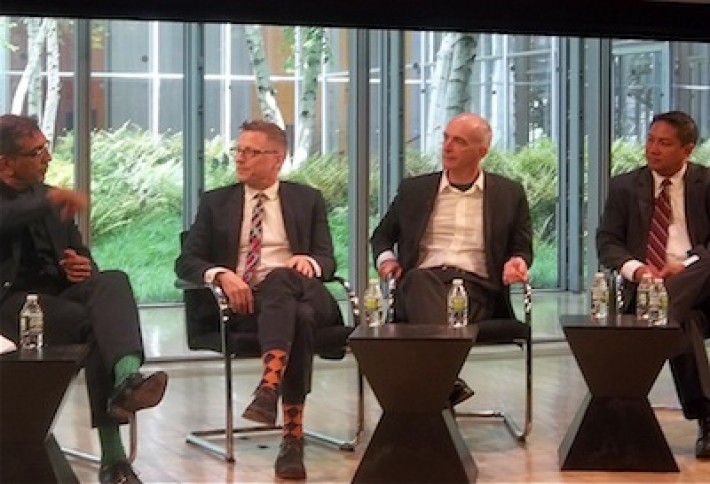 This morning at TheTimesCenter, the Municipal Art Society hosted the Design Challenge for a New Penn Station and Madison Square Garden, including a panel with SHoP Architects' Vishaan Chakrabarti, Diller Scofidio + Renfro's Charles Renfro, SOM's Robert Duffy, and H3 Hardy Collaboration Architecture's John Fontillas. Big themes: Let in light, orient passengers by enabling them to see the city as they pull in, rearrange air rights, add public space. H3, for example, wants to put MSG on an extended Pier 76, encouraging the adjacent Javits to dust off its expansion plans. It would place towers at each corner of a new Penn Station at 34th and Seventh and a park on Seventh with raised mounds to let light into the concourse. Diller Scofidio + Renfro would put MSG at the back of Moynihan and replace Penn Station on its current site with a civic, cultural, and commercial melting pot and new train station.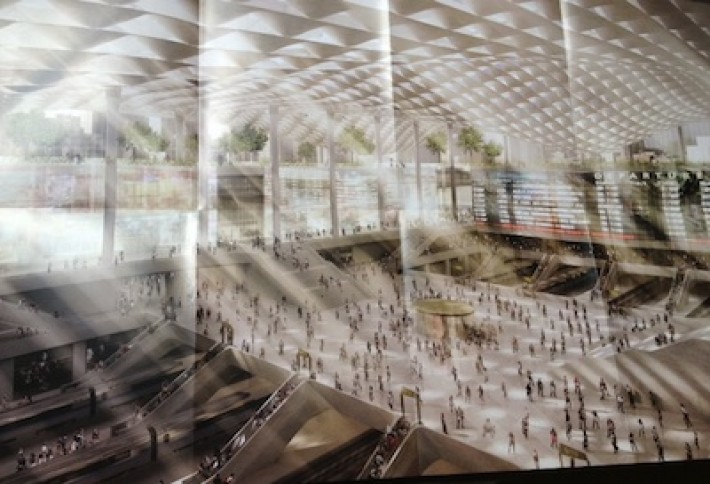 This is the poster of SHoP's concourse design. That firm's idea is to move MSG to the Morgan General Mail Facility (where the High Line would empty onto the entrance platform) and add a Gotham Tower at the northeast corner of Seventh and 30th to replace Vornado's 2 Penn Plaza. Penn Station would take up 33rd to 30th Street from Seventh to Eighth. SOM also sees a three-block Penn Station but would put MSG on the block south ofMoynihan Station. Its re-imagined neighborhood also would include stacked public parks, more residential than Tudor City, more commercial space than Rock Center, and more cultural space than Lincoln Center. No matter what finally takes shape, everyone can agree: Hold off on inviting JohnTortorella to the ribbon-cutting.