400 joined us in beautifulPhiladelphia this week for Bisnows annual student housing conference (BASH)--a two-day summit--to hear panelists from nine universities and the three largest student housing REITs, among top developers and financiers.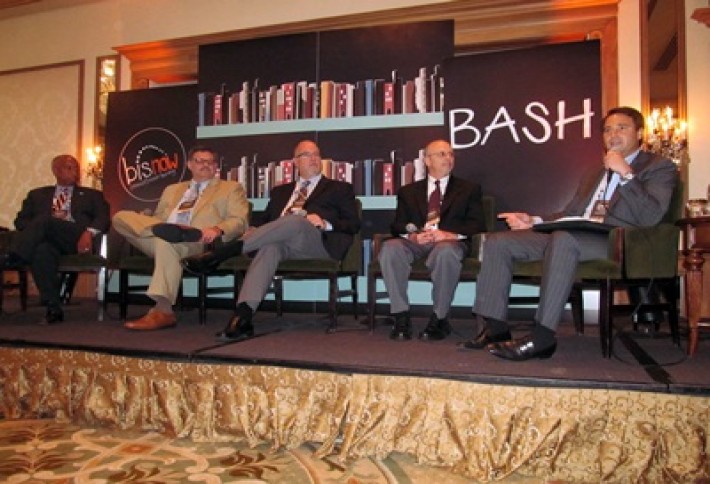 Arizona State Universitys Michael Coakley (center) says the 21stCentury Project (led by the Association of College and University Housing Officers International) is looking into bonding the external building of a student housing facility for 50 years but bonding the interior for 10 years so the layout could change each decade as demands evolve. The panel--which also featured reps from Michigan State, Boston U, and UPenn--stressed that technology and a sense of community are the most important features of student housing facilities.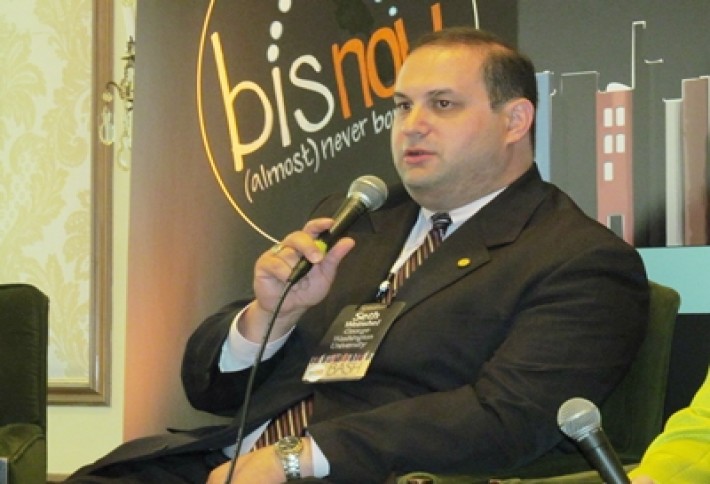 Our other university panel discussed the issue of aging properties. George Washington director of housing Seth Weinshel says hes taking three buildings totaling 500 beds offline this week and replacing them with 850 beds, a $130M project thats been in the works seven years. GW is implementing affinity housing, 5,000 SF units that can house 20 residents that belong to one student organization. He says these units take up less space, and each affinity housing block has its own meeting facilities, which will cut down on groups fighting over meeting rooms. (Because theres no need to give the College Democrats and College Republicans another reason to argue.)
Campus Apartments CEO David Adelman says students care about Internet and cell phone coverage more than hot water: A failure in either can kill your project immediately. He says private developers can help universities by bringing together different departments wishlists and providing options the university never thought of. American Campus Communities EVP Jamie Wilhelm says the groups can clash, though: One university rep told him you give students want they want, we give them what they need. But he believes unappealing housing will keep students from enrolling; studies show that housing is the biggest factor in a potential students decision behind programmatic offerings.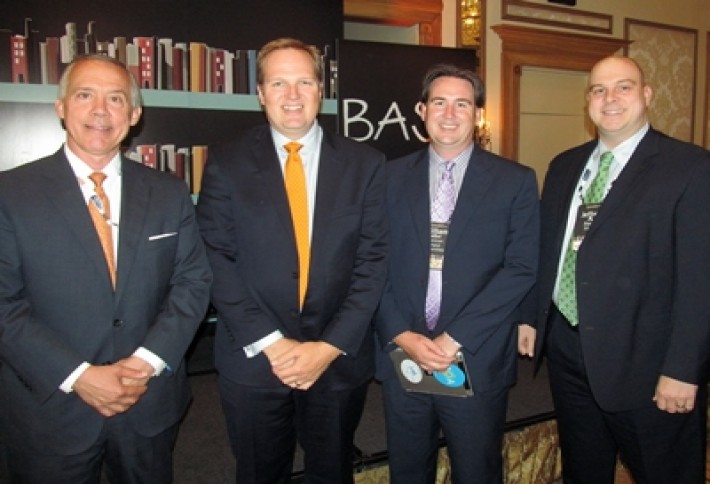 Our owners roundtable featured the three biggest student housing REITs: Above are Campus Crest CIO Mike Hartnett, Education Realty Trust VP Jeffrey Resetco, American Campus CIO William Talbot, and moderator Xfinity VP Jeffrey Freyer. The experts agree proximity to campus is the most important factor in the success of a student housing project; Mike says his portfolio averages half a mile from campus, and William says his firm loses interest in anything past biking distance. The REITs dont target specific markets; individual assets NOI and product differentiation are more important. EDR just broke ground on a project at Duke University and has a major announcement coming in the next few daystune into our next publication for more.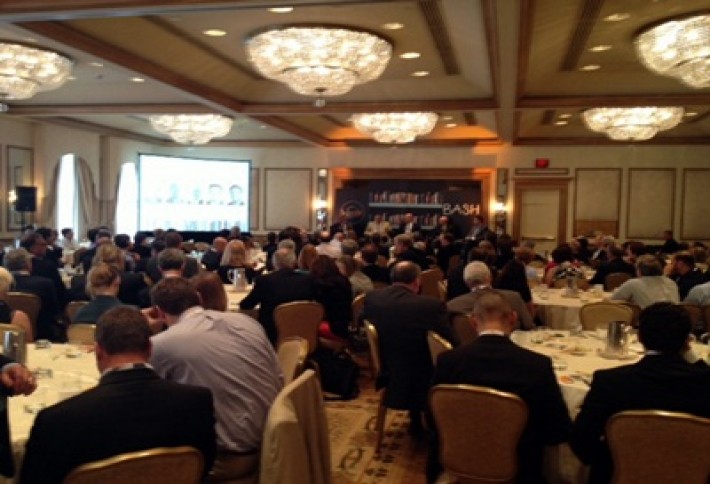 GMH Capital Partners prez Gary Holloway Jr says his firm (which is tiptoeing back into the student housing niche--youll recall it was the largest owner in the biz before selling its entire portfolio to ACC in 08.) wants an 8-8.5% cap to make deals work. Acquisitions are usually in the 6% range now, so he turned to development to find yield. Hes building in second- and third-tier markets where competition is scarce, including universities with less than 10,000 students. Investors arent as comfortable with it, so GMH is doing some of those developments all-cash.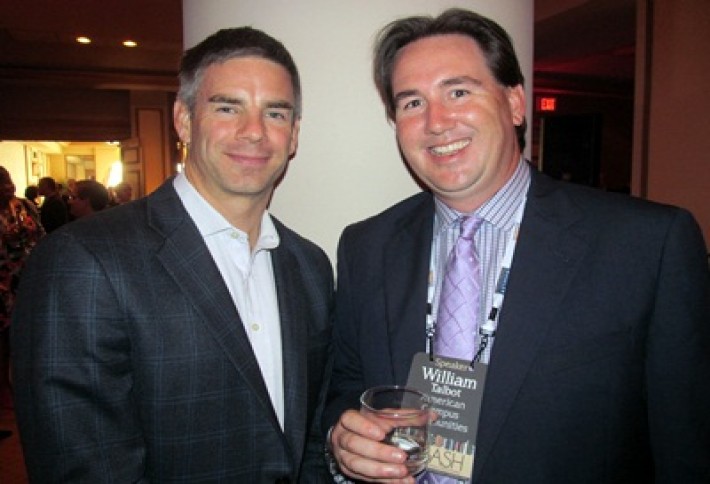 On our capital markets panel, Harrison Street Capital SVP Brian Thompson (with William at our BASH Bash cocktail party) gave an example of how much capital wants into the sectorHarrison Street raised $400M in 90 days. Student housing is outperforming many traditional segments, driving new investors to the arena. Its also bringing new developers, but Walker & Dunlop SVP Will Baker says they usually wont get financing unless they partner with an experienced group. CBRE associate director Jaclyn Fitts says we can expect some big portfolio sales again this year. Theyll garner lots of attention from institutions and new investors because its a quick way to establish yourself in the sector.
We found Rittenhouse Realty Advisors director Mark Duszak and JLL managing director Jack Tenanty in the crowd. Jack is handling the renovation of NYCs Madison Square Garden, a $500M project. (He wasn't too upset about the Knicks and Rangers losing their playoff rounds because his team has extra construction time.) On the student housing front, JLL did planning for the College of New Jersey, which hopes to keep youngsters in the area (rather than losing them to Princeton) by adding entertainment offerings. Mark is marketing Diamond Green for sale: The 350-bed community is new construction serving Temple University and is receiving lots of attention.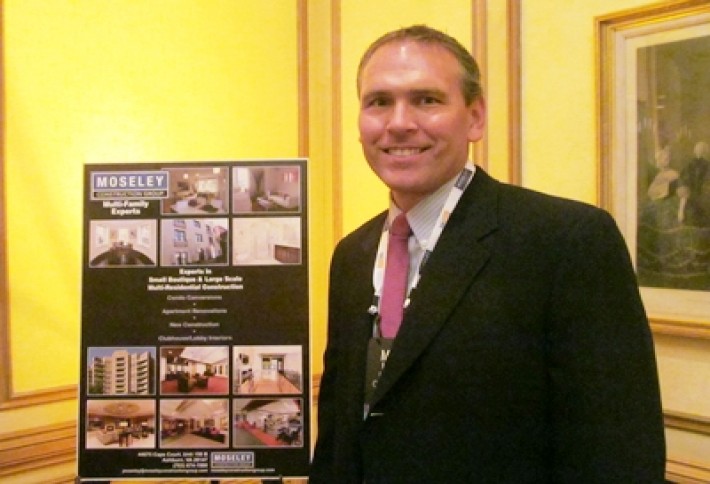 Our title sponsor Moseley Construction is breaking into the student housing space. VP of preconstruction Mike Kujan tells us the firm is primarily known for apartment and condo development in the Maryland/Virginia/DC area, but they see themselves as multi-dwelling experts from New York to Florida. One unique quality about Moseley: It provides pre-development services for no fee.
Age has its advantages. Too bad I can't remember what they are. Send your news to Tonie Auer, tonie@bisnow.com.