News
Video of the Day: Freddie Mac's 2015 Multifamily Housing Outlook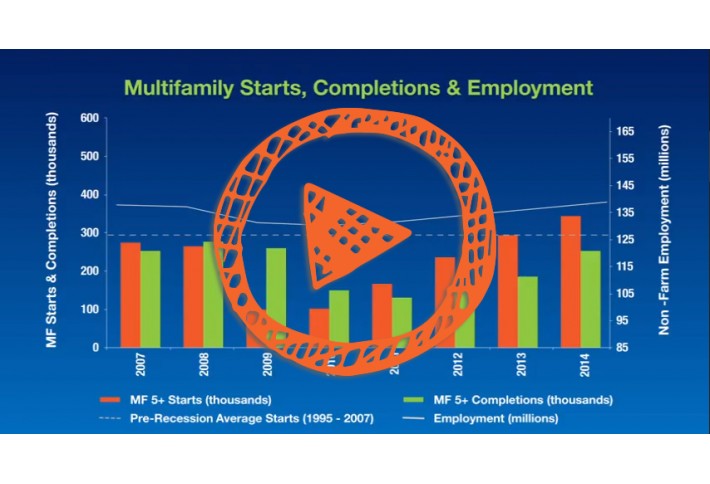 Steven Guggenmos, Freddie Mac's senior director of multifamily investments and research, explains why the agency is bullish on U.S. multifamily investment and thinks 2015 will be a strong year, albeit with slightly slower growth than 2014. The time is now for continued multifamily sector improvement in the context of an economy due to grow at a 3% annual rate. The labor market is close to the Fed's definition of full employment at a 5.6% unemployment rate. Low oil prices should continue to benefit the economy and consumers. And the 10-year T-bill rate will likely remain below 3%, keeping multifamily cap rates under 6% throughout 2015:
Employment grew by 3.1 million in 2014, the largest year-over-year gain since 1999. Unemployment dropped below 6% in September and ended the year at 5.6%
Vacancy rates are projected to increase to 4.8% while gross income growth will slow to 3.1% in 2015 as new completions enter the market.
With the drop in the 10-year Treasury rate and multifamily cap rate in 2014, the cap rate spread increased to 377 basis points. Freddie expects spreads to tighten slightly to between 300 and 330 basis points in 2015.
Total multifamily volume ended strongly in 2014 and is expected to be higher in 2015, but the level of growth depends on several market factors.
More markets will see an increase in multifamily construction, indicating growing developer confidence in many markets.
Some traditionally single-family markets that were hit hard during the recession are starting to see new life in the multifamily space.
Multifamily construction in most of the hard hit markets has been muted over the past few years, despite strong absorption rates.