News
Everything You Need To Know About Coworking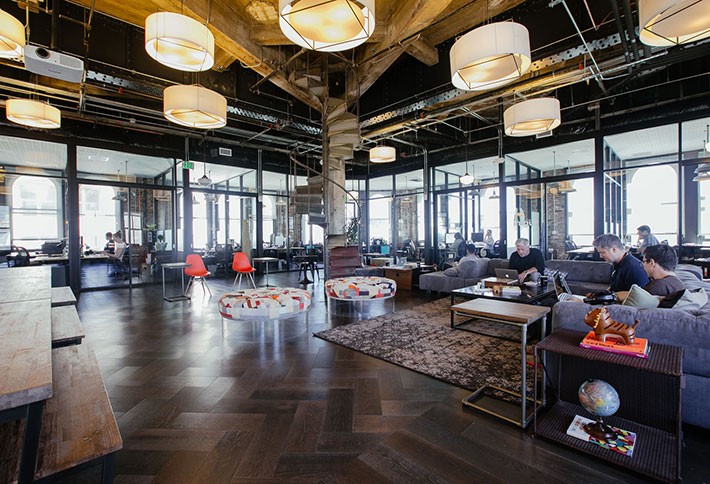 The revolution: Coworking has turned space into a utility and let tenants pay only for exactly what they use…in units as small as one hour. This is not a trend. It's a fundamental shift and growing at warp speed: in four years WeWork has become one of NYC's five biggest office tenants.
The major players: WeWork, which was recently valued at $1.5B, is hogging the national spotlight. More local rivals include RocketSpace in SF, WorkBar in Boston, WorkHouse and NeueHouse in NYC, 1776 in DC and Cross Campus in LA, which President Obama visited and touted last month.

Blowing up: A recent CRE Development Association noted 781 coworking spaces nationwide. There was one in 2005. Between 2012 and 2013 alone, the number nearly doubled. Major league owners are mimicking the blueprint (see: Rudin Management's Hive at 55 in Lower Manhattan). The upstarts and landlords should get along: once a tenant outgrows shared space, it can move upstairs into more permanent digs.

The basics: Collaborative workspaces dispense with traditional office layouts—farewell corner offices—in favor of open plans and common areas often shared by different employers. They also give young companies short-term leases that accommodate rapid growth.
Why it appeals to tenants:
Amenities like arcade rooms rather than marble lobbies
Space as utility
Spontaneous collaboration with neighboring companies
Ability to work from provider locations in other cities while a member's on the road
Sociability, whether at keg parties or basketball games organized through a provider's network
Where it started: There are international precedents, but Brad Neuberg is widely considered to have ushered coworking into America when he opened SF's "Hat Factory" in 2005. Regus helped pioneer coworking culture and now has over 2,000 global locations.

Why now: Technology has made people more connected and mobile than ever and popularized startup culture. In a Steelcase poll, 82% of today's white collar workers say they need to partner with colleagues each day to get things done. And collaborative workspaces encourage what Zappos CEO Tony Hsieh calls "collisions" or "serendipitous encounters."

In good company: Another reason for the coworking boom: the growing ranks of freelancers can miss out on human interaction: 79% of private sector workers polled by CDW list isolation as the reason they wouldn't work from home. And skyrocketing rents in urban core areas have made old school office plans prohibitively expensive.

Fundamental appeal: Speaking of the private sector, the SBA claims that small businesses—the ideal coworking tenant—produce 64% of new private sector jobs and 43% of the tech workforce.

Drawbacks: Privacy and confidentiality in the open plan has become a concern that WeWork has addressed with additional phone booth solo pods. A common complaint among coworkers is the mad scramble involved in finding meeting spots among all those common rooms. And the long-term viability of startup tenants is never a guarantee for space providers locked into long-term leases.

Bottom line: Coworking providers have democratized space and turned it into a liquid asset as technology and tech entrepreneurism explode and startups seek collaborative offices with flexible lease terms instead of the growth-hindering "corner office" route.