News
5 Ways To Develop a Neighborhood Comeback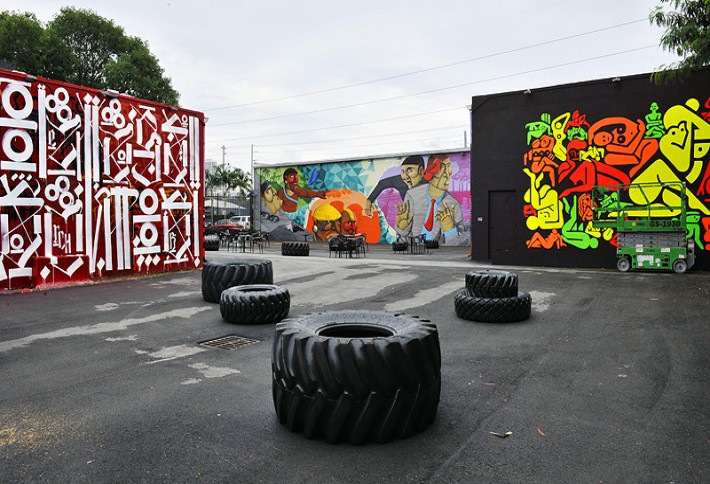 When Jessica Goldman Srebnick took over the reins of Goldman Properties from her late father Tony in 2012, the renowned developer had helped bring once-neglected neighborhoods like Soho, Philly's Center City and Miami Beach to global prominence. Wynwood, also in Miami, hadn't quite gotten to that point. But the outdoor street art mecca Wynwood Walls had made it cool. During a recent tour she led of the Walls, where she's curated artists like Shepard Fairey and Kenny Scharf, Jessica described a revitalizing approach to real estate that has transformed city 'hoods from Downtown LA to DC's U Street corridor.
Find the essence. Wynwood's graffiti immediately jumped out at the Goldmans as they first scoped out the neighborhood. That could have been considered a blight. Instead it became a catalyst for Wynwood Walls and, by extension, a magnet for the trendsetting creative class that put the neighborhood on the map. Like in Soho, a market Tony entered in its late '70s development infancy, artists and the buzz they create (with crowded gallery openings, trendy hangouts and deep-pocketed patrons) can singlehandedly turn around a decrepit neighborhood.
"Continue" neighborhoods; don't just change them. Some see developers as the enemy of artists and small businesses. That's not the case with the Goldmans, who want to keep Wynwood's creative spirit intact not only with Wynwood Walls and nearby galleries, but also indie restaurants and tenants like Zak the Baker over, say, Panera Bread.
Bring in the chefs. Jessica said that restaurants are crucial to any neighborhood's revitalization and maybe the most dependable way to bring in foot traffic. Her brother, Joey, owns and lent his name to Joey's, which brought new people to Wynwood. (She compared the first restaurant in an under-the-radar neighborhood to that first bold soul who jumps into a cold pool.) The company followed that up with Wynwood Kitchen & Bar, demonstrating the Goldman maxim that "restaurants feed people and those people feed the neighborhood."
Hit the ground: As a born and raised New Yorker Jessica finds that one thing sorely lacking in Miami—including South Beach—is a pedestrian-friendly urban core. Wynwood's street grid lends itself to popular art walks and makes a density of restaurants, cafes and galleries a breeze to get to by foot. And foot traffic only generates more foot traffic.
Curate. And not just the Wynwood Walls artists. Tenants should be approached with the same level of discernment, even if choices go against the grain. Jessica gave an example of the Gap and the retailer Intermix, then an upstart (that Gap eventually acquired), vying for the same South Beach storefront. The Goldmans took a risk and went with Intermix over the obvious credit tenant. "You can find the Gap anywhere," she said.