News
The Deal Sheet: Part II
A 900-seatMoviehouse & Eatery is coming to Keller. The dine-in theater concept bought nine acres atRufe Snow Drivejust south of FM 1709, with plans to start construction this summer. (If it were ready now, we could watchIron Man while eating high-iron foods. Not all dreams come true.)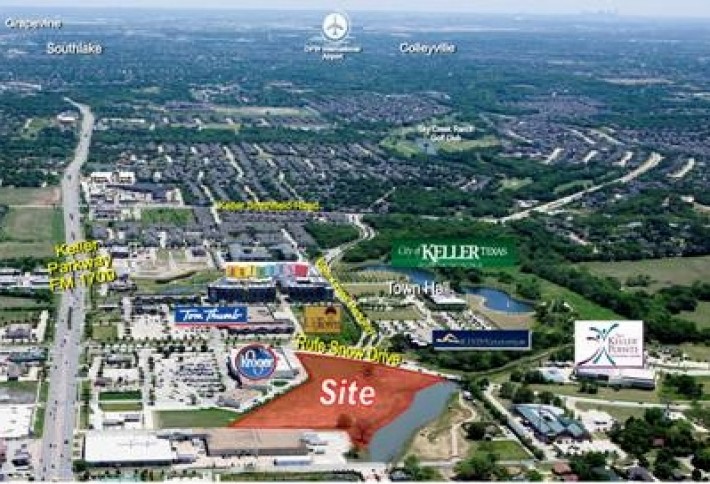 The 42k SF theater will include eight auditoriums,reserved seating, electric recliners, wall-to-wall screens, and a full-menu and bar.Moviehouse co-owner Tiffany Speaks says the Keller community is ideal for both a date-night and family-friendly entertainment; it already operates an Austin location. The Keller venue is planned to open summer 2014. Realty Capital Managements Mark Boone represented the seller. The buyer was represented by Hudson Peters Commercials Debi Carter.
NEW BUSINESS
SCM Real Estate Services will take over management and leasing duties for a 23k SF retail space, which spans a block on West Bowie Street and is home to Caf Brazil and XII Whiskey Bar and Grill. In the heart of TCU in Fort Worth, Grandmarcs retail space sits on the ground level of the five-story mixed-use structure. SCMs Chris Mendez will be leasing the space.
***
Structure Commercial picked up seven listings last month, including Promenade North in Richardson.Hartman REIT owns the almost 172k SF shopping center at 650 Coit Rd in Richardson. Other assignments: The Tuscany on Walnut at 601 Strada Circle in Mansfield; South Mill Plaza at 788 S Mill St in Lewisville; 1301 and 1305 S Broadway in Carrollton; Matlock Green at 8021 Matlock Rd in Arlington; and Eastchase Shopping Center at 8651 John T White Rd in Fort Worth.
NEW CONSTRUCTION
Glenagles Country Club in Plano is undergoing a $3.5M renovation to modernize the appearance and amenities, slated for a mid-summer completion. Among the improvements: a new restaurant and grill; new outdoor terrace; new wine cellar; new womens locker room; new fitness club center; and a new kids club.
KUDOS
Gaedeke Groups HQ, Regency Plaza in Uptown, is the first property in its portfolio and 10th in the Metroplex to earn Silver LEED cert. Gaedeke bought the 166k SF Regency Plaza at 3710 Rawlins St in 1990. Regional manager and green programs officer Dan Yates is spearheading the cert process portfolio-wide. Other team members include director of engineering Blaine Morris and Quest Sustainability Solutions of Frisco.
SALES
For its first North Texas location, Houston-based restaurant Black Walnut Caf purchased land from Weaver Commercial Real Estate just north of the FM 2499 and Firewheel Drive intersection, with plans to open a 6,000 SF eatery serving contemporary American, fast-casual cuisine. No opening date was released.
***
Uniden Financial sold a 352k SF building at 4700 Amon Carter Blvd in Fort Worth to an undisclosed buyer. JLL managing director Tom McCarthy, EVP David Walters, SVP Doug Carignan, and VP Melissa Holland represented the seller. Transwestern VPs Brad Struck and Jim Hazard repped the buyer.
***
KP Argon bought 12k SF at 3811 Halifax St in Dallas from the William L Thunnell Family Trust. Mercer Cos Jeremy Mercer and Brent Landfried repped the seller. CBREs Brian Gilchrist and John Brewer repped the buyer.
***
An owner-user purchased a 235k SF industrial building on 12 acres at 1111 S Shiloh Rd in Garland for its Dallas HQ. Henry S. Miller Brokerages office-industrial division prez Greg Trout and SVP Jerry Averyt repped the seller, Grand Six. The buyer was represented by Beam Real Estates Jack Godhwani.
***
An undisclosed local buyer bought the almost 6k SF retail building at 814 E Camp Wisdom Rd in Duncanville from BBCN Bank. Structure Commercials Troy Morgan negotiated the sale. Love Construction bought the almost 6,000 SF industrial building at 1347 Lyndon Ave in Desoto from Bank of America. Structures Bob Kent negotiated the sale.
***
Transwestern worked several deals including:


H2E2 purchased 20k SF at 2320 Cullen St in Fort Worth. Grant Huff, Sarah Everett, Jerry Alexander, and Todd Hawpe represented the buyer.


Gravel Drive purchased 20k SF of land in Fort Worth. Jeff Givens and Amy Baker represented the buyer.


Probe Technology Services purchased 15k SF at 8744 Forum Way South in Fort Worth. Michael Newsome repped the seller.


***
Cowboy Auto Sales bought an 18k SF building at 2622 Myrtle Springs Ave in Dallas from Texas Pride. Lee & Associates Nathan Denton repped the seller.
THIS & THAT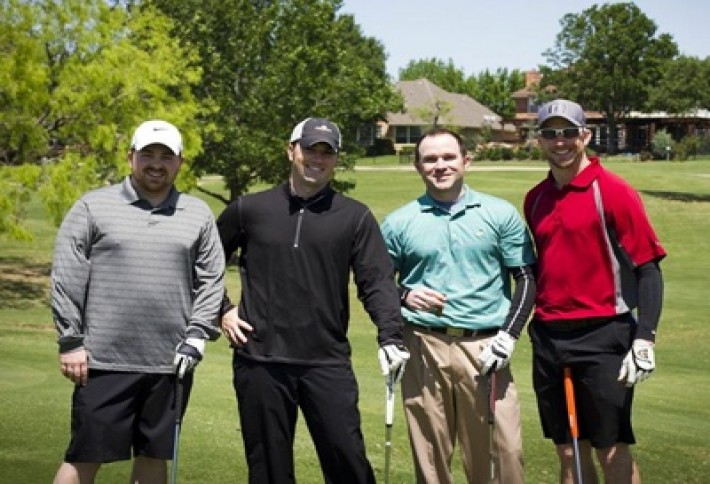 The Young Professionals of Irving-Las Colinas created the Chip In to Beat Cancer golf tournament to engage young pros for a day of fun and giving, benefiting the American Cancer Society. Here are The Property Shops Bobby Self and Joe Peterson, with Texas Health Resources Cliff Bishop and NTX Yamahas Tom Starck. (We read that wrong the first time and thought it was Iron Man.)
***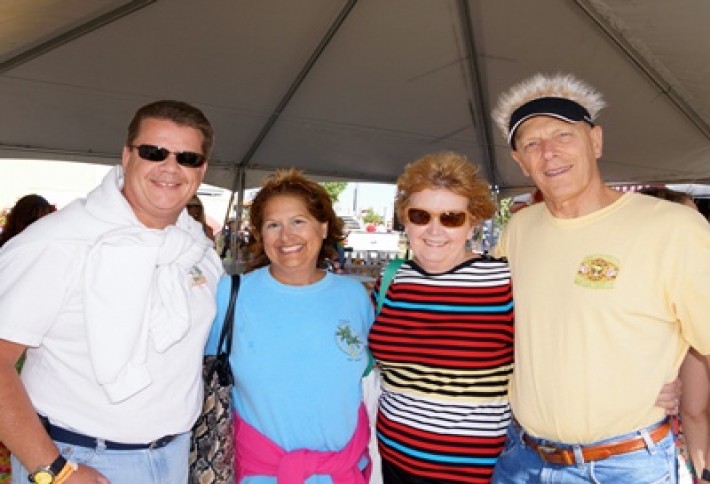 Wasting away again in
Margaritaville
(or maybe it was just Frisco): Last weekend, our very own
Joni Margotta
an her husband,
Dave
(left), with a couple of friends, joined the Parrotheads at the
Jimmy Buffett
concert in Frisco.
LEASES
JLL completed two leases including:



Trinity Materials leased 10k SF at 1112 E Copeland in Arlington. JLL managing director Jeff Staubach, EVP Russell Cosby, and VP Kimarie Ankenbrand repped the tenant. The landlord, RPM Commercial, was self-represented by leasing agent Gloria Albanesi.


1700 Pacific completed two office lease renewals totaling almost 12k SF. JLL managing director Jeff Eckert, EVP James Esquivel, and associate Clint Coe repped the landlord, Berkeley Investments.


***
NAI Robert Lynn brokered several deals including:



Ponce Contractors leased 12k SF at 3501 SH 157 in Euless. Colt Power represented the tenant. Todd Hubbard represented the landlord.


Aramark Refreshment Services leased almost 30k SF at 2120 Hutton Dr in Carrollton. John Lancaster represented the landlord. Gilbert Commercials John Gilbert represented the tenant.


Maxitech leased 12k SF at 7404 Sand St in Fort Worth. Michael Newsome repped the tenant. Holt Lunsfords George Jennings repped the landlord.


***
123eWireless signed a long-term 17k SF lease at Cardinal Park III in Richardson. Stream Realty Partners Patrick Johnson repped the tenant. Holt Lunsfords Byron McCoy represented the landlord.
***
Structure Commercial inked almost 61k SF of deals including:



Aguilar Events 10k SF lease at 4343 Camp Wisdom Rd in Dallas.Troy Morgan and Brian Cyphers repped the tenant.


J & J No-Limit leased 10k SF at Parker Lancer Sq in Plano. Eric Deuillet negotiated for both owner and tenant.