News
The Deal Sheet Part 2: FedEx Distribution Center Planned
Lindale Economic Development Corp sold an almost 18-acre site in Lindale Industrial Park to Tyler FXG, a subsidiary of Kansas City-based Jones Development, with plans to build a 163k SF distribution center for FedEx Ground. MW Builders of Temple will serve as the GC. Construction will start immediately it's slated to open July 2014, says City of Lindale EDC prezJohn Clary(here, with city councilmanBob Tardiff at the ICSC event in Dallas last fall.) The new distribution center will replace two existing faciltiies nearby and is part of FedExs nationwide network expansion to boost its daily package volume capacity and enhance the speed and servicecapabilities.
NEW BUSINESS
Chambers Street Properties selected Cassidy Turley to manage nearly 1M SF of office property in Dallas, Houston, Columbus, and Raleigh. The Dallas property includes the almost 183k SF Point West 1 at 1525 S Beltline in Coppell.
SALES
Texas Prince Properties acquired the 75k SF Crestwood Center at 1200 W Walnut Hill Rd in Irving from Austin-based Capital Commercial Investments. Colliers International Capital Markets Groups Creighton Stark and Ben Lurie represented the seller.
***
CBRE worked several sales including:



Maguire Partners-Solana Land sold more than 25 acres at the northeast quadrant of Hwy 114 and Dove Road in Southlake to Dallas MTA for an expansion project. CBREs Marty Neilon and Jim Whitten repped the buyer.


TDG Mesquite sold 1.14 acres at 4611 N Belt Line Rd in Mesquite to Samuel Worthen. CBREs Jim Whitten and Marty Neilon repped the seller. Woodmont Cos Trip Green repped the buyer.


Marty and Jim also repped Ashport Partners in its sale of almost nine acres at 7800 S Cockrell Hill Rd in Dallas to The Inspiring Body of Christ Church, which was repped by Edward Moore.


LEASES
Bradford Commercial worked multiple deals including:



JND Entertainment leased 10k SF in Preston Lebanon Crossing at 5500 Preston Rdin Frisco from Kimco Frisco.Nick Talley and Erik Blais represented the tenant. CBREs Jeff Kittleson and Andrew Wiley represented the landlord.


Rogers-O'BrienConstruction Co leased almost 23k SF at the Kelly Industrial Building at 307 Hilltop Dr in Richardson from Cobalt Industrial REIT II.Michael Grant represented the tenant. Holt Lunsford Commercials Joshua Barnes repped the landlord.


Protech Diamond USA leased 12k SF at 1600 109th St in Grand Prairie from Howard Bock.Will Dillard repped the tenant. Foster & Cos Scott Voelkel repped the landlord.


***
JLLs Forshey Hoobler worked several deals with colleagues including repping Pacific Northern in its 24k SF renewal at3902 Linderbergh Dr in Addison (with Bo Bond); and Medimedia USA's 21k SF lease at Valwood Distribution Center at 2005 McDaniel Dr in Carrollton (with Russell Cosby; Prologis' Reid Dunbar repped the owner in-house).
***
CBRE inked several leases including:



Bunzl Processor Distribution signed a 25k SF lease at 2450 Esters in Irving from Airport Trade Center V. LaSalle-Sonnenbergs Mark Sonnenberg repped the tenant. CBREs Steve Trese repped the landlord.


Cequent Performance Products signed a 178k SF lease at 4445 Rock Quarry in Dallas from Teachers Insurance and Annuity Association of America. CBREs Travis Sapaugh, Seth Kelly, Ryan Keiser, and Nathan Lawrence repped the tenant along with the CBRE Detroit-based account team of Mark Collins and Kathy Rinna. The landlord was repped by IDI Dallas John Leinbaugh.


Fiber Systems International signed a 50k SF lease at 1300 N Central Expy in Allen from Cornerstone Crossing TIC Investors. CBREs Mike Kay, Steve Rigby, Mike Cleary, Peter Danna, and Baron Aldrine repped the tenant. Bradfords Susan Singer repped the landlord.


Advance Business Capital signed a 10k SF lease at 701 Canyon Dr in Coppell from Cam 601 Canyon. CBREs Bailey Anderson repped the tenant. Lincoln Property Cos Michael Peinado repped the landlord.


***
Marquis Software Solutions signed a 20k SF sublease space at Denbury Park II at 5160 Tennyson in Plano.Stream Realty Partners Todd Noonan repped the tenant. CBREs Jeff Ellerman repped the sub-landlord, Denbury Resources.
THIS & THAT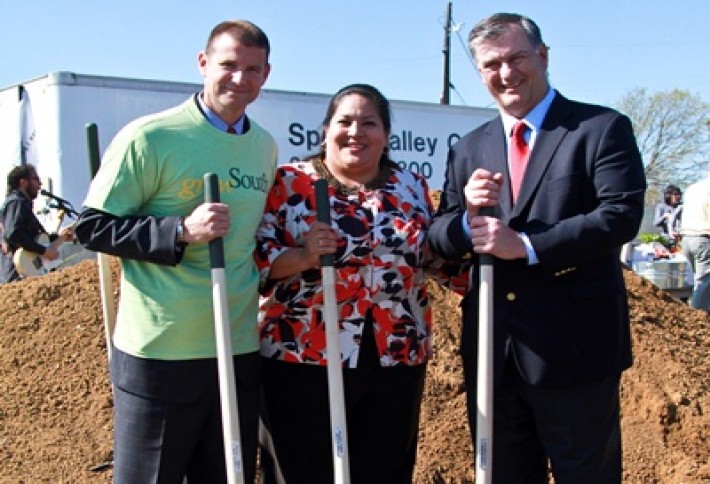 All 20 of the ceremonial shovels at the Sylvan | Thirty groundbreaking yesterday turned some dirt as local elected officials and business leaders welcomed the new mixed-use center from Oaxaca Interests and Wood Partners. Heres Oaxacas Brent Jackson, Dallas City Councilwoman Monica Alonzo, and Dallas Mayor Mike Rawlings.(Thanks to Beau Bumpas for the photo). By years end, the first apartments and the first retail building are scheduled to open.

***
More than 1,200 runners participated in the recent 2nd Annual Form Follows Fitness 5k at the new Klyde Warren Park benefitting the Dallas Center for Architecture. Heres Team Skanska, which finished fifth out of more than 30 teams, and had three members taking the first, second, and third places n their respective age groups. We assume some people love that runners high. We love the finish line.
***
If youre on a DART train, dont worry, you wont be in the dark. But, the Dallas Area Rapid Transit HQ will go dark (the lights in the restroom may stay on, if you need to go) for the sixth straight year between 8:30 and 9:30 p.m. Saturday night as part of Earth Hour 2013. A new 40-foot compressed natural gas bus made its debut in January. It is the first of 459 to be placed into service over the next three years to replace older buses that have reached the end of their useful life, a DART spokesman tells us. Newmark Grubb Knight Frank property management services employees and clients also plan to power down equipment and lights during Earth Hour.