News
New Bridge; and Expansion for Moore Park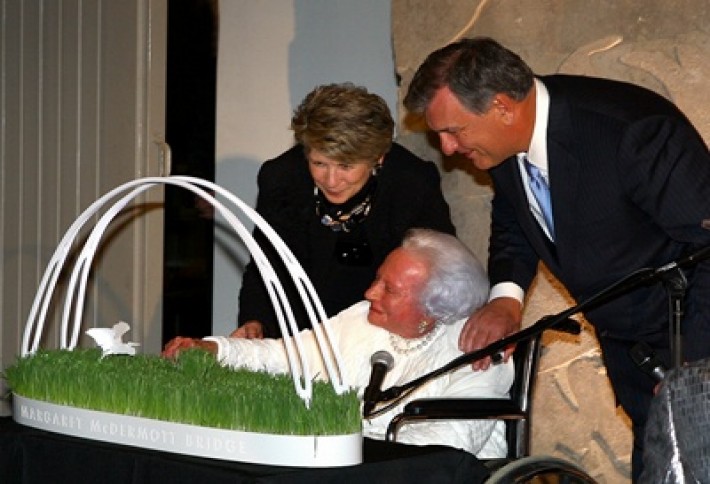 The Trinity Trust has a lot on its plate this summer. Heres former Dallas mayor Laura Miller and current mayor Mike Rawlings watching Margaret McDermott break ground on her namesake bridge at the Trinity River Audubon Center. The bridge is part of the Horseshoe Project (managed by TxDOT), which will upgrade bridges that cross the Trinity River at I-30 and I-35E as well as update the route geometry for connecting roadways where they all converge near the CBD.
The bridge is named after the philanthropist and wife of the Texas Instruments founder. She was the first person to make a personal contribution that ensured Dallas' ability to secure Santiago Calatrava as the designer to meld architectural beauty with functionality for bridges over the Trinity River. For the I-30 Bridge, the city is working with TxDOT and Santiago to design a signature addition to the bridge that will result in pedestrian and bicycle access in and around downtown, the floodway, and Oak Cliff.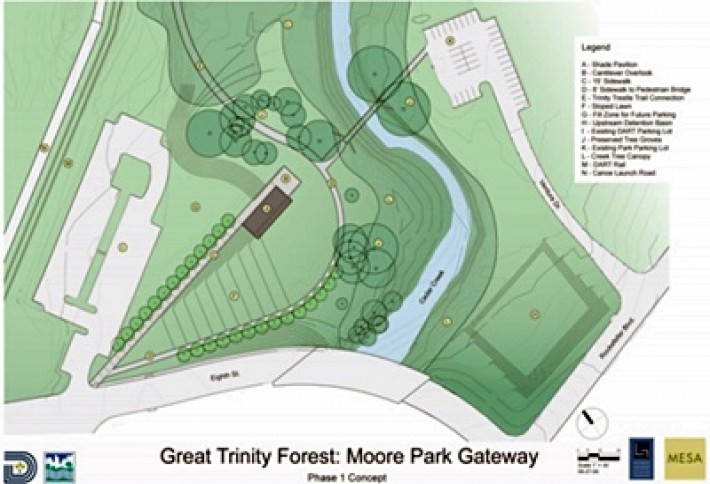 From 5pm to 7pm this Thursday, the city, The Trinity Trust Foundation, and the Hoblitzelle Foundation will dedicate and open the pavilion and amphitheater at Moore Park Gateway. This expansion of the existing 75-year-old Moore Park on Eighth Street will include a entry promenade, pavilion,landscaping, trail connection to the Santa Fe Trestle Trail, a pedestrian bridge over Cedar Creek, an amphitheater, and expanded parking. Expanding the park and creating a link to the Santa Fe Trestle Trail was part of the original plan for the Trinity River Corridor Project. The Hoblitzelle Foundation gave a $2M gift to be used for an initial corridor project between the Trinity River and South Dallas, and Moore Park Gateway was selected because its close to the Trinity River and a historic park in South Dallas.