News
Majority Agree: Glare is a Problem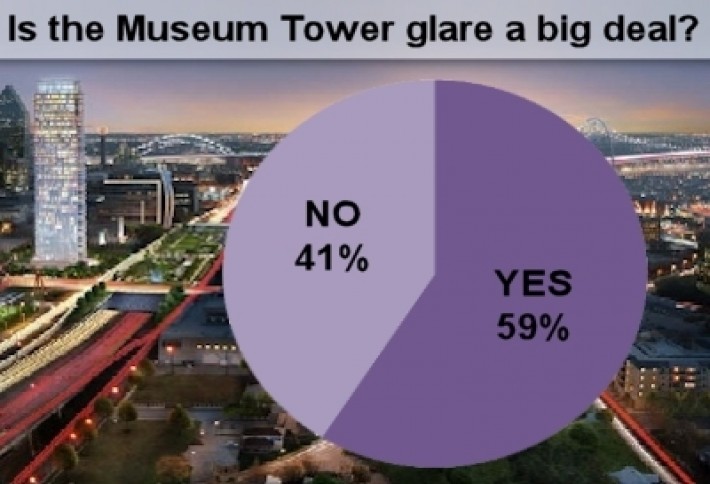 In a fairly close race, 79 of you said the Museum Tower glare is a problem versus 55, who said not so much. It started in the fall of 2011, as the towers curtain went up; folks at the Nasher Sculpture Center began to notice the reflections into the museum. Finger-pointing and bad feelings followed. (This is how the Hatfields and McCoys got started--barbed wire reflections on the chicken coop.)
Museum Tower leadership has ongoing studies on the effect of the glare, and the stand-off continues as marketing for the residences fires up. Here are some of your comments:
If you've visited the new deck park, you may have experienced the burn from the glass firsthand.
Get over it, like the sun doesn't glare on EVERYTHING in its path!
All glass buildings produce glare, and most office buildings are glass, so downtown areas of any city are going to be subject to glare. The Museum Tower people have offered a sensible solution to fix the Nasher's roof system at no cost to the Nasher.
The roof of the Nasher was designed to reflect light in a way that would showcase the art that would be displayed. The glare from Museum Tower negates the entire design and function of the roof.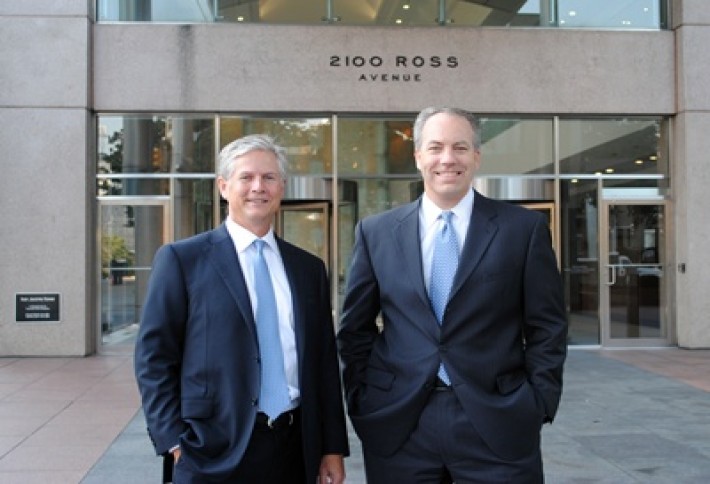 Cushman & Wakefield senior managing director Mark Dickenson (left, with colleague Bill Brokaw) says hes not taking sides. His take: I expect that the economics of the situation will force a solution and theyll find common ground soon. Its disappointing to see the negative publicity regarding the glare. Museum Tower is a downtown landmark and will be a wonderful showcase for the live, work, play dynamic in the Dallas CBD. Its a real focal point for a larger renaissance that is changing the city and improving the quality of life.