Gate Residential and KSS Realty celebrated the completion of the $52.5M, 184-unit Maxwells Green residences Thursday with an outdoor party at its site near Davis Square. The complex is one of several projects under way the City of Somerville.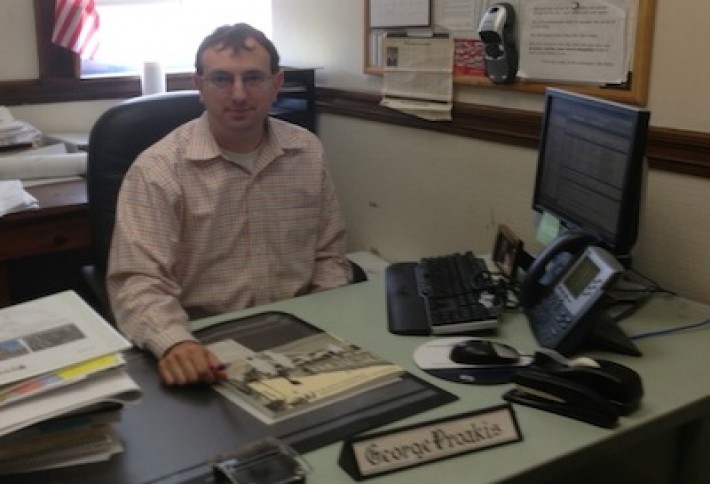 Somerville director of planning George Proakis tells us the last time his city saw this much development was probably in 1910,when people were building triple deckers (not the sandwich). A week ago, Federal Realty broke ground on a $35M, 100k SF spec office building at its $1.5B mixed-use Assembly Row. Now, about 1,000 housing units are under development and at least another 1,700 approved; Assembly Row promises to be a big contributor to the 30,000 new jobs city officials expect in coming years. For the first time, the city is also getting rapid transit, with the construction of new Green and Orange line stops.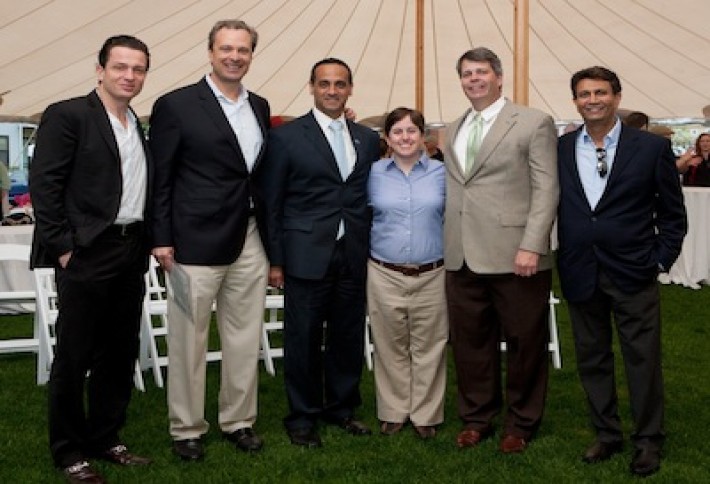 Gate ResidentialsDamian Szary andKyle Warwick with Somerville MayorJoseph Curtatone, AldermanCourtney OKeefe,and development partner KSS RealtysTed Tobin andDarin Samaraweera.Maxwells Green 18-month construction job wrapped up after seven years.The developers say they like the site for its proximity to the activity in Davis and Porter squares and access to the future Lowell Street T stop on the Green Line. The LEED-certified multifamily complex features: underground parking, separate amenities building with a fitness center, yoga room, theater room, club suite with a chef's kitchen, and dining area for entertaining; a half-acre park; and a bike path.

CONSTRUCTION & DEVELOPMENT
The
Boston Conservatory
is slated to break groundthisweek on a
$20M facility
with an orchestra rehearsal hall, dance studios, and teaching and student spaces. It'll be across from Fenway Park and near its main building at 8 The Fenway. Financing comes fromFirst Republic Bank, Zions Bank, and Mass Development, which issued a $24.5M
tax-exempt
bond.
***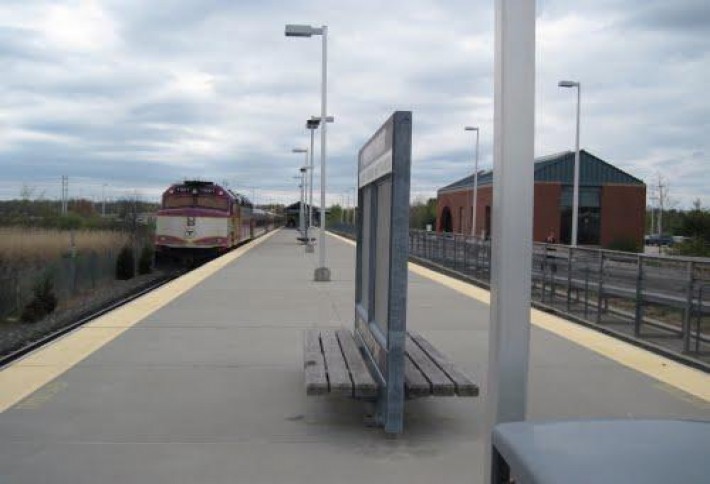 Prospects for a new TOD in Newburyport are improving now that the MBTA is selling 11 acres next to its commuter rail station. The last day for receipt of the bids--at least $1.38M each--is June 27 at 1pm. The property is zoned for industrial and manufacturing, but the citys new master plan for the area encourages higher density, residential, and mixed-use development.

***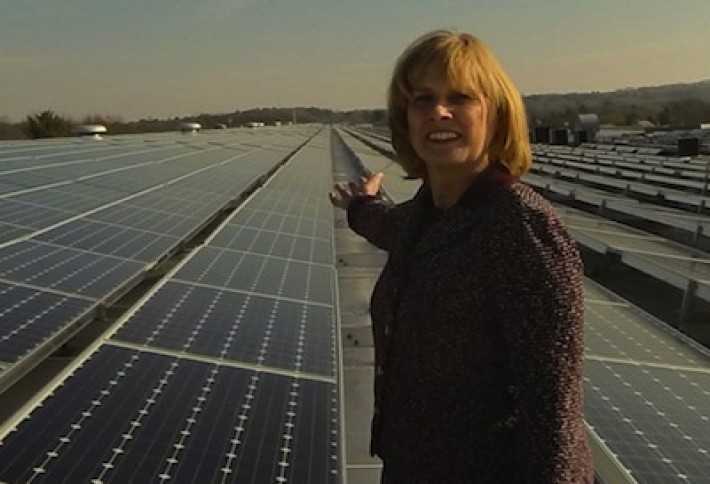 Tomorrow, First Highland Management & Development and FireFlower Alternative Energy (CEO Kathy Doyle above) will cut the ribbon on what they say is Bostons largest roof-mounted solar array at 65 Sprague St in Boston/Dedham Commerce Park. The 978 kW system covers 120k SF of the roof. The building is a 450k SF, multi-use property with tenants like RR Donnelly, Dancing Deer Baking Co, and non-profit Hyde Park Open Studios. The development team includes Broadway Electrical Co, Broadway Renewable Strategies, and Commerce Bank, which provided financing.

***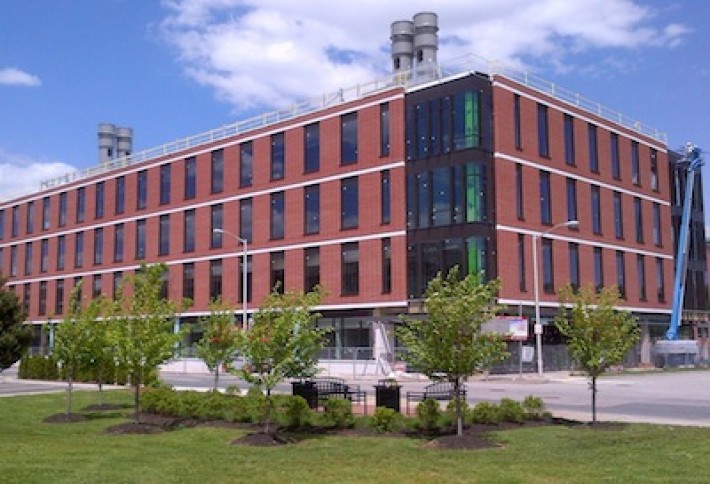 OConnell Development dedicated its $32M building at Gateway Park in Worcester. The brick four-story, 92k SF buildingat 50 Prescott St has space for startup companies, labs, and educational programs. Worcester Polytechnic Institute--which so far has invested $110M there--will occupy 35k SF in the building along with Massachusetts Biomedical Initiatives and Siemens Metal Technologies. The Massachusetts Life Sciences Center gave WPI $6.6M to support the development. The architect is Perkins + Will; TD Bank provided financing.

***
Bierbrier
Development won town approval in Newton for a
19k SF small-shop
development at 55 Needham St, The Needham Street Village Shops. Atlantic Retail Properties
Ben Starr
and
Adam Cirel
are the leasing brokers andPrellwitz, Chilinskis
David Chilinski
is the project architect.
SALE
The Hamilton Co closed on its $52M purchase of a 134 unit-apartment complex near Northeastern University at 650 Columbus Ave. The seven-story, brick building comprises an entire city block and includes a 141-car garage. The seller was Douglass Plaza Housing Co of Waltham.
LEASING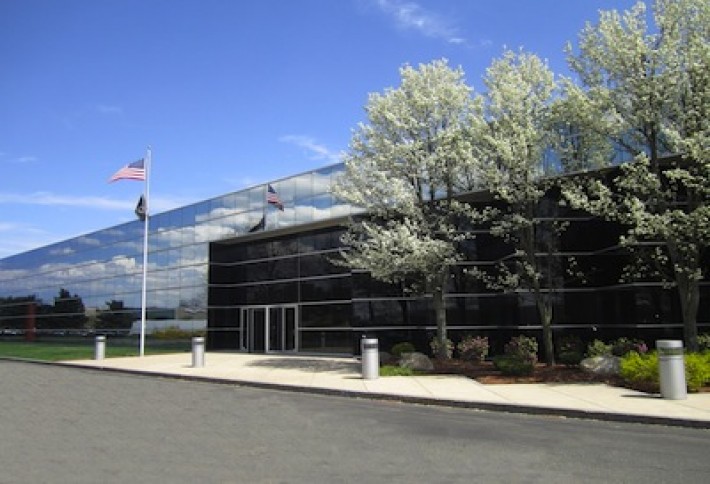 Converge, a subsidiary of Arrow Electronics, renewed its 72k SF at 4 Technology Dr in Peabody's Centennial Park. Landlord Combined Properties GregRegazzini repped the owner and CBREs Dave Connolly repped the tenant.

***
TFC Financial
Management leased 6,800 SF and
Donnelly Conroy
& Gelhaar
7,200 SF at 260 Franklin St in the Financial District. Cresa Boston repped the tenants while the landlord, Heitman Capital Management, was repped by Jones Lang LaSalle.
***
Millennium Partners
hired
Cushman & Wakefield
to lease approximately 182k SF of what will be 1.4M SF of
retail space
at the Millennium Tower/Burnham Building, a $615M mixed use project in Downtown Crossing.
If you tell a joke in the forest, but nobody laughs, was it funny? Tell susan@bisnow.com