The Seaport may be the hot new submarket, but Cambridge has a 3.3M SF development pipeline and the Financial District is undergoing historic transformation, Colliers partners told 1,000 industry pros at the South Boston Convention Center late last week during its 34th Annual Trends Seminar and cocktail fete. (The cocktails taste so much better when the trends are positive.)
Colliers' Cambridge maven Joe Flaherty says landlords are benefiting from a biotech-fueled building boom around Kendall and Central squares that includes eight build-to-suits with 1.8M SF under construction and another 460k SF in the pipeline. The key projects: Forest City signed an LOI with Millennium Pharmaceuticals to take 300 Mass Ave and is now permitting; MIT secured all permits for 610 Main St; and Alexandria has two lab buildings ready to go on Binney Street. HYM is building luxury apartments at 20 Child St in North Point, and MIT plans to redevelop Kendall Square with more housing, retail, and 1M SF of lab/offices embedded on its campus.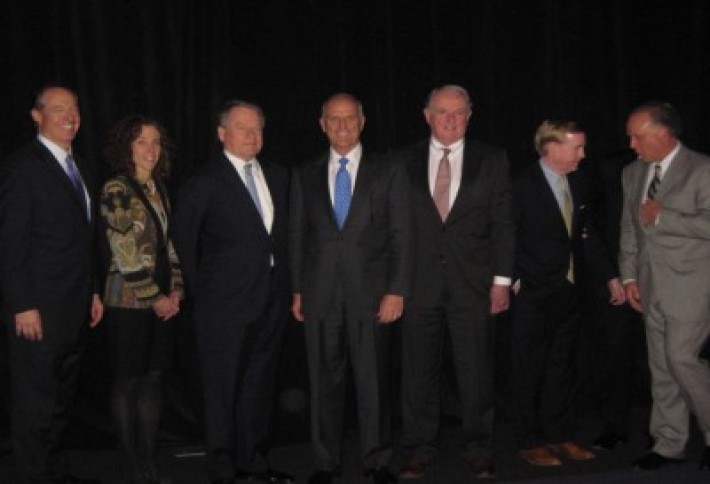 The Colliers team: Ted Chryssicas, Lisa Campoli, co-chairman Tom Hynes, keynote speaker EOP CEO Tom August, co-chairman Kevin Phelan, Jim Elcock, and prez Ron Perry. In the regional economy, healthcare, and education are outstripping financial services as top employers. Filling the Seaport District are dozens of startups, from Acetylon to Z mags. (And when startups come into town, coffee shops and cupcake bakeries are never far behind.) The Financial District rebounded to drive net office absorption to 1.8M SF, the best in the nation. Pivotal to the resurgence are Brown Brothers Harriman's 400k SF lease at 50 Post Office Sqand the plan to develop the $615M, mixed-use Millennium Tower in Downtown Crossing. Rents are up, and vacancy is down and forecast to hit 10.2% in '15.