News
Boston Economy And CRE Roaring
By any measure--financing, acquisition, development, construction, rents--Boston has shaken off the downturn doldrums. The economic panorama will further brighten through 15, experts told 300 who joined us Thursday for Bisnow's 2013 Boston Economic& Real Estate Forecast at the Copley Fairmont.
OConnell Hospitality Group principal James OConnell, CohnRznick principal Nick Ratti (moderator), Normandy Real Estate principal Justin Krebs and New Boston Fund executive chairman James Rappaport all had good stories. From hotels to offices, multifamily and mixed-use investments and projects--downtown and in the burbs--capital is shaking loose and lenders are increasingly eager. With more projects getting into construction daily, construction costs are rising but rents are also moving up. Meanwhile, with more prospective tenants favoring mass transit, the most prized locations are walking distance to T-stops, commuter rail station, oroffices (or at least a reasonable skateboard distance for any Millennials).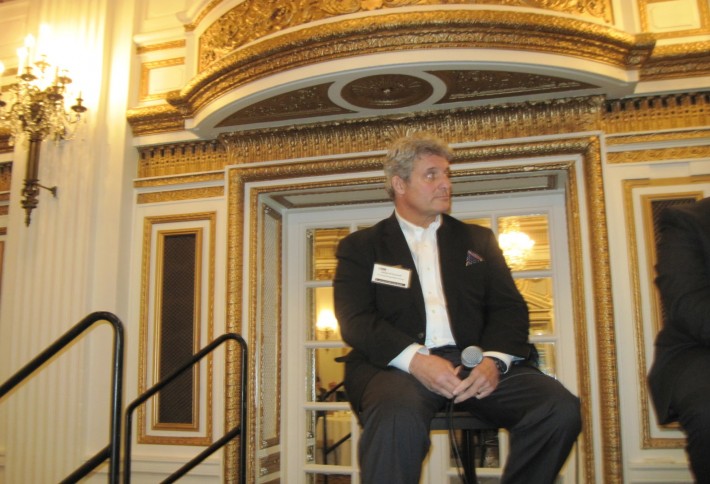 The Boston hotel market performance--79% occupancy and rapidly rising REVPar--justifies new construction, Jim says. The Seaport Innovation District, where at least three projects are in the works, is one of the best stories in the country. Throughout Boston, about 4,000 rooms have been approved by the city in the past 10 years. The new product that actually gets built will tend to be upscale, select-service hotels, not the full-service luxury hotels with high-priced condos developed during the last cycle. (Our concept for a hotel catering only to magic enthusiasts has yet to be approved.)Lenders are back with competitive proposals on a wide spectrum of hotel assets.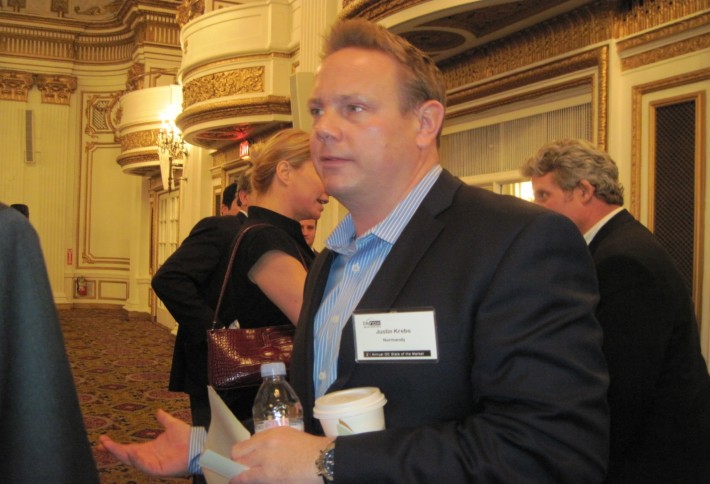 Normandy is developing TOD mixed-use projects in Newton and Needham packed with amenities so corporate tenants can offer a rich work environment to attract and retain the best talent. The companys also in the mix, competing for opportunities in Cambridge and downtown, Justin says. In acquisitions, much activity has centered on stabilized core assets, but as lenders accommodate more risk, value-add players may find more deals. With construction costs rising fast, its a good idea to check in with your contractor every few weeks, Justin says. But after early 14, he thinks the project flow will lighten and construction costs temper.
Construction costs rose 5% to 7% last year and multifamily rents went up 6% in the last six months, Jim tells us. (He's a breath of fresh purple in a sea of navy blue and grey.) But demands from tenants who want to live downtown are changing. Theyd rather pay for a small apartment in a location that lets them walk to everything. In the search for distress deals, Jim says NBF has found more properties in the South than in Boston where offices are trading at 4% cap rates. One enabling factor, the low interest rates of the past few years, will last for another two years but after that, the picture could shift. Job creation isnt propelling tenants to expand from 4k SF to 100k SF, but to 5k SF; then Google acquires them and they move to California.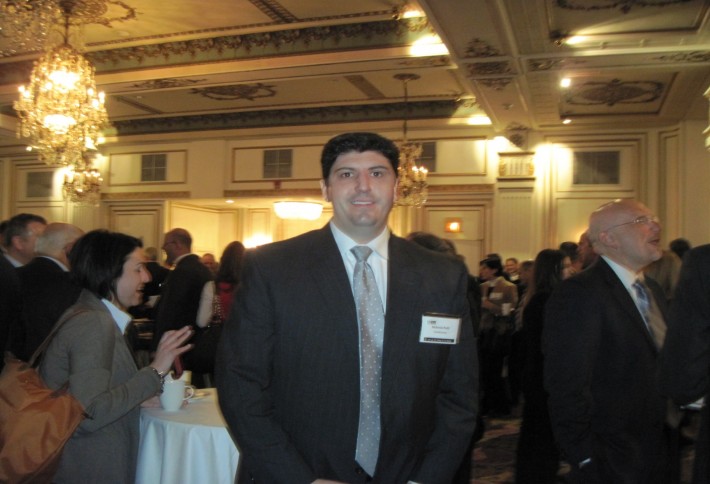 Nick, who specializes in tax credit financed transactions for CohnReznick--our event sponsor--chaired a discussion on the overall economy. Happily the US, and the global economy, dodged several bullets last year: the Eurozone crisis, the prospect of a hard landing for China, and our own fiscal cliff. Recession risks have moderated and growth in the US may dial back slightly this year but accelerate in 14 and 15. Banks capital positions are improving. In the housing sector, a star performer (although not back to the 86 peak), declining inventories signal that new construction is likely to pick up.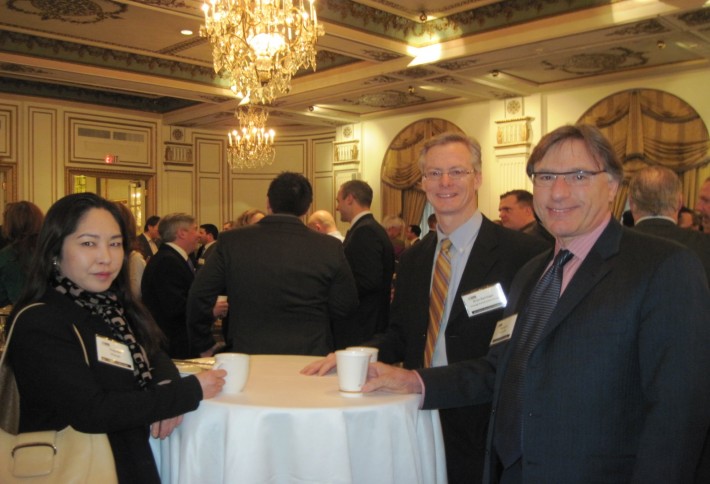 YK Designs Yong Kim, Consiglis Brian Barringer and Perkins + Will principal William Harris arrived early for coffee and networking. Consigli is CM for BiogenIdecs new $123M, 305k SF BTS in a five-building complex being developed by Alexandria Equities at225 Binney St. The BiogenIdec office designed by Spagnolo Gisness & Associates, the first at Alexandria Center in Kendall Square, features a glass and terra cotta faade, and incorporates two existing historic buildings. Consigli is also CM for Googles 50k SF expansion space inBoston Properties Cambridge Center, also in Kendall Square.
Tell us your choice for the hottest bar or best cocktail in Boston. Careful: best answers will be published. Send responses to: susan@bisnow.com