News
Bisnow Exclusive: TripAdvisor Nears $100M HQ Deal; The Deal Sheet
TripAdvisor is negotiating a long-term lease with Normandy Real Estate Partners for a new $100M, 285k SF HQ in Needham, we learned fromNormandy New England director Justin Krebs. Heexpects construction on the build-to-suit to start this summer.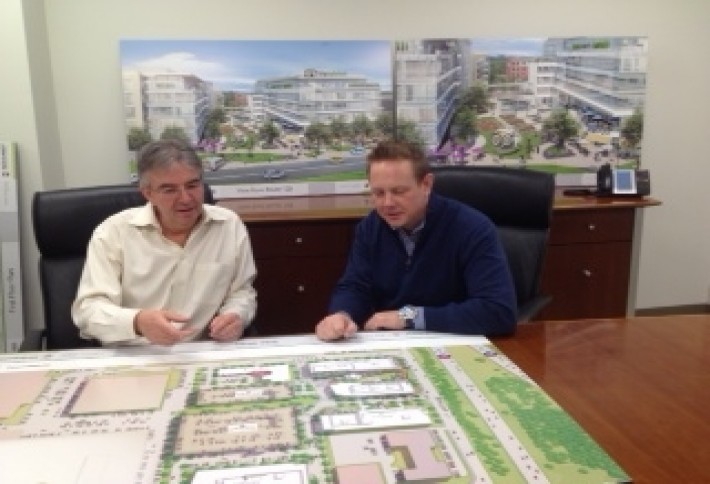 A year or two ago, Justin (right, with Avison Young's Kevin Daly)doubts the tenant would've taken the leap. TripAdvisor isplanningto expand from 116k SF nearby into the new build-to-suit, the first of three new offices Normandy expects to build at its Needham Business Center.TripAdvisor wanted tocreate a high-end campus to help it hire and retain top talent, Justin explains. A 128-room Residence Inn under construction at the office park is due for completion this summer. Hear more from Justin and other experts at theBisnow2013 Boston Economic and Real Estate Forecasttomorrow at the Fairmont Copley Plaza. Last chance:register here!
CONSTRUCTION & DEVELOPMENT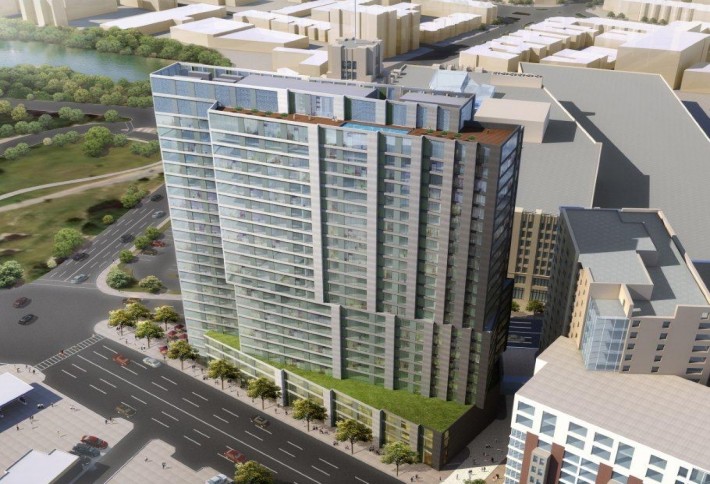 Samuels & Associatesis launchingthe$175M Point,a22-story, 320-apartmentapartment tower. Its the fourth tower in Samuels'$1B investment over 15 years, including three other mixed-use Fenway towers with partner JPMorgan. Point--designed by Arquitectonica--has a whole new vibe,"Samuels VP Leslie Cohen tells us. Triangular in shape, its faade features a dynamic glass and masonry pattern. Permitting--started last week--may take a year, with construction to follow in six months. Samuels started its third Fenway tower with 170 apartments in Q4 and since 06, has completed two buildings with 820 apartments. Boston-based Elkus Manfredi designed those three towers.

***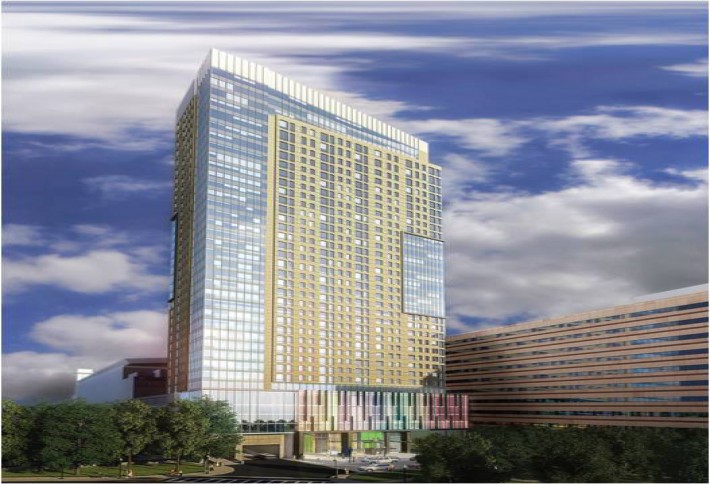 AvalonBay Communities plan to build the $200M, 32-story, 303-unit Nashua Street Residences in North Station got the green light from the Boston Redevelopment Authority. The project--which includesa two-story public retail arcade and 219 parking spaces--is bounded by Nashua Street, Partners Healthcare, North Station, and the Thomas P.O'NeillFederal Building.The development team includes CBT Architects, Exclusive Real Estate, and Goulston & Storrs.

***
Suffolk University
is moving ahead on constructionof a
$62M
, 112k SF academic building at
20 Somerset St
. When completed in 15, it will replace a vacant government office building with
1,100 classrooms seats
, student support services, a cafeteria, performance space,indoor lounge area, and a new public space at Roemer Plaza.
***
First Bristol
will build a new 113k SF,177-key
hotel
and two
restaurant/retail buildings
.The project--at the corner ofMcClellan Highway and Boardman Street--will be developed in
two phases
: first, a five-story,
103k SF hotel
and second, two retail buildings of 6,300 SF and4,000 SF. The development team includes MC-EB Realty, Marshall Properties, Bohler Engineering, BMA Architectural Group, GZA, Nutter McClennan & Fish, Suffolk Construction, Tech Environmental, and Vanasse & Associates.
***
Kavanagh
Advisory Group
won city approval to build
Starboard Place
, a 54-unit multifamily building at 1stAvenue and 9thStreet in
Charlestown Navy Yard
.Since the Navy Yard is a National Landmark, the Starboard Place design meets
Historic Monument Area
guidelines of the National Park Service, Massachusetts Historical Commission, Boston Landmarks Commission, and the BRA. The development team includes BH+A Architects and BDLWT&G.
***
The
Cambridge Innovation Center
, which provides incubator space for tech companies, is in talks
to open
offices in
Baltimore
and
St. Louis
by year-end, says CEO
Tim Rowe
. It also plans to
expand here
, leasinga second Kendall Square location to occupy a total of
200k SF
.
FINANCING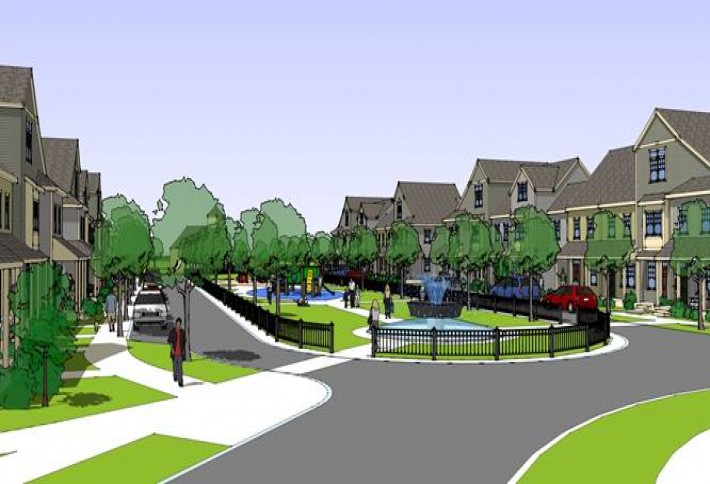 Trinity Financial and the Taunton Housing Authority received a $14.4M tax-exempt bond from MassDevelopment to build a 72-unit multifamily affordable housing development in Taunton. Its part of a two-phase project to replace Fairfax Gardens public housing with a total of 160 new apartments.

***
Three Boston
affordable
housing developments
are getting
110 new rental units
with the help of
$8.4M
in public affordable housing and tax credit fundingcoming through the state Office of
Housing and Economic Development
. It supplements
$47M
in
private investment
forJackson Commons in Jamaica Plain, Roxbury Crossing Senior Housing in Roxbury, and Phase One of the redevelopment of St. Kevins in Dorchester. About20 of the units will be reserved for very low-income families and households
transitioning from homelessness
.
LEASES
The Boathouse Gp has inked a five-year lease for 11k SF at 260 Charles Street in Waltham from Paradigm Properties. Newmark Grubb Knight Franks Dan Krysiak repped Paradigm and John Carroll III repped Boathouse. Paradigm is renovating the lobby of the 51k SF former US Watch Co HQ.
HONORS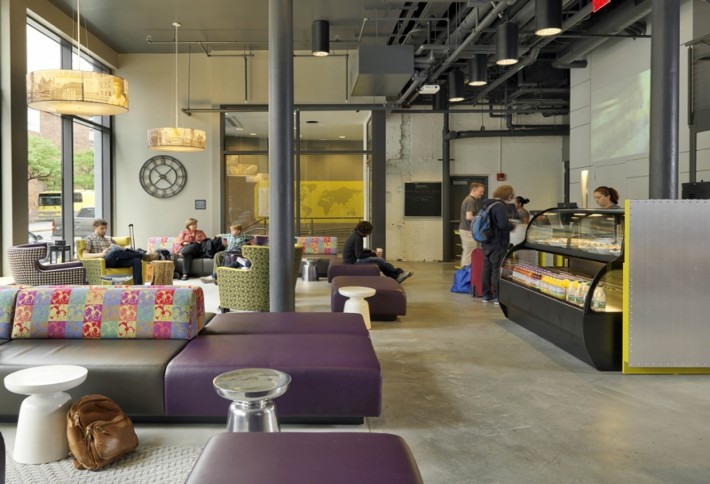 Bergmeyer Associates--with Stegman & Associates--won a 2012 Boston Society of Architects Award for Design Excellence for Hostelling International-USAs new Boston Hostel. Located in the Theater District, the 480-bed refuge for budget-minded travelers features a loft-like lobby.
We adopted a shelter kitty for granny. The shelters are busy; go find a fur-ever friend this week and send CRE news to susan@bisnow.com.