News
Atlanta's Apartment Glut
Name a CRE product type most respondents say is in danger of being overbuilt. Survey says... Atlanta apartments!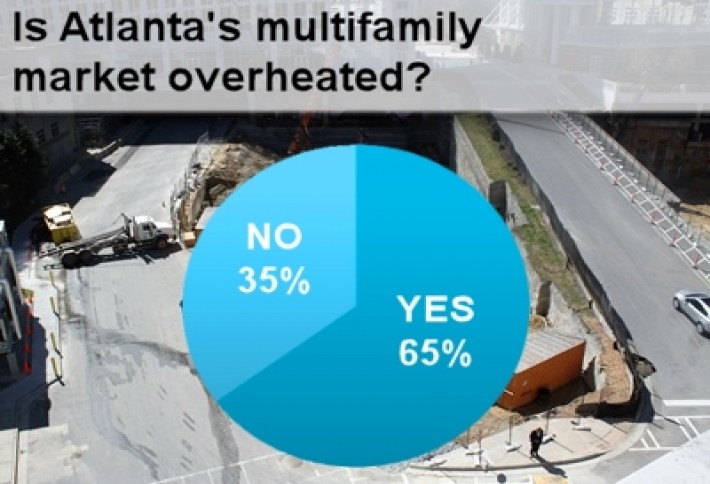 We asked you if Atlantas multifamily market was becoming overheated. Out of more than 200 responses, two-out-of-three respondents said apartment developers are jumping ahead of the recovery curve with all the units under way and planned in the coming year. Heres what a number of you had to say about it:



Cheap debt,bullish developers who aren't creative and flat market fundamentals= FAILURE!


NYC has 1% vacancy, 5% to 10% annual rent increases and they still are not building. There is a need for more in-town, high-rise living, but this is just another example of short-sighted Atlanta developers. How does 2,600 units under construction and 6,000 proposed compare to Atlanta's condo stats in 2007?That didn't turn out well... neither has any building boom in Atlanta for that matter."


Atlanta will never learn. They overbuild constantly. When the feds loosen lending guidelines, people will start buying homes again. Then the multifamily market will be sad.


Most developers will be successful in building and leasing these projects initially, but the long-term value underwritten by the investment community will be undercut by declining rents in the next three to five years as more product is delivered and more renters become buyers again. Do not be lured into paying today's cap rates if rent growth is the only upside. Buy on solid fundamentals, and you'll be OK to invest right now."


The flip side:



This is a fraction of the calculated demand, and after years of nearly no development, a few thousands units will be quickly absorbed.


Well in balance with projected job growth overall. A couple of submarkets may take longer to absorb but will be fine.


Way below 20-year average deliveries. After three to four years of significant under-supply, supply is only beginning to catch up to historical demand.