PIGSKIN TRADITION CONTINUES AT STAUBACH
---
This coming Sunday, July 1, is the big day for Greg O'Brien, who'll become CEO of the 68 offices of Staubach. It's the first time Roger Staubach himself hasn't held that job in the 30 years since he founded the company. But so what if Roger was Super Bowl VI MVP and Heisman winner at Navy. Greg was a linebacker for the Tufts Jumbos—a storied 132-year old program that is playing its 1000th game this year. Ok, D-3, but when someone "inevitably" brings out a football at office gatherings, Greg can still play. Greg's 45, Roger's 65. Maybe they're in the same league now?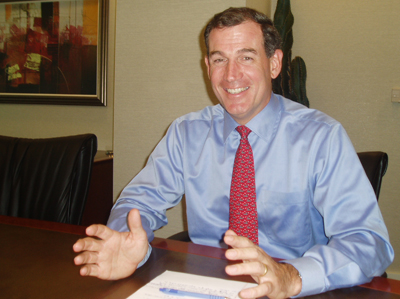 In his office with us yesterday, above, Greg had one clear message: "Roger isn't going anywhere"—he will remain active as "executive chairman," a visionary focused on brand and clients. And Greg knows: Roger visits three or four times a year and usually stays with the O'Brien family in McLean. For six years, Greg has been running the Northeast area (Tysons, DC, Bethesda, Baltimore, Boston, Philly, and the public sector), and they've been talking about how to take the firm to the next level. A year ago, Roger and Greg decided on the game plan, and Greg joined the Board in February. He's spoken a lot over the years at firm conferences, but tells us, with a smile, that he's been honing an inspirational "Knute Rockne" speech now that he's becoming head coach.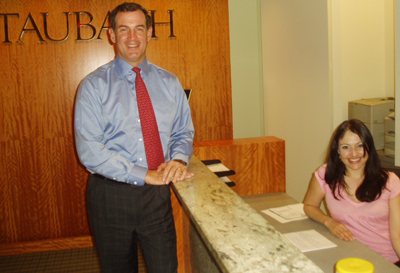 Greg is used to greeting visitors to Staubach's East End office, here with receptionist Raquel Duron. His local successor will be Robb Johnson—"RJ" as Greg calls him, although some of us who have been in the airline biz can't help thinking of that as "regional jet."
Since his kids (ages 6, 10, and 12) are in school, Greg was reluctant to move to Texas. But no need to; COO John Gates will be there. And even though in 1993, 80% of revenue came from the Lone Star State, and even though the amount has grown a lot since, the whole firm is so much bigger that Texas represents only 25-30% of their $500 million annual revenue. Besides, the whole point of the new changes—including rolling up Staubach's regional stocks into one national corporate stock—is to create a unified nationwide platform, more like the clients they serve.
And where will Greg spend the big day this weekend? In Chatham on Cape Cod, with his family in the new house they just built, with a big porch overlooking Nantucket Sound. It's a regular Norman Rockwell scene up there, he says, especially on July 4. He knows, having grown up in Belmont, outside Boston, and, between Tufts (electrical engineering major) and Harvard Business School, worked for Hewlett Packard selling test equipment to the likes of Raytheon for Patriot missiles.
Totally unrelated factoids, but when you got 'em, flaunt 'em. Greg is not only a football guy, but coaches his kids in soccer and basketball. His favorite classy restaurant in Washington: IndeBleu. But for comfort food, give him veal parmigiana at an Italian joint, or anything on the "left side of the menu" at PF Chang's, as Greg and his son ordered from just a couple evenings ago after lacrosse practice. Evidently that's the fun side of the menu.

Thank You Subscribers!

Bisnow on Business Real Estate Daily
is now publishing five times a week.

We have doubled the size of our ads
And they're all on our front page!

Readership has soared…Climb aboard!

advertising@bisnow.com
tel 202-966-1200