TECH FINANCE KING
BECOMES COLLEGE
KINGMAKER
---
By Karin Tanabe, for Bisnow on Business
You remember Russ Ramsey, co-founder of local investment bank FBR, who ran its tech practice in the 90s and helped bring local high-fliers like MicroStrategy and webMethods to market?
"Some of the people who were very active in technology back then have stayed but many have moved on to wear political and philanthropic hats," Ramsey tells us.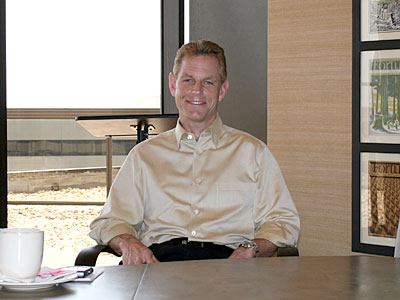 He's one of them. Although he still keeps his hand in finance—he left FBR several years ago to start his own hedge fund, Ramsey Asset Management—he's been spending plenty of quality time in those other pursuits. Aficianados of Virginia government will recognize him as a close adviser to his long time tech sidekick, former Governor Mark Warner. And now he has a big deal educational role around here.
In February, Ramsey was elected as Chairman of the George Washington University Board of Trustees, a position he assumes this summer. A member of the Board since 1998, Ramsey recently chaired the committee to appoint Steven Knapp, provost of Johns Hopkins, as GW's 16th president.
"We were looking for a leader to take GW into the next phase, while staying close to George Washington's original vision," says Ramsey. "GW is the largest non-governmental employer in the city and the third largest land owner in DC." Due to this, the appointment of Dr. Knapp was not done covertly by a bunch of suits in confined quarters but through a series of community meetings and alumni assemblages. "We would like to see GW become a great research university, expanding in the fields of science and technology." Hmm, kind of like...Johns Hopkins.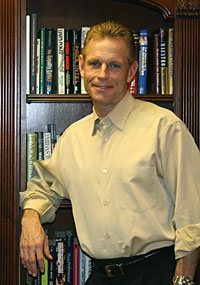 Quite the Renaissance man, Ramsey's also spent time on the advisory board of National Geographic since 2004. He initially became involved due to his friendship with current CEO John Fahey, the first outside-the-family CEO in the history of the company. "I have great respect for John and the way that National Geographic has accomplished changing with the times. It is a very unique company in that it's a nonprofit that competes against some of the biggest companies in the world such as Disney and Viacom. They have to present authenticity and nonbiased journalism at all times, something that is unique to nonprofits. They spend millions of dollars on validation and research." (Here at Bisnow we spend just a hair less than that.)
Ramsey even has time for sports, pretty much active on the D.C sports scene since his days slugging it out for the GW Patriots baseball team. Inducted into the GW Athletic Hall of Fame in 1995, his zeal for his alma mater remains conflagrant. He was no benchwarmer in his day, but was more than happy to get benched this Monday night—on the Wizards bench that is. He attended the Wizards—Cavaliers playoff with Revolution exec Donn Davis, whom Ramsey calls "one of the most dynamic young execs in the region," and who he thanks along with Steve Case for the primo seats.
A few weeks ago, he was delighted to present the GW Jackie Robinson Society Community Recognition Award to Frank Robinson. "He is a hero of mine, he has done so much for the game and for the community," Ramsey says. Robinson, whose last gig was managing the Washington Nationals, was the first African-American manager in the Majors.
Will Russ Ramsey be heckling the Nat's opponents with a few "swing batter, batter, batter, swing's" this season? But of course. If it were not for Mr. Ramsey, who was instrumental in bringing baseball back to Washington, we might have no one to goad at all. He is also quick to note that Ted Lerner, principal owner of the Nats, is a G Dub alumnus as well.

EVENTS
May 8, NVTC Executive Forum CXO Dinner, hosted by Jim O'Neill, President Northrop Grumman IT. More info.
May 16, TCM Financial Execs Forum Networking Breakfast with SEC Commissioner Annette Nazareth, Bethesda Country Club, 730-930 AM, more info.