News
7 Essential Elements Of Transforming City Neighborhoods
Construction will start soon on whats been billed as the largest urban transformation project in the country--the $1.6B rebuilding of downtown Quincy. Similar redevelopment efforts are under way in Boston and nationwide. (Nothing wrong with a little nip/tuck to keep up with the younger cities.) Eachis unique, but here areelements they share.

1) True Believers
[caption id="attachment_54883" align="alignnone" ]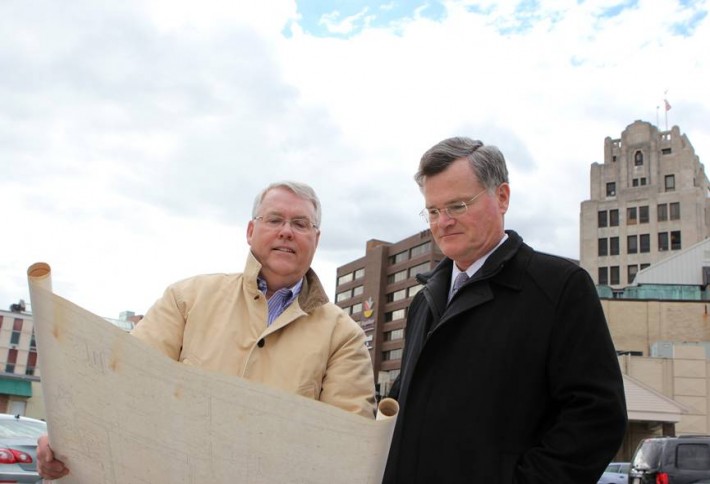 Quincy Photos: Mindi Sokoloski[/caption]
Early on, Quincy Mutual Insurance--a company HQ'ed downtown for 162 years--made a $17M pre-development investment to help launch the project. (SVPJames Moranand presidentDouglas Briggswere snapped yesterday.)Developer Beal/Street-Works partner Ken Narva says big city makeovers need a stakeholder with the courage to get in early and the patience to hang on for the long haul. (It's like a marriage, except the redevelopment doesn't snore.) Behind the insurance execs is Merchants Row, block fourof phase one. In April, the buildings in the foreground will be demolished. In May, when construction starts, the Granite Trust Building (1400 Hancock St, in the background) will be renovated.

2) Public Investment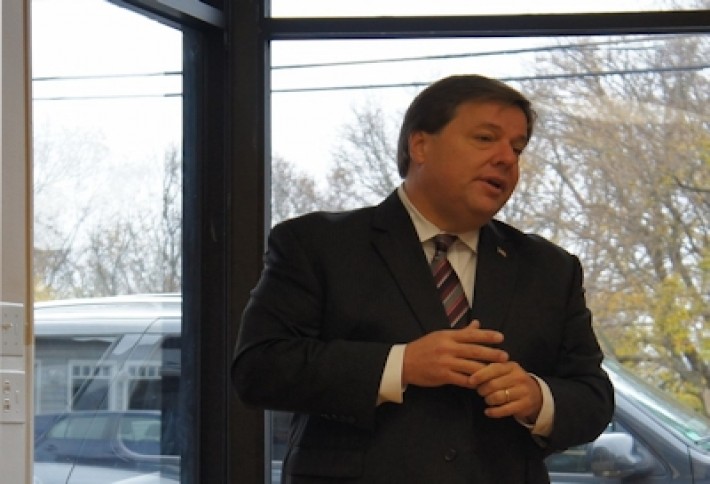 Mayor Tom Koch (above) was a pioneering advocate, with moral and financial support. The city and state have agreed to raise $340M, including $289M in bonds for infrastructure: new streets, utilities, and nine garages for 5,000 cars. The city will raise 18% of the TDC, the state 3%, and the private developer 79%. The new private property will generate revenue to repay the bonds. Early in the eight-year planning phase, Ken tells us, the mayor had the courage and vision to see beyond the next election cycle. To Mayor Koch, the transformation means new jobs and revenue to fuel further growth. The developer isstarting the first building with cash.But without public underwriting, Ken says, it couldn't create the appropriate environment.

3) A Real Neighborhood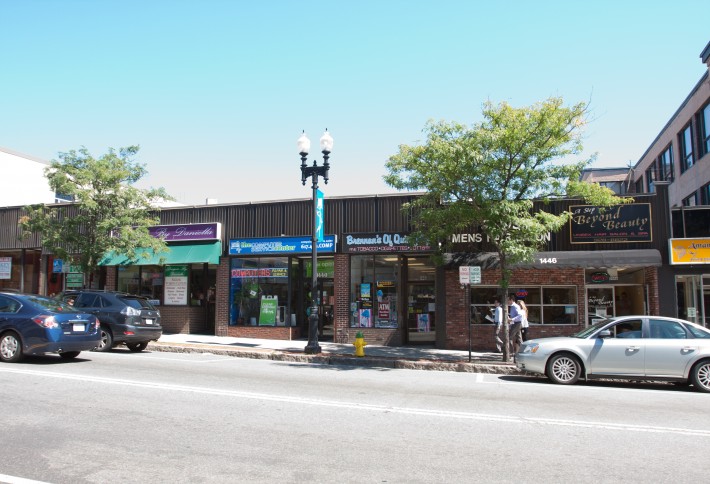 This stretch of Hancock Street is underutilized, but behind it is an engaged community thats proud of its city. Quincy--birthplace of two USpresidents, John Adams and John Quincy Adams--has a rich past, a solid present, and a strong credit rating. Beal/Street-Works recognized residents concerns over a plan to build 3.5M SF,so its buildings are as-of-right and it acquired the 39 land parcels without using eminent domain. Everyone knew what was happening from day one, says partner Richard Heapes. The plan it created calls for 1,600 housingunits, 1.1M SF of office, and 700k SF of retail, including 150k SF of food. (Unfortunately, that doesn't mean a giant building made out of bananas.)

4) Transportation
The spine of the New Quincy Center is Hancock Street, which leads to the T stop. Easy access to mass transit is the critical lifeline, says Ken. It places what will be new and redeveloped buildings 18 minutes from Boston and 23 minutes from Cambridge, both major employment centers. (Now your boss knows exactly how long it should take you to get to the office.) Its surrounded by Interstates 93/95, which lead to downtown Boston and many other towns.

5) Active Streetscape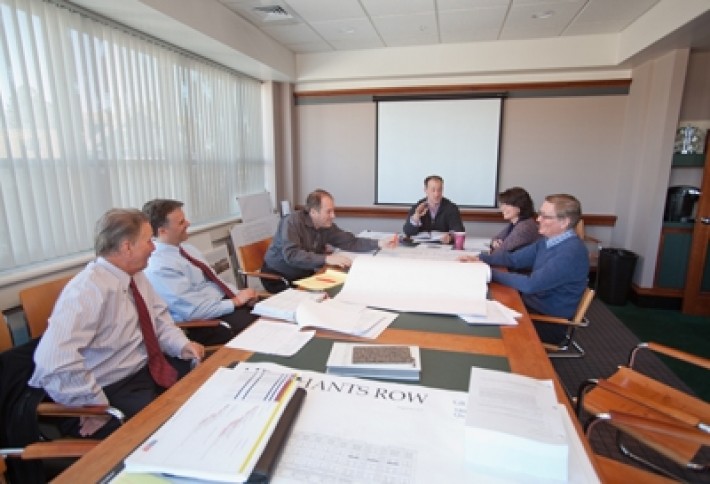 Here are Suffolk Constructions Ed Janus and Tom Chamberlain, Street-Works'Richard Heapes, and Stephen Chrusciel, and Sheskey Architects Stephanie Bandzak and Gary Gardner. At its core, Hancock Street will bereconceivedas one great boulevard from the commercial center to the T. It will feature aseries of spaces filled with active uses like restaurants and shops, key public places like four-acre park and museum Adams Green, and five other outdoor public places connected by wide sidewalks.

6) Multi-Talented Teams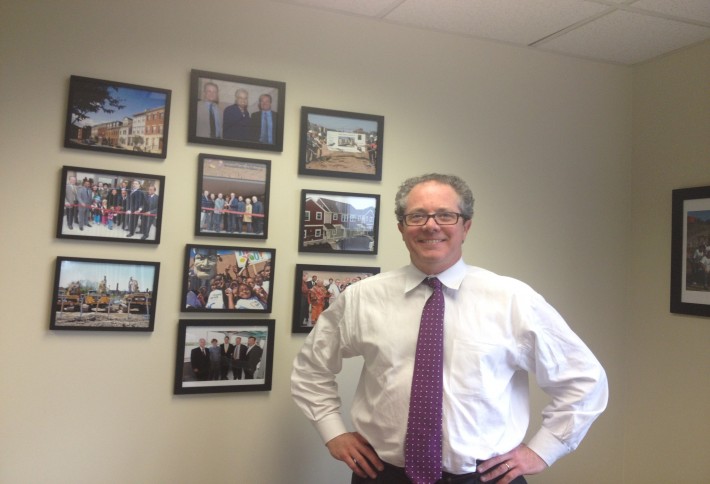 The Community Builders, led by CEO Bart Mitchell, is a non-profit developer doing transformative urban projects in Jackson Square, the South Side of Chicago, and Pittsburgh's East Liberty neighborhood. The projects are so difficult, composed of so many facets, and have so many public and private partners that they require a very talented team capable of handling myriad roadblocks.When community-based organizations are part of the mix and everyone's goals are aligned, that's powerful, Bart says.

7) Ownership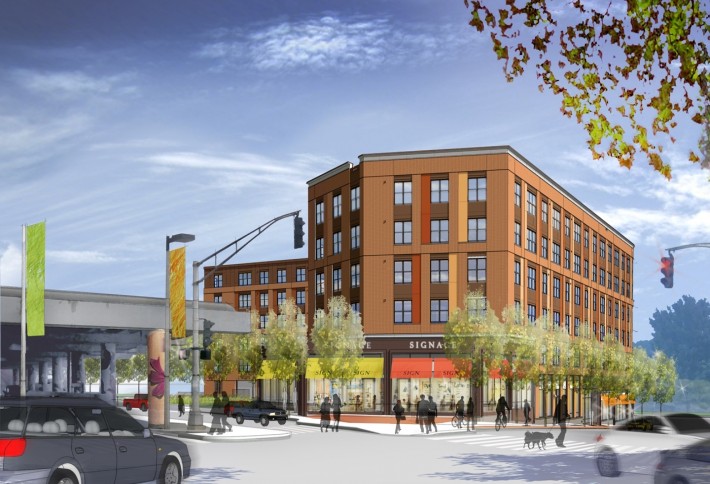 TCB projects (like Jackson Square, above) are measured in decades, not months, Bart tells us. When remaking a city neighborhood succeeds, the stakeholders intend to remain neighborhood property owners for the long term. Unlike merchant builders, theyre satisfied with value creation that takes 10 to 20years to materialize. If their mission--like that of TCB--is to replenish the built environment with affordable housing and to sustain the people in the community, it's worth it, he says.
Can anyone explain wave-particle duality? We're asking for a friend. Email susan@bisnow.