WORKERS INVEST
LIKE EXECUTIVES!
---
A hardy welcome today to great new sponsor Peckar & Abramson! Founded in 1978, it's one of the country's leading construction law firms. And big congrats: Chambers just ranked it #1 in New York. Like a lot of firms these days, it's recently shortened its name, from Peckar, Abramson, Bastianelli & Kelley—easier for you to remember! It's also is well known for government contracts and corporate compliance, and has ten offices across the country.
---
We're saving money on lunches this summer with all the great BBQ we're getting at topping off parties. Latest: Lincoln Property and the AFL-CIO dished it out for 1030 15th St. NW, which is adding a spanking new 375,000 SF of Class A office where mere parking spaces used to be. It will join an existing 175k Class B. Our question: How come a union building has been named "The Executive"?
Aren't we artistic photographers to pose these guys next to a union sign? Union Roofers' Kinsey Robinson, above left, with AFL-CIO's Mike Arnold, tout the new building as a three-fer: an investment opportunity that creates union jobs and bolsters pension funds. Who knew that the AFL- CIO does $300-400 million a year in commercial development!
Lincoln's Karen Wright and Don Bowers with architect Owen McCrory of HKS. Even though joining the existing building with a new tower was complicated, Don says they had practice—a few years ago on the West Story Building at 601 14th Street. But this project tested them even more: the original structure was older—1960s—versus their previous practice with 90s construction. And with the new one, they added two more stories. The whole time, tenants remained inside.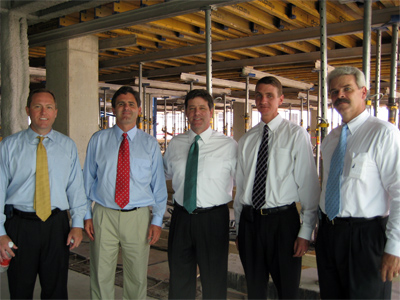 Are these guys opening a men's store? Look at that impressive (psychedelic?) array of tie colors, not to mention the posture of supermodels. But, no, they're the finance dudes: Rinse Brink, Clay Flanagan, Paul McDermott, Jamie Lee, and Bill White all of Mercantile Real Estate Advisors. And they're happy, because John Mascaro's construction team is finishing on time (end of '07), and on budget. Yeah! But they can't rest on their laurels: they have seven new projects coming up! Which means…more topping off parties!

For advertising information, please contact advertising, or call (202) 966-1200