WHAT'S UP AT ING?
---
Big shoutout to our newest sponsor, Arlington County, which wants you to know they are a great place for business! You may know them better by names like Rosslyn, Courthouse, Clarendon, Ballston, Pentagon City, Crystal City, or Shirlington. Language trainer Rosetta Stone just came in from Harrisonburg; and BNA and PBS crossed the river from DC. Why? Great rents and access to one of the country's most educated workforces.
---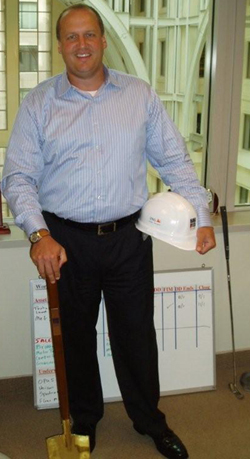 To paraphrase Will Ferrell in Anchorman, ING Clarion is kind of a big deal. The New York based pension fund adviser, celebrating its 25th anniversary, has more than $48 billion in assets under management, invested in direct and publicly traded real estate products both in the US and Mexico. Largest concentration? The Washington area, where they purchased almost $1.1 billion in '05, $856M in '06, and are on pace this year to match last year.
We sat down with director Marc DeLuca to find out what's new. His job is to know the market and brokers, then decide what to acquire. That's why, at left, he has in his office a hard hat and shovel, to visit property sites; and a golf club, for performing emergency negotiations on beautiful days. He tells us that ING's zeroing in on two kinds of investments:
"Value-add," meaning repositioning assets to "push up cash flow." We think that means to get higher rents. So, they're adding three stories at 2121 K Street, and putting in a new lobby, terrace, and health club—translating into a $21 million dollar deal that will deliver in November. Combining the address, power views, and new amenities will make the 200k SF well suited, they think, to elite law and lobbying firms. Another example: they bought the Holiday Inn of Old Town for $60 million and will plow in $30 million more to convert it to a swanky Hotel Monaco.
Development (or "buying dirt," as Marc says), like an office project in NOMA (77 K NE with Brookfield), residential in Pentagon City, and industrial sites in Maryland near BWI. Another big acquisition: Springfield's MetroPark near Ft. Belvoir. Did we hear someone say "BRAC"?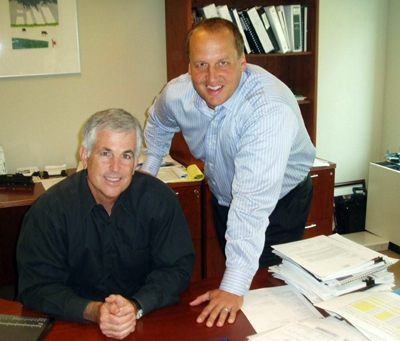 Managing Director Rob Greer, left, is a portfolio manager and oversees residential assets. Marc is getting fingerprints on his clean desk.
All right, let's summarize the the local ING Clarion assets:
44 people in DC, and 100 if you count on-site property staff
5 million SF of office space
450k SF of industrial in NoVa
1.6 mm of retail like Chevy Chase Pavilion and 270 Center in Shady Grove
1,902 residential units, 700 through a joint venture with Kettler
450 hotel rooms: Embassy Suites, Morrison House, Holiday Inn
980,000 SF of land being developed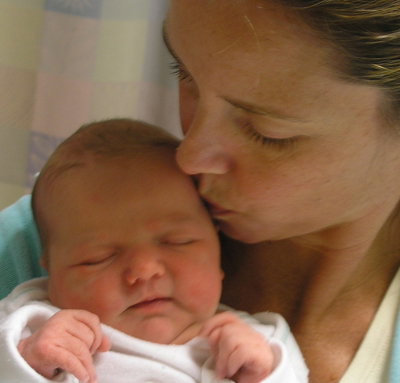 And what else is new with Marc? Hello?! He just welcomed a beautiful new baby girl, Campbell Blair! He might even have welcomed her on Interstate 66 three weeks ago if traffic had been bad. He and his wife left the house at 11:45 AM, finished filling out paperwork at Fair Oaks Hospital at 12:01, and the baby was born at 12:11. Apparently, efficiency is a DeLuca family trait.