WHAT'S UP AT CASSIDY?
WHAT'S NOT?!
---
If this seems a bit like a Collins Brothers edition, it's hard to avoid when you visit Cassidy & Pinkard Colliers, as we did a couple times recently. Co-founder Bob Pinkard is riding high, of course, with an explosion of investment and new hires. But the Collins' capital markets team is still pouring on those megadeals for the firm like the sale of the 624k SF, 24-story Waterview office towers in June for $435M.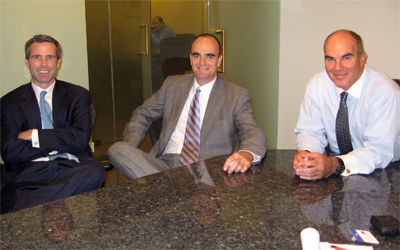 Investment sales guys on Waterview included Drew Flood, left, and Paul and Bill Collins.
How did Paul and Bill find the German backed Paramount Group that purchased the building from a partnership of CIM, JBG and Brookfield? Paramount had a goliath $700M on tap for which it needed a 1031 exchange, and Bill makes it his business to know those things. He also says the deal was unusual because Waterview was such a trophy and 100% pre-leased (to the Corporate Executive Board), Paramount was willing to buy it before completion and has simply kept JBG on the job to finish it. Meanwhile, the Collins team hasn't rested: Just this month, they've announced sales of 4 more properties, including 2001 Pennsylvania Ave. and Rockville's Research Plaza.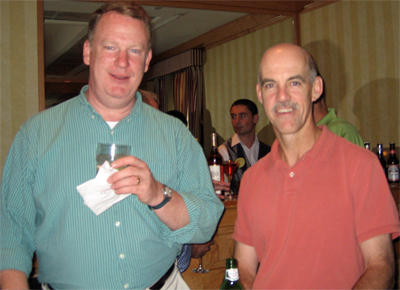 Co-founder Bob Pinkard, right, with capital markets colleague Christian Miles earlier this month at the firm's summer retreat for its 25 principals at the Hyatt Regency Chesapeake Bay. Christian's role is not to sell but to arrange financing. Hey, somebody's got to do the tough stuff!
Fueled by Blackstone's sale of the 5.3M SF Equity Office portfolio here to Beacon Capital in April, which then turned over leasing and management to Cassidy, the firm has grown from 160 employees, as of late 2006, to 251 now; already arranged financings year-to-date of $1 billion (double all of last year's); and made several newsmaking hires, such as Joe Stetinnius, Spencer Stouffer, Tom Cresce, Bob Hines and Scott Killie from Trammell Crow; David Webb from Cushman; Steve Bralower from CarrAmerica; and, most recently, Philip Thomas from Tishman Speyer (and previously Carr).
We also popped in last week on one of the acquisition's big-name scores, Joe Stettinius, who's already absorbed the boutique spirit: "We're never going to be the biggest, but we're going to be the best." Joe, who joined Cassidy five months ago and to whom 220 of Cassidy's 250 employees report, is responsible for "Investment Business." We think that means pleasing all the investors—which sounds pretty high up on the food chain. He plans to focus next on building a corporate services department, including tenant representation and facilities management. He points out that Cassidy went from 12 million SF of leasing assignments last year to already over 30 million this year, and from managing 4.5 million SF of commercial office and retail properties to over 13 million SF.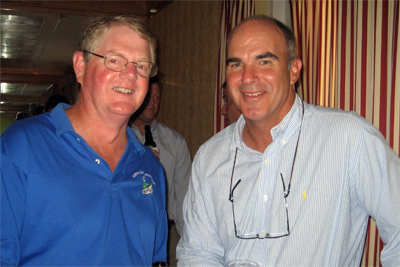 Cassidy President John Fleury with Bill Collins at the aforementioned retreat. Doesn't Bill look intellectual with those glasses hanging around his neck? But if you look a couple inches below them, we see the tip of a cocktail glass.
The Collinses are quick to point out it's not just growth for growth's sake, but a "perfect storm" of new deals and opportunistic hires, many created by the CBRE acquisition of Trammell. They say that they could not have planned it better. Now the idea is to remain a regional boutique but also expand the range, depth, and quality of their services. A recently broadened ownership structure allows more managers to have "skin in the game."
Speaking of game, Bill just got back from a family safari to Tanzania to celebrate a son's college graduation from Tulane. Above, Bill had no trouble communing with the wildlife. He handles the capital markets side of downtown not much differently than he palms this 8-ton elephant—he makes it look easy.