WHATEVER HAPPENED TO JORGE KFOURY?
---
A BIG shout-out to our newest sponsor, TOTAL ENGINEERING! Founded in 1993, this Landover firm specializes in excavation and site utility construction. It's been busy on the Pentagon Memorial for Balfour Beatty, the GMU Academic Building VI for Clark, and St. Elizabeth's Hospital for Tompkins. Welcome aboard!
---
Plenty.
Remember Jorge Kfoury? Quite a famous name in construction. But in 2006 he sold Kfoury Construction Group to his partners (it's now re-named K3) to focus on development. So far he's built over 1.2 M SF of Class A office. Latest venture: A 43 unit condominium project in Reston—Linden Springs—for $75 M. He's the latest in a long list of notable owners, including Lord Culpeper, Max Wiehle (recognize the street name?), Reston founder Robert E. Simon, and Watergate conspirator Chuck Colson.
Owner of six office buildings in Reston plus the Reston Ice Rink, Jorge used his experience as a commercial builder when designing the residential units. Since there are no weight bearing walls, buyers choose whichever layout they want. There are 43 units and 43 different floor plans. Priced from under $1 M up to $3.5 M, standard amenities are bidets, wine cabinets, and Wolf appliances.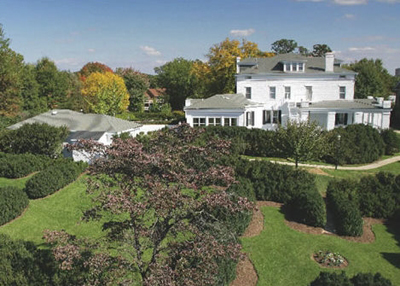 Jorge couldn't stand to see the century-old boxwoods knocked down and the Wiehle Manor House surrounded by a forest of office buildings, so he also hired a team of arborists to preserve the gardens and over 100 trees on the 5.2 acre property. So far, typical buyers have included young professionals and Great Falls/McLean downsizers. Not to be left out, Jorge and his wife Nancy are going to take up part time residence in one of the units.
The self proclaimed "Manic Hispanic" came to the US by way of Argentina at age 9. The son of a mechanic, he loves to restore cars—above with his latest project, a Triumph TR6. He was a philosophy major at Virginia Tech, and started nine different businesses in construction and real estate—eight of which are still around. The Kfourys have three boys and a girl, none in the real estate business. Of course, the daughter is only 16, and focused on one day playing college hockey. Jorge is a fanatic hockey fan, but his favorite sport is downhill skiing. The family is so used to skiing, they even go to ski venues when it's not snowing—later this summer to Steamboat, Colorado.

For advertising information, please contact advertising, or call (202) 966-1200