UNDERCOVER PHOTOS!
---
It was called to our attention that we didn't give you an address for contacting us with your suggestions for the Power 50. Hey, we're all family, so just write: mark@bisnow.com.
---
Yes, we know the pictures below are grainy! They're from the Tiger Woods tourney, where cameras and cell phones were strictly prohibited. However, the Bisnow Team, aiming for a Pulitzer and consulting with Dateline hidden camera experts, paid Green Berets to dig a tunnel under the driving range and escape by swallowing capsules with film inside while professional decoys yelled, "Hey, look, it's Earl Segal!" After a glider drop into the Andes where labs staffed with Swiss scientists and FBI forensic experts worked feverishly to enhance digital images, the pictures were transmitted back to us over secure DARPA satellites.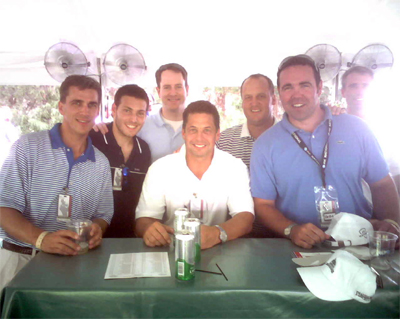 At the ING tent, from left, CB's Brad Flickinger, Bisnow operative Elliott Bisnow, Opus' Matt Holbrook, CB's John Germano, ING's Marc DeLuca, Cassidy's James Cassidy, and (fading out) Drew Flood.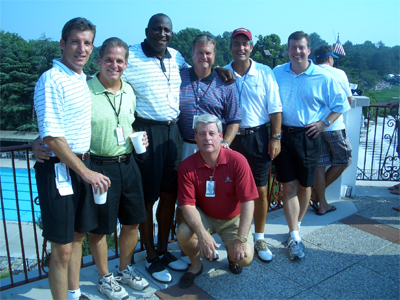 In their hospitality suite in the clubhouse overlooking the 18th hole: Kane Construction's Dennis Kane, Redskin Radio's Steve Johnson, SportsTalk's Doc Walker, Wizards announcer Steve Buckhantz, Kane Realty's David Kane, International Limo's Richard Kane, with Office Movers' John Kane kneeling.
We were hungry yesterday—for food and stories—so we joined Arnold & Porter real estate maven Steve Porter (above) for lunch at the City Club. He's no relation to the Porter in the firm's name, even though back in the 70s, when he worked at his own Dunnels, Duval, Bennett, & Porter across the street, a woman made an appointment to see him. She went to A&P thinking he was there, and when they said Mr. Porter was dead, she said, "Don't be ridiculous, I just talked to him!"
A former CPA, he came from Milwaukee to Hogan in 1966, then Williams & Connolly, where team owner Ed Williams gave him a lot of Redskins tickets. His allegiance has transferred to baseball, having been part of the unsuccessful Malek ownership group. What was his value-add? Besides being an ace lawyer, he's known Bud Selig for 55 years—Bud's first wife was the sister of his best friend from grade school. We guess if she were still Bud's wife, Steve might be a team owner. He goes to 20 Nats games a year—was just there with old colleague Bob Bennett and the wives July 3 in their usual seats behind the home dugout. Great lament: Never caught a foul ball. Of course not, he doesn't bring a glove!
He's just an A&P part-time counselor these days, but more active in other ways. Last year he served as Chairman of the DC Chamber, and just recently got appointed to the National Endowment of the Arts board. He's also working with former principals of the West* Group at Four Points LLC to develop affordable housing for DC working people. No summer plans—makes up for spending three months each winter in Palm Desert. (He's on e-mail constantly, so no one knows. Shhh.)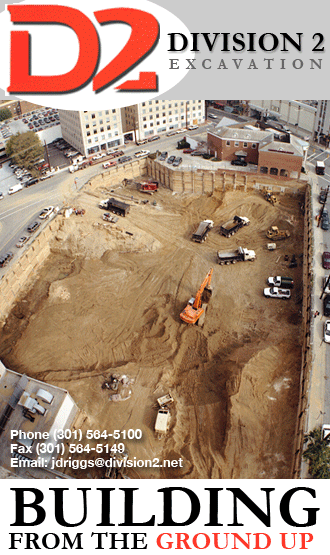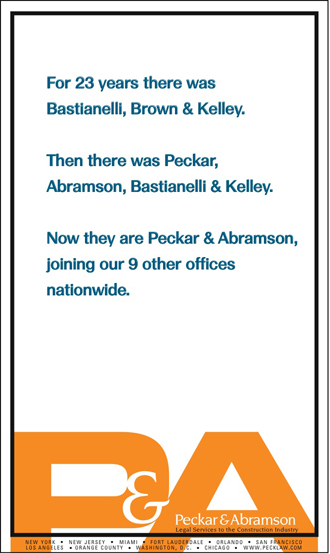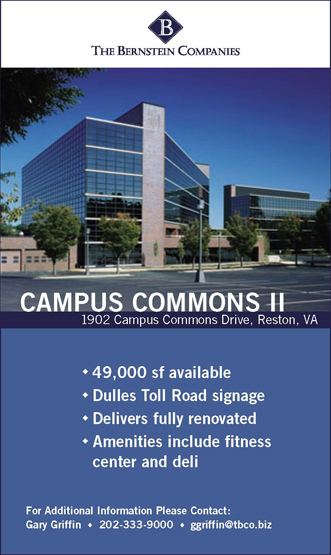 For advertising information, please contact advertising, or call (202) 966-1200