TUESDAY ROUNDUP!
Steve Mutty joins the ranks of Paris and Lindsay in the slammer -- only his stint is voluntary and for a great cause. The 20 year vet (GVA, Grubb, JLL, Barnes Morris) is heading up commercial leasing for the Lorton Arts Center being created out of a former DC jail. The 288,000 SF site, built in the 20's under Teddy Roosevelt, will be the future home of a "world class arts center" housing over 150 artists, a dance studio, theaters, and a culinary school. Steve also expects a Clyde's style restaurant along with a European style coffee bar. Don't worry, he's allowed visitors—Mikhail Baryshnikov has come by. Wachovia Bank and the Fairfax County EDA are financing the $26M renovation.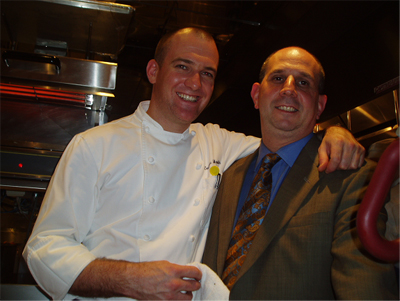 We had dinner last Tuesday at Central Michel Richard at 10th and Penn and the place was hopping. We took this picture in the kitchen: Executive Chef Cedric Maupillier with GM Brian Zipin. Both came from Michel's "other" place, Citronelle. Central opened January 6, and has ushered in a new era for Washington business—upscale but informal bistros where you can grab lunch or dinner a couple days a week, versus Citronelle that you need to save for closings or anniversaries. Beck and the "new" IndeBleu have followed. The 123-seat dining room is wide open—lots of mirrors to see everywhere at once, a 50-seat bar, and a big kitchen in plain view. Signature dishes: lobster burger; fried chicken with mustard sauce; mussel chowder. What a racket we have trying out all the restaurants, huh?
Also last week, we zipped out to the Loudoun Tech Center to join David and Rob Bavar of Bavar Properties Group, who were showing off Ridgetop III, their 92,000 SF 3-story Class A office space in Sterling. Rob, left, a self-proclaimed "Bisnow junkie" (we love hearing that!), even offered a tag for this piece: "Building Empty Buildings is Fun!" And indeed, the building was bare, but when we arrived, the ground was rockin' with XM Satellite radio and a crowd of people eating boxed lunches—a regular picnic! The first two buildings of the 240,00 SF complex are already full of tenants, and they have another 14 acres across the street up for development. The Bavars may fly beneath the radar, but their family-owned company has a portfolio of over 2.5M SF in Florida, Maryland, Pennsylvania, and Virginia.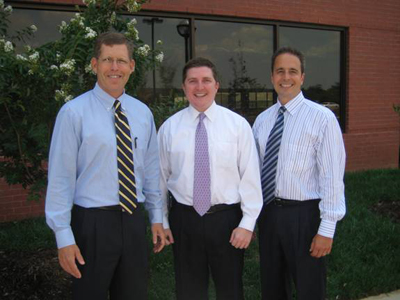 Ridgetop's leasing team: Cassidy's Spencer Stouffer, Chris Lucey, and Tom Cresce.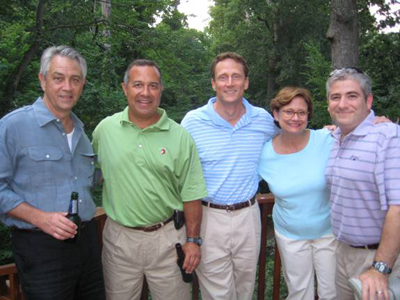 We just can't get enough of real estate simply writing about it by day, so we thought we'd overdose at night as well by gathering together some of the people we write about: Presto, a BBQ chez Bisnow! From left, Perkins + Will DC head Rusty Meadows, Brookfield's Eddie Trujillo, Forrester Construction president David Forrester, Reznick's Stacie Benes, and Brookfield DC head Paul Schulman. Rusty, we learned, is used to standing on nautical (not just backyard) decks as a major sailor, when he's not jetting off to current projects in Dubai.
LandAmerica DC head Chris Naughten and wife Melissa, left, with Buch Construction's Carl Buch and sister Denise holding Bisnow dog and mascot Jinxie, who makes most of this publication's editorial decisions.