DAVE REZNICK IS TOO YOUNG FOR A HALL OF FAME!
---
But the Washington Business Hall of Fame just announced its luminous 2007 Laureates and Dave will be inducted in November, together with Carlyle founder David Rubenstein, MedStar CEO Jon McDaniel, impresario Vernon Jordan, and Dewberry Engineering founder Sid Dewberry. (It's Nov. 27 at the Marriott Wardman Park, put on by Washingtonian magazine and the Greater Washington Board of Trade for the benefit of Junior Achievement. This is a brazen plug; I chaired it several years ago and think it's the best business event of the year.)
We all know the name Reznick—Bethesda based accounting firm with 1,400 employees, by far the biggest locally based accounting firm, started from just 8 employees 30 years ago. [And, yes, a Bisnow sponsor.] But do you know that founder Dave Reznick is really a big deal real estate guy, and as active as ever? Got his start in affordable housing, and built it into a nationally recognized accounting specialty—and a wedge into multifamily, tax credits, and syndication structuring. Today 60% of the firm's work is real estate of all kinds.
Dave's a local yokel—his parents literally had a mom and pop grocery store on 15th and Fuller near Meridian Hill Park. Key unknown fact: He learned how to be butcher in the process; even today, his wife buys whole chickens and hands him a cleaver.
Other strange fact: he's got a thing about trucks, as this picture outside his office suggests. His parents wanted him to be a doctor, dentist, or at least a pharmacist. But his counselor at Roosevelt High said, "You don't have the grades," and suggested he consider becoming a cross country truck driver. He even got some practice at it—in 1961, piloting a tractor trailer that ferried 60 troops around Fort Campbell, Ky, when he served a year in the Army.
Speaking of high school, above with Dave is his high school buddy, Ivan Silverman, who's been working with him since 1965. You think that's long? Not pictured is Dave's friend from 2nd grade, Stu Fedder, who was in business with him even longer (but has retired). By 5th grade Dave and Stu had decided they would work together someday. Sure enough, they both went to the University of Maryland, after which Dave joined Stu's accounting firm but remembers that he got only $70 a week to Stu's $75. These guys were so close that when former National Security Adviser Bud McFarlane, an elementary school classmate, saw Dave and his wife at the Kennedy Center several decades later, his first question was, "How's Stu Fedder?"
In 1961, Dave went to work for Herb Ziger, who would become his great mentor, and by 1967 the firm was renamed Ziger Reznick & Fedder. Dave got his name better placed because he ordered the sign, but even when Stu found out, they decided not to change because it would cost $100. In 1973 it merged into Alexander Grant, which later became Grant Thornton. He and Stu left in 1977 and started Reznick Fedder & Silverman, which five years ago—in this age of Madonna and Skadden—morphed into the simply named Reznick Group.
Dave is one jolly guy—always smiling, and here putting one of his assistants in hysterics. Probably saying something sarcastic about the photographer.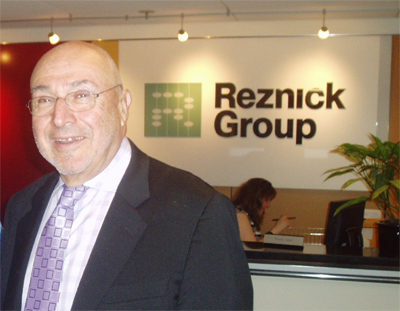 How did he get into affordable housing? He was introduced in his first job to Sam Gorlitz and Dan Lyons (who later co-founded Federal Realty Investment Trust). They had a parcel in Landover they were finding difficult to develop and asked him to research HUD interest-rate subsidies. He became an expert, gained a knowledge of other tax shelters, and started getting calls from lawyers and mortgagees. Does he still know how to do this? Of course: When we were talking with him, he had just been on the phone about cost certifications for a HUD insured multifamily property. He continues to feel the specialty has allowed him not just to help clients, but to help America.
Yes, he's active in the community (eg, Muscular Dystrophy), but here's some final fun facts about the grandfather of seven you might not find in an official bio: He loves to "wander" around streets of cities he visits. He likes jazz—went to New Orleans in April for a jazz fest—and country (Hank Williams, Ricky Skaggs, Kris Kristofferson). He loves BBQ ribs but also California carbernet and Tuscany brunello (he has a 600 bottle cellar). And ready for this? He's big into NASCAR – just took his 7-year old grandson to a race in New Hampshire. In short, Dave's got enough energy he could still become that cross country truck driver.