THE LADIES OF LANDAM!
AND CREW!
---
In high Girls' Night Out fashion, the women of LandAmerica Commercial Services invited their women clients and friends to Charlie Palmer Steak the other night for fine food and wine. They made one key gender exception, allowing Executive Chef Bryan Voltaggio to dazzle their palettes with tuna tartare, lobster egg rolls, and of course their world famous beef tenderloin.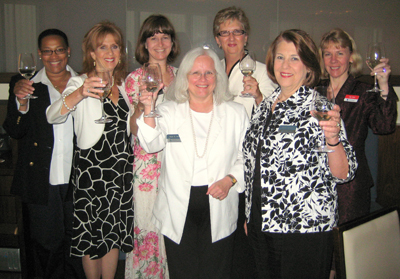 Raising a glass, from left, are LandAm's Robin Cole, Candace Chazen, Susan Trapken, Robin Alsop, Jeanne LaBelle, Marita Klimkos, and Sally Webb. Jeanne said the event was the "annual anti-golf outing." (But they're planning one of those, too.) Event mastermind Klimkos, whose last such fete was at the Spy Museum, knows how to fraternize with the men, too: she often heads to her native Pittsburgh to take in a Panthers game with her daughter, a student at Pitt.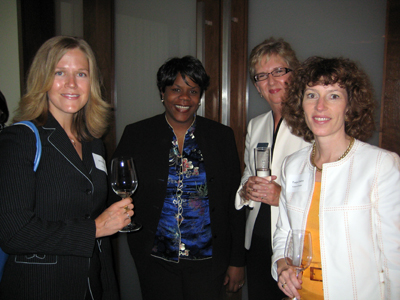 Sommelier Nadine Brown (second from left) offers exclusively American selections to Perseus' Jill Homan, LandAm's LaBelle, and Holland & Knight's Tanja Castro. Tanja needed such a selection following her participation earlier in the day at the Real Estate Games' Golf Challenge. She's been busy reviewing assessments and trying to save people money in real estate taxes, so she may also need that trip to Hawaii this summer she's been discussing with her family.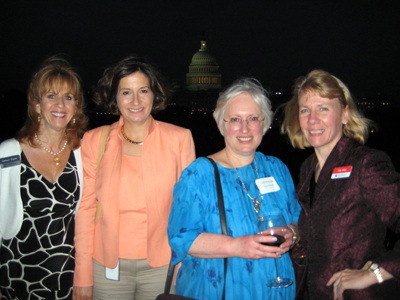 LandAm's Candace Chazen, DLA Piper's Betsy Karmin, Holland & Knight's Candace Evans, and LandAm's Sally Webb pose for an alumni picture since they realized all were former students at Bethesda Chevy Chase High School. Betsy just got back from a family trip to Rome, Florence, and the Amalfi Coast, following some large transactions she helped out on. You know, the money from the Boston Properties' Kings Towne Center was wired the very afternoon before her vacation started, giving a whole new meaning to the word "get-away!"
CREW Talks Transportation
On Wednesday at the Capital Hilton, members and guests of CREW met over lunch to hear an all female panel talk about transportation's role in real estate development decisions. Speakers included DOT's Kathleen Penney and Donna Shafer of West*Group who discussed the Anacostia Riverfront Rejuvenation and the possibility of a Tysons Corner Metrorail.
Current CREW President Kathy Allgier of Jones Lang, above left, and Beth Ring of WDG, were the mistresses of ceremony for the luncheon. CREW members also brought in gently used professional clothing for Suited for Change, an organization that helps low-income women find employment. Kathy's big summer plans are to spend ten days in British Columbia, hiking with her 26 year old niece. She'll fly to Vancouver and stay up all night for the big Harry Potter book release before continuing on to the mountains.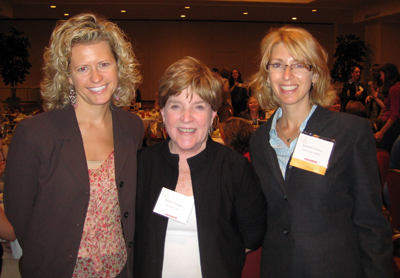 Tasha Stancill of Monument, Phyllis Fordham of Tiny Jewel Box, and Stephanie Hixson of Jones Lang take a moment before lunch to discuss Stephanie's recent trip to the South of France. After finishing up Building 33 for the NIH, the sights of Avignon were a welcome respite. Now she's back home working on Silver Spring's Silver Place. Tasha's been busy with Monument's Half Street project at the new stadium and the firm's upcoming office move to 1700 K Street on July 13th.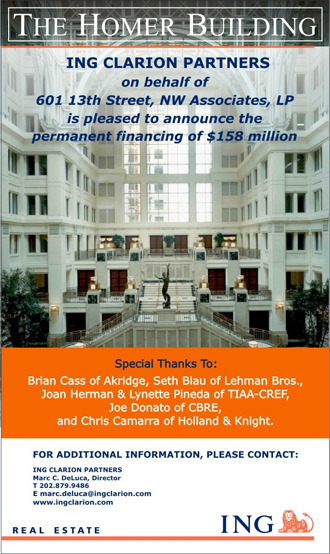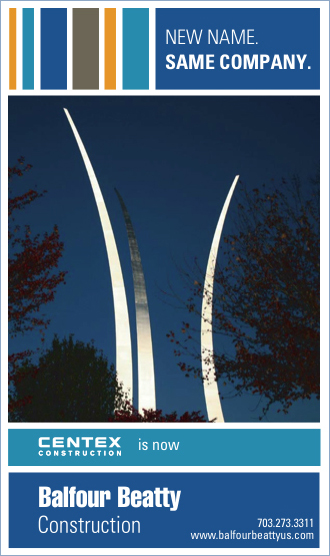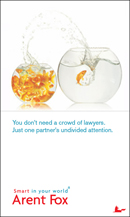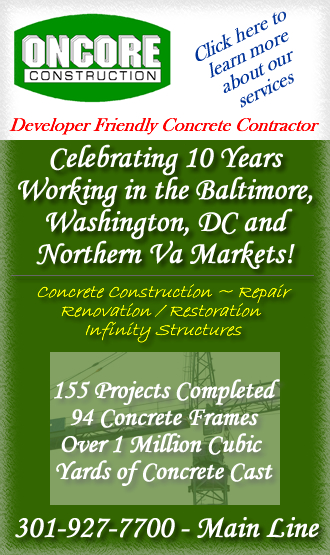 Thank You Subscribers!

Bisnow on Business Real Estate Daily
is now publishing five times a week.

We have doubled the size of our ads
And they're all on our front page!

Readership has soared…Climb aboard!

advertising@bisnow.com
tel 202-966-1200