THE BALLSTON BOYS!
---
BIG shout-out to our newest sponsor, HarVest Bank of Maryland! They're locally owned and operated and growing rapidly, focused on serving businesses and families along the I-270 corridor, from Bethesda to Rockville to Gaithersburg. CEO Jack Hollerbach is proud to point out that the Bank's deposits are invested right back into the community.
---
Here's an IQ test: There's Ben Affleck and Matt Damon, Simon and Garfunkel, and Starsky and Hutch. Who's missing? Cushman's Dave Millard and Peter Berk, of course! The twosome tells us they hold the record for the longest running partnership on the brokerage scene here: 23 years. We went with our camera to visit the Dave and Peter Show in the Rosslyn/Ballston corridor, where they've made their mark.
You'd think if they are such a dynamic duo, one of them would have offered to spring from this rooftop with our reporter Stacey Pfarr and fly her around like Lois Lane, but they kept safely on this side of the ledge. Here are Dave (left) and Peter atop Ballston's Four Corners, where over the years they've handled transactions on three of the four sites at the intersection below: They leased and sold 4501 N. Fairfax Drive for Cigna to Jamestown, and sold both 950 N. Glebe (now The Regent) and Arlington Gateway sites to JBG for clients ReliaStar and Illinois Teachers.
They initially met on different sides of the table in 1984, when Dave was representing a landlord, and Peter the tenant. After closing a 2,300 sf sublease (which seemed huge to them back then), they had breakfast at Booeymonger across from Mazza Gallery and decided to work together. They put in 11 years at Smithy Braedon, then moved to Transwestern for eight. Now they're in their fourth year at Cushman. Two thirds of their business is representing landlords, owners, and developers; the other third is tenant rep and investment sales.
Here the Ballston Boys stand in front of Two Liberty Center at 4075 Wilson Blvd (delivering in December), where, for the John Shooshan and Fred Schnider companies, they've already leased 88% to government business consultants like DFI International and Strategic Analysis.
But they work beyond Ballston also. Teamed with their investment sales group, they sold 1.1 M sf Metro Park in Springfield (four existing buildings and three sites) to ING in April '06 and are currently leasing it up. They're also leasing Two Reston Crescent for Brookfield, and TA Associate's Parkridge III, also in Reston, where they just landed their first big tenant, CHS, with the help of teammate Craig Bernstein (a Bisnow 35 under 35er). As for tenant rep, they just helped KGD Architecture get an 11,000 sf lease at 1300 Wilson Boulevard and Clark Realty Capital an 18,500 sf deal at 4401 Wilson Boulevard. And they're also selling office condos in Clarendon on behalf of Keating Development.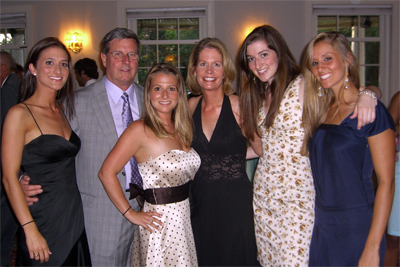 Above, Dave, a former Peace Corps volunteer in Sierra Leone, with the ladies of his life: his wife and four daughters at their eldest's rehearsal dinner. Dave and Mary Ann are soon to be empty nesters when they send their youngest, Molly, far right, off to UVA to play lacrosse.
So how'd they manage 23 years? Maybe their shared love of practical jokes. Most, they say, are not fit to print, but one tamer scenario involved Pete finding his shoes in the fridge in Dave's office. Having a lot of irons in the fire doesn't hurt either. They do around 60-75 transactions per year.
As for Peter, he and his wife and their 15-year old daughter just got back from a sojourn last month to Paris, Cannes, and Monaco. Being there on Bastille Day was special—that's Peter's birthday. The French were celebrating him all over the place! Then they went to Monte Carlo where Peter played blackjack and roulette. He says they removed money from his wallet in a far classier way than they do in Las Vegas. But he doesn't feel too bad. Above is a picture of Peter's hand holding what he believes may be emeralds he found on the shore in Monaco, although since the sand is strewn with them he knows there is a small chance they are merely "beach pebbles."