THE BALLOON MAN OF
REAL ESTATE
---
Sponsor Update: We've told you about ONCORE, which among many big projects is currently building the largest concrete frame at National Harbor (for the Wyndham Hotel). Developer friendly, it has a design-assist program—for the Silo Point condo project in Baltimore, it's reduced concrete costs 11%. And with Atlanta's Infinity Structures, it's created a hybrid concrete frame for residential buildings (hotels, dorms, assisted living, etc.) that saves more than $5 SF; it's already done six such deals.
---
Why all the balloons in NOMA? Some circus going on?
Nope, developers are calling Curt Westergard to help them put together the big picture, from a bird's eye view that is. He's president of Digital Design and Imaging Service, which helps them understand what views from the 10th or 12th floor are going to look like—before construction.
Here's Curt with project manager Mike Dickerson at their mobile balloon unit. DDIS uses giant (10-16 ft. diameter) helium-filled "surveillance aerostat balloons" to take cameras hundreds and even thousands of feet up above the treetops so that developers, civic planners, leasing companies, and VIP's bidding for the best corner view can get the lay of the land before the first brick has been laid. Even the developer of the Freedom Tower at New York's new World Trade Center site used DDIS.
Local clients Akridge, Brookfield, Cassidy & Pinkard, Eastdil, J Street, MRP, and Tishman, all use DDIS' "international orange" balloon—the color for ultimate visibility. Especially in the spring, when weather's best.
The inspiration for the business came from Westergard's years teaching landscape architecture. "I recognized that there wasn't a great ability to get those perspectives easily. I couldn't get a camera or my sketch pad in the air to the point I wanted to. So, I started to look to other alternatives to make a platform in the sky, like a sky-hook."
Balloons?
"As kids, we used to tie various things onto kites—cameras, sandbags, whatever. And I had done photography since about 5th grade." But there was one problem—the wind. "Then I came across helium as a sort of gift from the gods, an antigravity machine."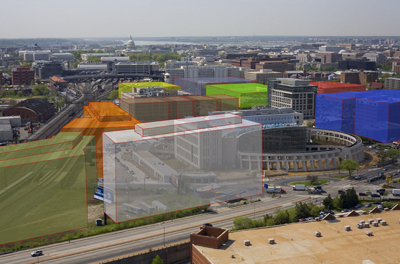 A picture from 250 feet up with digitally superimposed building footprints to show the projected NOMA landscape circa 2015.
Now DDIS is using its innovation to serve all types of clients. The US Special Ops Forces often asks for discrete night-maneuvers, or "black arts," so Westergard had a black balloon and black dock specially made. Telecoms looking to build a new cell tower call DDIS to satisfy a law that the public should have a preview of how the tower will affect their landscape.
What's next for Westergard? He's starting to use his balloon with infrared technology to detect poorly insulated areas in buildings, to help conserve energy and money. "So, while I'm looking at beauty shots of NoMA, I'd almost rather be looking at heat loss in NoMA, and start looking at the world from that perspective."