Spring Flings!
---
A shoutout to our newest sponsor, Douglas Development, whose ad today speaks for itself—these guys think big, and they're everywhere!
---
Nice weather we've been having, so why not party—or at least golf!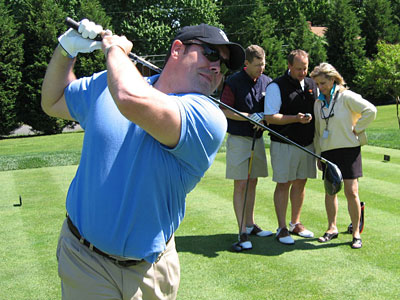 Yesterday, at Westwood Country Club, 220 golfers came out for the annual NAIOP best ball tournament; sales of mulligans alone fetched almost $7k for the Susan Komen Race for the Cure. Here Cassidy & Pinkard investment sales broker James Cassidy dreams of swinging like Tiger, while in the background ING's Marc DeLuca, who bought Lincoln Park I and II through Cassidy last month in Reston, shows Cassidy's Spencer Stouffer and Grubb & Ellis' Susan Sonley how much his purchases have already appreciated.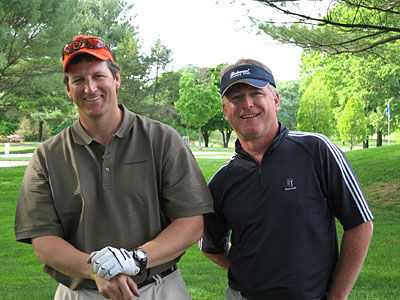 Also at NAIOP scramble yesterday, Trammell's Steve Shelesky and Tom Finan.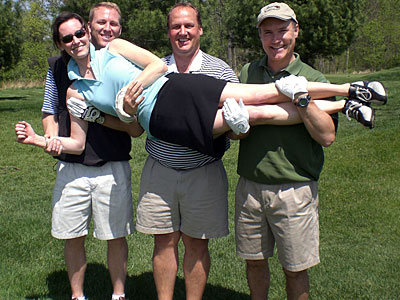 Does Marc DeLuca work from a golf course? At Opus East's tournament benefiting the National Center for Children and Families earlier this month at Whiskey Creek, he's flanked by fellower INGers Jim Grant and Dave Peterson as they demonstrate with colleague Christina Mindrup that they have not yet perfected the art of hands-free levitation.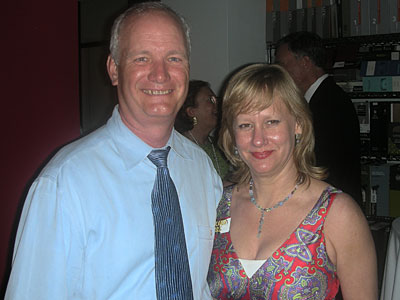 By 10:00 PM when we took this picture last Thursday, Bill Hickok and Yolanda Cole had been on their feet four hours hosting 500 guests for their architectural firm's annual spring open house. The theme '007 (for the year, of course) was supported by decoder rings giveaways and a borrowed Aston Martin out front.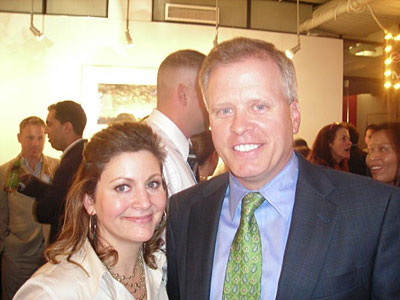 Also at Hickok Cole party, Buch Construction's Carl Buch and Tiphanie Purkat.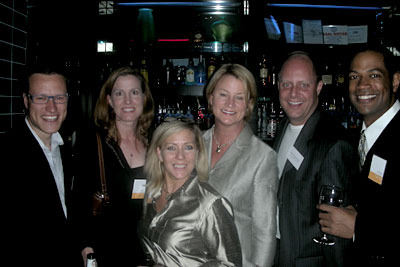 Another cool scene last week: WorkSpaces, unveiling a sleek Italian furniture line, hosted the real estate crowd at Be Bar on 9th St. From left, Cafritz's Daniel Rourke, Edelman Leather's Mary Schuler Hare, WorkSpaces' Rebecca Bell Nordin, Design Products' Alisa Lange, Lehman Smith's Ron Fiegenschuh, and Milliken Carpet's Adrian Massiah.