SPENCER STOUFFER FORECASTS SECOND
HALF '07
---

In this installment of our mid-year commercial real estate forecast series, our own Doug Anderson sat down with Cassidy & Pinkard Collier's Spencer Stouffer to get his take on landlord leasing in Northern Virginia. Spencer joined Cassidy in February after 14 years at Trammell Crow. His group represents firms such as Beacon, ING, Broadway, Carr Properties, and Normandy.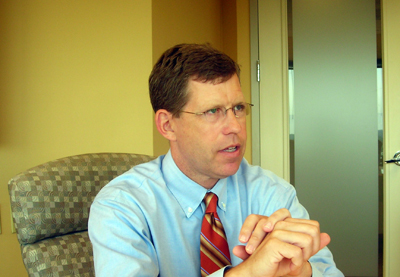 The NoVa office market is experiencing a statistical anomaly in 2007 as both vacancy rates and rents are on the rise. Among the reasons for the rising rents are the higher basis for buildings due to higher land and building sales prices, higher construction costs, increasing operating expenses, the pricing (rental rate) lag in our highly fragmented marketplace, and private equity ownership.
With a predicted 29,000 new jobs in NOVA in 2007, the market fundamentals remain healthy. Demand is steady inside the Beltway, and tenant velocity is good below 20,000 SF for all of Fairfax County. While federal demand, especially among defense, intelligence and surveillance agencies is slowing, other sectors such as business and professional services have picked up, making rising rents sustainable for the near term. Additionally, the outlook is very positive for the top buildings in each respective submarket as users continue to seek quality space close to amenities.
However, based on the first half of the year, it seems unlikely that we will exceed the historical average for absorption (3M to 4M SF).
While demand is strongest inside the Beltway, we are seeing continued movement (from DC and our urban core) to locations closer to the workforce – west and south. The combination of rents rising, unemployment hovering around 2.5%, worsening traffic and expensive housing close-in, outside the Beltway markets will continue to see significant absorption.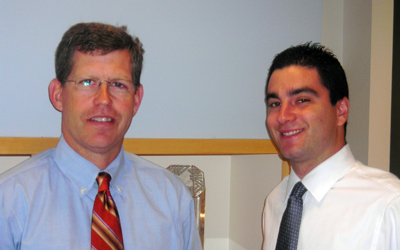 Spencer and Cassidy & Pinkard broker Scott Goldberg sized up the Virginia market for us.
As far as new development, several dynamics are in play that will govern supply going forward --- 1) lack of entitled land; 2) Dulles rail delays; 3) rising construction costs; 4) the expense of building underground parking, which will be needed to maximize density in most Beltway submarkets.
For the first time in NOVA we are dealing with "old" or design inferior buildings located in isolated areas that will have a tough time competing in the market – even if priced well below superior competition. We also anticipate our market evolving to a "net of utilities" lease structure and anticipate more turnkey transactions. The NOVA office market is changing in other ways as well – tenant retention/renewals are more likely than ever, and we are seeing larger tenants with pending lease expirations begin their space search much earlier.
Even with a modest slowdown, if you have quality real estate and the right strategy, there are leasing deals to be made.

For advertising information, please contact advertising, or call (202) 966-1200