SKIPPER OF THE AKRIDGE ARMADA!
---
When we wrote about Ryan Wade's lacrosse laurels (and mentioned GVA's Matt Ward also), we didn't realize we are in the midst of several other former world-class players, and their many friends let us know it: Cushman's three-time UNC '96 all-American Jude Collins, who played four pro seasons for the Washington Bayhawks (retiring this year because a second daughter arrived two weeks ago); Zach Wade, Ryan's younger brother also at MRP Realty, a three-time all-American at UNC '96; Seneca Properties' four-time all American at Syracuse '85 Brad Kotz; and GVA's Walid Hajj, a three-time all-American at Georgetown '04, who now commutes up to play with the New Jersey Pride. And on the women's side, University of Maryland '01 standout Kerri Mulligan.
---
What is it with these elite athletes and real estate?
Meet Bob Schofield, 42, an Akridge VP who also happens to be one of the planet's top sailors. Last month the US Olympic sailing team announced him as one of its members, and he'll compete in October for a spot in the 2008 Beijing Olympics.
In a 2000 Cinderella story, he placed 4th in the "Star Worlds," a legendary championship pitting 100 top sailors from all nations in the 22' Star class. It was only a month after he started at Akridge, following 12 years in construction, mainly at Clark.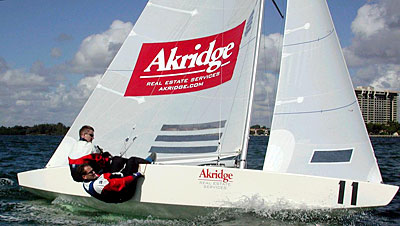 By day, he's working Akridge's Burnham Place development north of Union Station (currently up to his ears not in water, but in getting entitlements), plus their 300,000 SF development at 700 6th Street, and purchase from Pepco of 9 acres at Buzzard's Point near the new ballpark in SW that looks like it may be made into a federal enclave.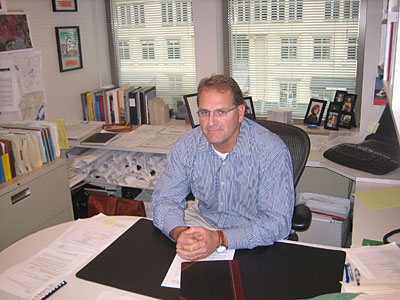 Bob told us that many of the skills he uses out on the water are very similar to those he uses at work. "In both cases you have to be very detail oriented. The details that may seem trivial at first are usually the ones that get you into trouble later on."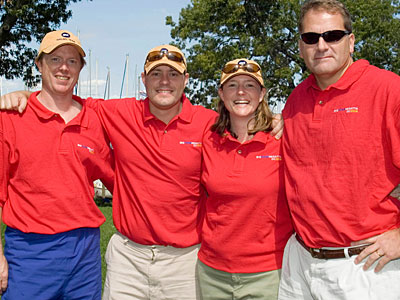 And Bob gets to combine his day job and hobby: above right, he leads the Akridge sailing team (including mates John Otto, Adam Gooch, and Sarah Knutson) in the Big Team Regatta that raises money for underprivileged kids.
By way, we know there are other great sailors around here: CBRE's Art Santry raced with Ted Turner America's Cup team!
[Bryce Baschuk contributed to this piece.]

For advertising information, please contact advertising, or call (202) 966-1200