Schmoozarama!
---
Big thanks to great sponsors of the schmooze action below: Mancini-Duffy Architects, PNC Bank Wealth Management, and Forrester Interiors.
---
Who says July is slow?? The Bisnow Schmoozarama Monday evening was packed and, as our younger demographic says: "Insane!" We held it at Brasserie Beck at 11th and K, the sizzling hot new restaurant that carries 60 varieties of beer. For the record, we did not sample every one. "Beck's" is great, and you should all head there for your next meal.
.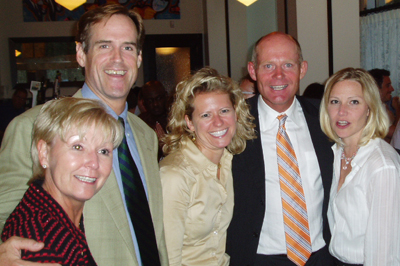 Studley Vice Chair Lois Zambo, Trammellian turned CBer Art Santry, and Monument co-founder Michael Darby sandwiched between his marketing guru Tascha Stancil and leasing honchess Bethany Allen.
.
MRP's Bob Murphy, ING's Marc DeLuca, and Vardell Realty's Michael Vardell.
.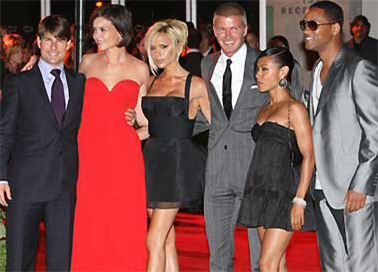 Also at Bisnow party, from left, Akridge's Thomas Cruise, LandAmerica's Katherine Holmes, Brookfield's Victoria Beckham, Arent Fox's David Beckham, CBRE's Jada Pinkett Smith, and Pillsbury Winthrop's William Smith. Dave and Vicky thought Brasserie Beck was named for them, but actually it's named after one of owner/chef Robert Wiedmaier's kids.
.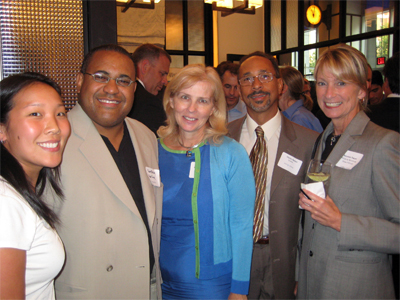 Reed Smith's Deborah Tang, Scott Bolden, and Olivia Shay-Byrne, GW Counsel (and DCBIA president) Charles Barber, and Pillsbury Winthrop managing partner Maureen Dwyer.
Forrester Interiors did the restaurant's build-out—amazing! On hand from Forrester were, Frank Pinto, Matt Sick, Matt Poffenbarger, Rosanna Haddad, Rebecca Dickerson, Andrew Dondero, Ralph Marcuccilli, Seth Glinski, Claire Callas, Seth Grace. Andrew, Seth, and Matt are the team that has also done other high-end restaurants like Central, Acadiana, Agraria, BLT Steak, and PS 7's.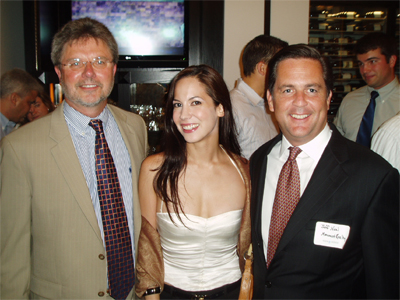 Bisnow on Business' Karin Tanabe. Oh, are there other people in the picture? She is chivalrously flanked by LandAmerica's Bill Gessner and Monument co-founder Jeff Neal.
You heard it here first: former Monument EVP Bill Krokowski, left, and former GW property director Sheri Rutherford not only went and got married recently, but now have another union: they've gone into business together with their own new development company called "Requity." With them, the guy whose company did the restaurant's stunning interior: Forrester's David Forrester.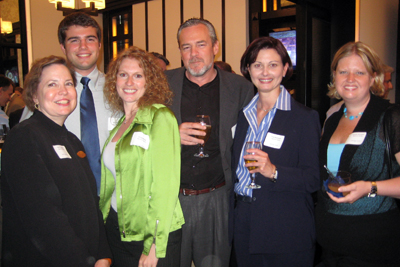 Mancini-Duffy, we love you! Amazing architects (and sponsors) Ruth Jansson, Interior Designer; Nick LiVigne, Strategic Planner; Olivia Millar, Project Manager; Yves Springuel, Principal; Tina Benedetti, Business Development Manager; Kristen Streeter, Interior Designer.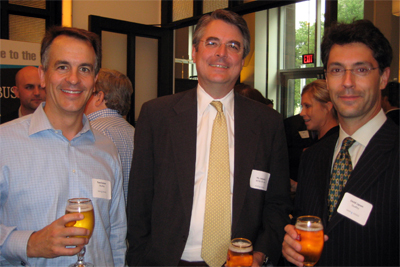 Studley DC co-head Tom Fulcher, White & Case DC Managing Partner Vic DeSantis, and Studley government leasing head David Lipson.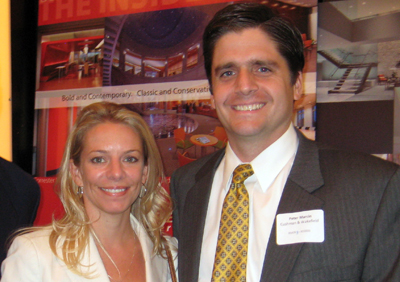 Gensler's Gigi Webb and Cushman's Pete Marcin.
.
Hickok Cole's Rob Holzbach and Rhea Vaflor, with Jeff Miller of Lowe Enterprises.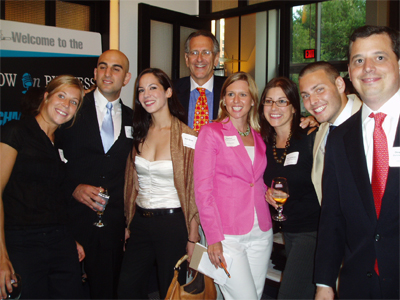 The Bisnow Crew! Did you know we are real people? And now so many more than just Mark and Elliott and Doug! From left, Caitlin O'Connor, Aram Taghavi, Karin Tanabe, Mark Bisnow, Stacey Pfarr, Sarah Chamberlain, Elliott Bisnow, and Doug Anderson.
.