REAL ESTATE ROUNDUP!

---
Tony Williams deserves a ton lot of credit for the real estate boom in DC. So what's his new magic act? Bisnow on Business is delighted to join Arent Fox and Reznick Group in presenting him and other very special speakers September 11—see ad on right or register here.
---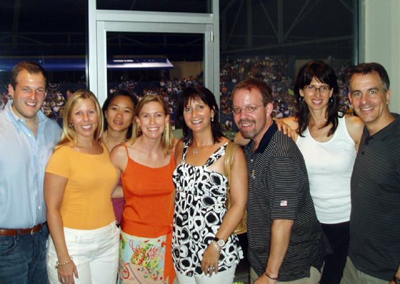 The action wasn't just on the court at Legg Mason Tennis last week (see crowd through the windows), but also inside the air-conditioned Akridge suite. From left, Cushman's Brian Schmergel, Transwestern's Christine Masney, Davis Carter Scott's Marlene Wong, Akridge's Mary Margaret Hiller, and two heart-warming couples: Studley's Adam Singer and wife Susanne, and Studley co-chief Tom Fulcher and wife Jill Minneman.
This picture of CBRE hot shot broker Mike Fox at Legg Mason is so fuzzy, we'll just claim it was taken with a huge telephoto by Bisnow paparazzi hovering center court in a rented helicopter. Whoever the mystery brunette is, they were heard whispering sweet nothings about cap rates and IRRs.

We also caught sight of Kent Commercial head Westy Kent, Akridge's Corinne Pignatelli and Katie Gorretta, Randall Hagner's George Voris, Akridge's Gene Kenney, and GVA Advantis' Adrian Checa.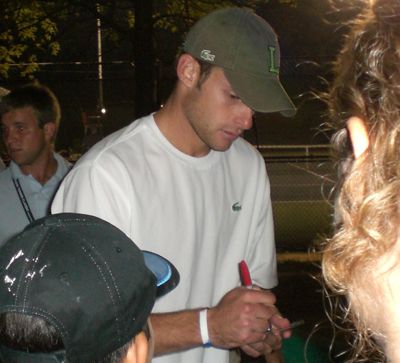 Although at first he was puzzled by the question, good-natured tennis star Andy Roddick agreed to write down his best guess as to how much JBG's 1201 K Street will fetch per square foot if the Sheraton Four Points is taken down and replaced by ultra-trophy office.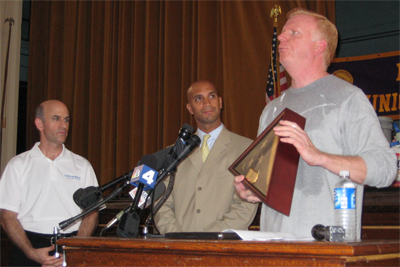 Buff and Scrub! On Monday we were on the scene as 200 volunteers from 21 organizations including Vornado and the Greater Washington Board of Trade joined in sprucing up West End's Francis Junior High School. Pillsbury Winthrop, FOX Architects, The Ritz, and Cassidy & Pinkard were also out in force. Above, Vornado President Mitchell Schear and DC Mayor Fenty join BoT chief Jim Dinegar as he shows the 49-star flag his repair crew found still flying at the school—that's how long it's been since things have changed. Besides painting the gym, fixing lockers, and repairing AC units, the volunteers also sprang for a new flag with all 50 stars.
The Pillsbury crew also rolled up their sleeves and scrubbed: Meghan Exley, DC Managing Partner Maureen Dwyer, and Amanda Grenter. By the way, can you hear the wedding bells? Meghan's getting hitched in September in Georgetown and Amanda is newly engaged!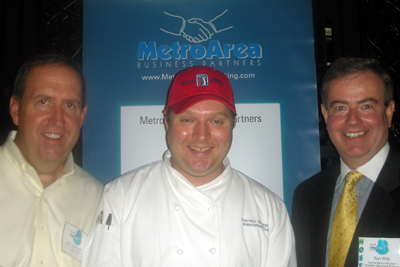 Out in Rockville last week, we dropped by for happies at Congressional Plaza's PGA Tour Grill hosted by First Friday at Four's Ron Wills. By day he's SVP of HarVest Bank of Maryland, and was joined by HarVest Bank CEO Jack Hollerbach, left, and Executive Chef Darrel Goodman.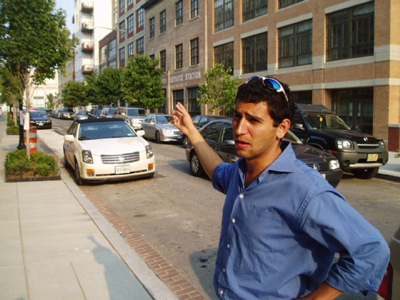 In theory we knew Logan Circle was hopping. We go there to visit Jim Abdo, Darrel Rippeteau, the Studio Theatre, and Whole Foods. But it was only this weekend that we really walked the side streets and took in all the restaurants and new buildings, courtesy of Workspaces, LLC's Khalid Itum, above, who lives in the neighborhood. Wow, for those of us who remember 14th Street way back, the transformation is pretty much beyond belief.