PREDICTIONS FOR GOVERNMENT LEASING
---
In this installment of Bisnow on Business's mid-year real estate forecast series, Theo Bell, SVP at real estate consultant Equis Corporation, provides his outlook on government leasing. Theo has also been EVP at Capitol CREAG, EVP at Wellington Knolls Real Estate, and currently serves as Co-chairman of the Fort Meade BRAC task force. He has worked with over 40 government agencies, and flew Blackhawk helicopters in the First Gulf War.
After more than 20 years in government and commercial real estate, Theo has accumulated a lot of business cards. We mean A LOT. These 9 Rolodexes are just for starters.
Theo's outlook:
Year-to-date 2007 has seen a considerable increase in GSA activity due to continued Federal expansion in the region driven by the war on terrorism. The GSA has already completed 17 leases this year ranging from 100 to 500k SF.
And not only are the Feds doing more lease deals, they are steering over 60% of these transactions to outside brokers, up significantly from recent years when the vast majority of these transactions were done in-house. So there is more business than ever for tenant reps brokering space for the Feds.
The Feds continue to add net new space across the country and in the DC region, though absorption in certain pockets like Crystal City will be negative due to BRAC.
On the commercial side, a significant number of second tier government contractors have experienced a windfall of Federal contracts and are growing quickly and eating up space. The big contractors continue to expand as well and their demand for "SCIF space" will increase as specialization becomes increasingly important. Construction firms should be prepared to "follow the money" to increasing demand for this kind of space.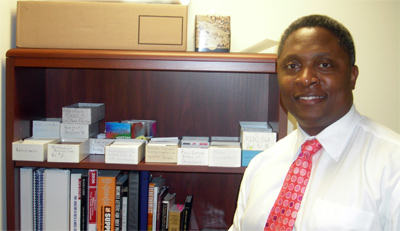 More business cards! Theo has all of his cards nicely organized by industry. We wish he would help us organize ours.
Federal mandates for LEED space are changing these standards from "nice to have" to "need to have."
Despite different rumors each day, the BRAC realignment is on course to happen as planned. But look for a more regional approach as opposed to the county-by-county, city-by-city approach thus far.
Look for increased demand for specialized space like laboratories and highly secure buildings.
In general, the market remains healthy, velocity is holding up, and some developers may be nervous, but overall it's tough to complain about this market.

Thank You Subscribers!

Bisnow on Business Real Estate Daily
is now publishing five times a week.

We have doubled the size of our ads
And they're all on our front page!

Readership has soared…Climb aboard!

advertising@bisnow.com
tel 202-966-1200