NOT JUST TENANT REPS!
---
Sponsor update: Reznick Group is involved in exciting developments around the new baseball stadium. Reznick principal Dave Kessler reports the firm is working with developers and owners on both the new Marriott hotel and Capitol Hill Towers, a new co-op apartment building.
---
The other day we sat down with the troika that runs the Studley DC office: Lois Zambo, Tom Fulcher, and Rick Rome. Apparently it wasn't against their Key Man (or Woman) insurance policy to have all three power players in one place at the same time.
Look at these hip young people gathered at Lois' desk overlooking the jazzy lobby of 555 13th Street—what we call the "Hogan building." It's fitting that Rick joined Studley in January because Hogan is his longtime client. These three are so close, a moment later they were off together to eat at their corporate dining room, Tosca. (Second most favorite: Oceanaire.)
Studley's name is, of course, redundant, since most people in commercial real estate instantly recognize its muscle in the world of tenant representation. However, being babes in the woods, we learned that a more accurate description of the firm would be "user-rep," since they not only broker leasing deals, but also buy and sell. For example, they just sold some excess property for Gannett over at Tysons—by the way, without ever having to put it on the market. It was 8 of 32 acres that Gannett wasn't using (except as a softball field and volleyball court), so Studley asked around, and weeks later, sold to MRP Realty.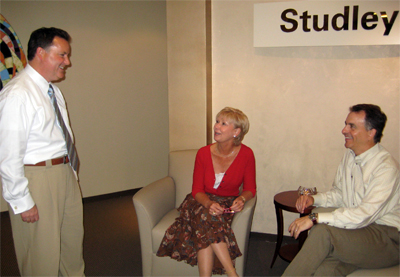 Of course, they're also in the thick of negotiating big leasing deals as one of four national brokers for the GSA's 149 million sf portfolio, an important area for the firm led by DC colleague David Lipson. Right now they're looking for 500,000 sf for DoJ.
In other deals, they're:
wrapping up 90k sf for client Cadwalader (President Taft's old firm) as an anchor tenant at 700 6th St, under construction by Akridge;
within days of signing a lease for client UCG (newsletters), moving from White Flint to a Marriott sublease at Rio in Gaithersburg;
hunting down 400,000 sf for NPR;
representing both the American Education Research Association and American Sociological Association, each of which is buying two floors of offices at 1430 K St. In the process, they've become big boosters to associations of the tax-exempt advantages in buying office condos;
Evaluating space options for Arent Fox;
getting excited about the October opening of the Newseum, which Lois helped relocate from Rosslyn for client Freedom Foundation in one of their bigger deals of the early 2000s.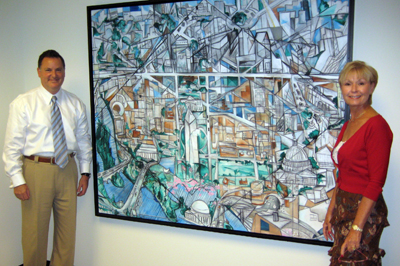 Three guesses: What is that a depiction of in Rick's office by Miami artist Jorge Perez-Rubio? All right, you can have 50 guesses. It's Washington!
Studley is a deep-bench office with over 45% of the brokers having been there at least 10 years—and many of the support staff even longer. Tom's been there 21 years and Lois (this is obviously a misprint) 30. "We're not like bunny rabbits here, jumping around," they told us. Why the low turnover? The triumvirate thinks it's due to the company's corporate culture. "There are no rules, no one dictates what you can and can't do. We leave you alone!"
They have 50 personnel in DC and often do national work for locally based clients, eg, finding offices in lots of other cities for clients like WilmerHale, Reed Smith, Howrey, and APCO. In some cases, like the University of California, they even represent clients with no local connection.
The trio is gearing up for Studley's annual winter trip – in January; they're going to Japan. Last year they went to Costa Rica, and the year before, China. You know how this great racket started? 40 years ago, founder Julien Studley wanted an excuse to skip out on a regular New York conference he disliked attending, so he booked a trip to Bogotá where he and the five other Studley brokers at the time slept in tents. Although Julian has gone on to greater things—at age 80, he's a world class poker player who can sometimes be seen on ESPN—and although the firm's partners bought him out five years ago…they were smart enough to keep up the exotic vacation tradition.

Events
SMPS Summer Social
La Tasca, 6pm tonight!
2900 Wilson Blvd, Arlington Va