NEXT BIG THINGS?
---
Big shoutout to our newest sponsor, the Associated General Contractors of Metropolitan Washington. Tomorrow they host many of the biggest contractors in the country in a workshop with the Corps of Engineers to talk about how owners can best acquire contractors for mega projects; and next Tuesday join DC Public Schools in breaking ground for the first public high school in America devoted entirely to construction!
---
OFFICE CONDOS. We wrote about this in March, and whadya' know, trade associations are really starting to buy them. Tomorrow's actually the first bond closing: the American Education Research Association is buying the top two floors of Class A 1430 K NW. The American Sociological Association (likewise represented by Studley's Rick Rome ) is buying two other floors there. That's a Nest & Todah bulding; the other major projects are Akridge's 1616 16th, where purchasers include the Fordham Foundation and the Jesuit Conference (taking four floors instead of three after discovering how favorable financing terms were); and J Street Development's 111 K, NE, a Gensler-designed trophy being marketed by CB's Bruce Pascal.
The Old EOB is not going condo; this was just a convenient backdrop for our picture.
Reed Smith attorney Olivia Shay-Byrne, above, who with Akridge's Gene Kenney dreamed up the concept of trade associations buying condos several years ago, tells us there were office condos before but they tended to be in townhouses, or out in the 'burbs for medical offices. But trade associations, facing skyrocketing rents, are eligible for tax-exempt financing, which shaves a couple percentage points off commercial loan rates, and because the property can be the collateral often don't even need a down payment. DC is delighted because it helps keep them in the city; Olivia is chair of a new non-profit task force appointed by Deputy Mayor Neal Albert on the subject. Only downside: Between running to closings and raising 14-month old twins, Olivia isn't able to do much of her beloved scuba diving.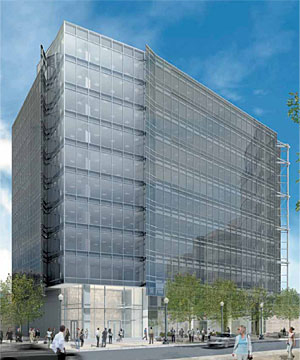 Developer Bruce Baschuk's office condo project will serve Capitol Hill.
CHILLED BEAMS. We mentioned this last week in writing about the humongous old DoT headquarters that's being gutted and commercialized. Instead of conventional HVAC, it's getting 6,000 2x6 foot ceiling coils that you can run hot or cold water through like a radiator. Owner's rep for the project, Jeff Kramer, thinks these "chilled beams" are about to break into the American market in a big way. Mainly they have been a European fashion the last 10 years, and in the US are confined to a couple places in Boston.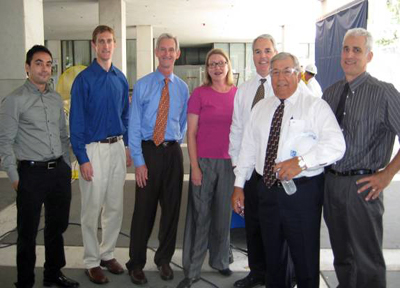 When we took their picture last week, this Kramer Consulting crew could have used chilled beams and not just that chilled water bottle. From left, Diego Rissi, Stephen Carlson, Jeff Kramer, Christine Pearl, Pat Barnhart, Benny Pasquariello, and Tom Lovetere.
For DC buildings, Jeff says the beams' 7.5 inch height can mean the ability for old buildings to get the higher ceilings expected in Class A. And he says that although initial costs are higher, the payback is greater because water is more efficient as a medium than air—and quieter. An architect by background, he started his consulting firm in 1994, and in working with law firm McDermott, Will & Emery came to know lawyer Tim Jaroch who later went inhouse with Nassif Associates, owner of the old DoT building, which is how Jeff found the account. With German chilled beam manufacturer Trox, Jeff is planning an October symposium in DC on the product.